1/24 R/C EP 4WD Racing Buggy MINI-Z Buggy MB-010 with ASF2.4GHz System

Description:
- Precision high-performance chassis launches the palmtop size Lazer ZX-5 FS!
- New generation 4x4 MINI-Z chassis creates spectacular racing action!

- Having earned the trust of off-road buggy fans, the LAZER ZX-5 FS has lost none of its world-class performance in its relaunch as a palmtop size racing buggy. The precision compact chassis features a shaft driven 4WD with a two-differential drive train incorporating a slipper clutch to protect gears with oil shocks on the 4-wheel independent double wishbone suspension, just like a true 1/10 racing buggy. The result is the exceptional performance expected of a 1/10 off road racer, but concentrated into a racing machine that fits on the palm of your hand and the best off-road performance achieved in the history of the MINI-Z. With most of the precision components protected within the dirt-proof shell, the chassis has the rigidity and durability for hardcore off-road action. Based on the MINI-Z Racer, control circuit board has been tuned for off-road with a special separated design. The ICS function allows precision setting adjustment of controls including the optional gyro unit through your PC while the Chase Mode (requires special transmitter with 3 channels or more) feature fires up the intensity of racing action. Also, the newly designed steering servo is equipped with 7-stage gearing. High torque and precision control combine to produce the MINI-Z's characteristic steering feel and linear control. As the LAZER ZX-5 FS body is pre-painted, only a few simple steps remain for this racing buggy with the latest MINI-Z technology to start ripping up your nearest dirt track.

- Factory assembled chassis with pre-painted polycarbonate body set complete with markings.
- Produces performance to satisfy true racing buggy owners. Ideal for indoor training.
- Features ASF2.4GHz R/C system that removes need to manage frequency bands. A single transmitter can be used with multiple models. **Transmitter is sold separately.
- Frequency crystals not required and up to 40 cars can be run simultaneously.
- Ultra fast signal processing speed results in almost instantaneous control response.
- Shipped in standard setup. Change to Chase Mode with the push of a single button. Other setting changes can be made by using I.C.S. USB adapter (sold separately).
- LED indicator shows power status.
- Optional parts being developed for continual release

Required for Operation:
- 3-channel transmitter for MINI-Z compatible with ASF 2.4GHz <Recommended: Kyosho EX-5UR ASF transmitter (No.82011/82012) or compatible ASF 3-channel KO transmitter> or Perfex KT-18 transmitter (if not using the Chase mode)
- AAA-size alkaline batteries x 4 or NiMH batteries x 4 for chassis.
- Batteries for transmitter <For EX-5UR (recommended transmitter): AA-size alkaline batteries x 8>
(OPTION) I.C.S. USB adapter (No.82080) for using I.C.S. functions and Chase Mode adjustment.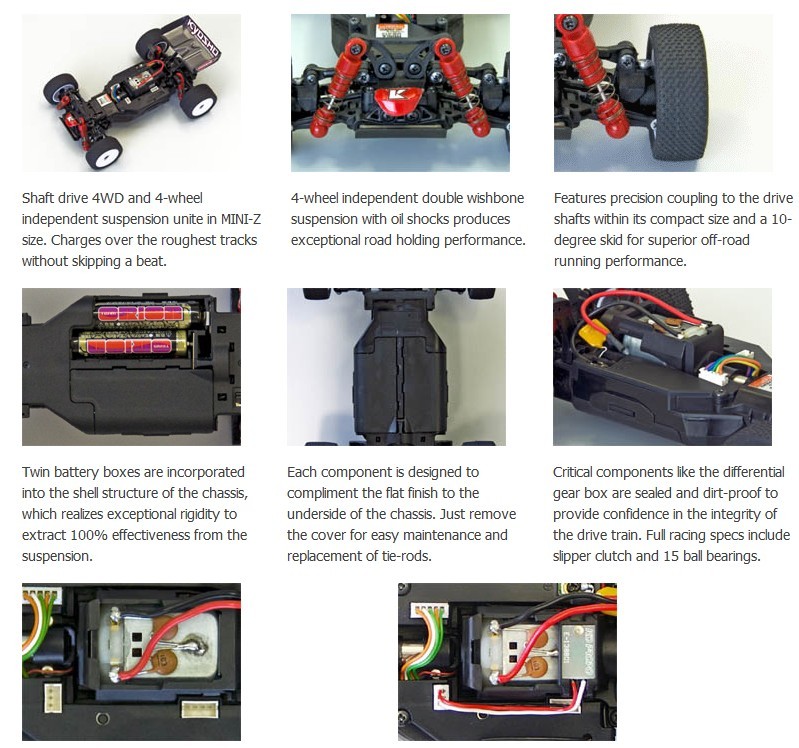 Chassis Technical Data:
Length
167mm
Width
106mm
Height
63mm
Wheelbase
115mm
Tread (F/R)
F:89/R:89
Tire(F/R)
F:φ37x13.5mm / R:φ37x18.5mm
Weight
200g(approx.)
Motor
130-Class
Battery
AAA-size alkaline batteries x 4 or NiMH batteries x 4 for chassis
R/C System
PERFEX EX-5UR or KT-18(not incl)

NOTE:
- Overtake function may work with R246 2.4GHz module adapter but is not guaranteed with transmitters other than Kyosho or KO 3-channel transmitters.
- 2-channel KT-18 transmitter can be used but cannot operate the Chase Mode.

Kit Contents:
- Factory assembled chassis with pre-installed R/C unit
- Pre-painted polycarbonate body complete with markings
- Pinion Gear x 3 (11T, 13T, 15T)
- Spur Gear x 2 (33T, 35T)
- Pinion tool
- Pairing stick
- Wheel wrench
- Spare wheel nuts

Video: