24BIT/192k WM8805+AD1955+PCM2706 Coaxial Fiber Optic USB DAC Board (Upgrade Version)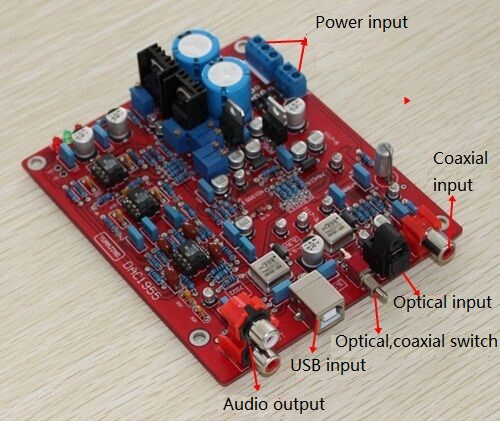 Specifications:
- Original AD1955+WM8805+PCM2706+AD827
- Famous band for main circuit of electrolytic capacitor signal,The main filter capacitor using BC electrolytic capacitor capacity , 2 * 2200UF
- Five ring metal resistor, main circuit resistor accuracy -+1%
- PCB thickness is 1.6mm ,copper thickness is 2.0Oz
- The two regulators besides LM317/LM337 supply -+12v power to OPO AMP
- The 4* adjustable resistors besides the BC capacitor is for zero to the PIN 1 and pin 7 of 2*I/V OP AMP

Parameters:
- Voltage: Double 15V-0-15V 10W (or double 12V-0-12V)
- Size: 128*107mm

Adjust operation:
1. Remove all AD827
2. Adjust the 503 resistor in the front of the LM317 LM337 regulator ,adjust the power supply, pin 4 and pin 8 AD827 (voltage + -12V),
3. Plug in AD827, zero adjustment, by adjusting the 503 resistors next to the LM317, until the board label 1 and 7 volts to zero or close to zero .