2M2282 8.2A CNC Micro-stepping Driver CNC Stepper Motor Driver Controller AC80-220V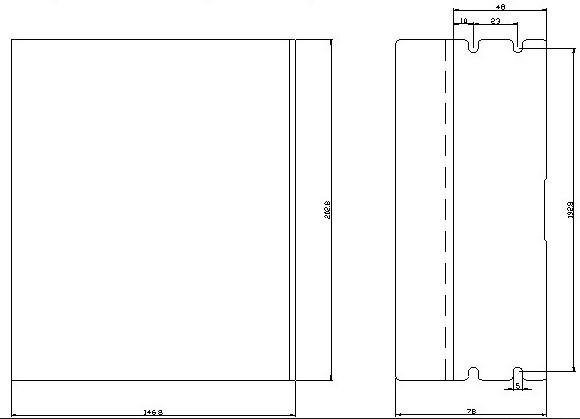 Description:
- The 2M2282 is one of the few Direct-On-Line Step Motor Drive, available in the industry, which can be simply power up from the AC power source without the need of a Power Supply. This makes it cost effective and space efficient. With a higher voltage input, this high performance bi-polar two phase micro-stepping drive is able to excite a motor size from Nema 23 up to Nema 42. It can drive 2 Phase hybrid motor, that comes in 4, 6, or 8 leads.
- With an automatic optimization speed control technique, the PowerStep series drive output is very stable, with almost zero vibration and noise, performing close to a servo system, allowing the motor to operate smoothly. That helps to fulfill a design requirement of low noise, low heat and high performance.

Features
- AC80 to 220V Supply Voltage
- H-Bridge, 2 Phase Bi-polar Micro-stepping Drive
- Suitable for 2-phase, 4, 6 and 8 leads step motors, with Nema size 23 to 42
- Output current selectable from 1.8~ 8.2A peak
- Current reduction by 50% automatically, when motor standstill mode is enabled
- Pulse Input frequency up to 200 kHz
- Optically isolated differential TTL inputs for Pulse, Direction and Enable signal inputs
- Selectable resolutions up to 10000 steps
- Over Voltage, Coil to Coil and Coil to Ground short circuit protection.

Please refer to pictures for Current Setting, Microstep Setting, P1 Pin Assignment, P2 Pin Assignment, Wiring and Dimensions.

Specifications:
| | |
| --- | --- |
| Input voltage | Single Phase 80~220V input |
| Input current | <6A |
| output current | 1.8A~8.2A |
| Power | 100W/8.5A |
| work Temperature | 10-45C |
| Humidity | without condensation and water droplets |
| Gas | Prohibition of combustible gas and conductive dust |
| weight | 1.800kg |
Setting:
| | | | | | | | | | | | | | | | | |
| --- | --- | --- | --- | --- | --- | --- | --- | --- | --- | --- | --- | --- | --- | --- | --- | --- |
| SW5 | on | off | on | off | on | off | on | on | off | on | on | off | on | off | on | off |
| SW6 | on | on | off | off | on | on | off | on | on | off | off | off | on | on | off | off |
| SW7 | on | on | on | on | off | off | off | on | on | off | on | on | off | off | off | off |
| SW8 | on | on | on | on | on | on | on | on | off | on | off | off | off | off | off | off |
| Pulse/rev | 400 | 500 | 600 | 800 | 1000 | 1200 | 1600 | 2400 | 3200 | 3200 | 4000 | 5000 | 6000 | 6400 | 8000 | 10000 |