4pcs SKYRC X2830 Brushless Motor for 400-500 Quadcopter DJI Phantom Compatible

Description:
- m21% MORE Thrust Power, 9% HIGH Efficiency!
- Get this Quadcopter brushless motor set, you will get a Quadcopter Booster!
- SkyRC X2830 Brushless motor set is an ideal choice for upgrading 400-500 multi-rotor copters in the market. Compared with the original versions, SkyRC upgraded the motor set from materials, construction, appearance, performance and craft. With more power and higher efficiency, obviously you will get better flying experience.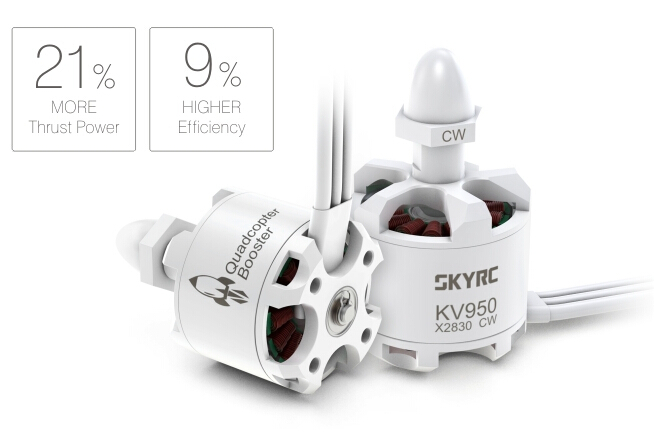 Feature:
Better Material
- CNC Machined T6 Billet Aluminum Heatsink Can for Impressive and Durable Appearance
- High Quality Bearings for Less Resistance
- High Purity Copper Windings for Maximizes Conductivity

Better Construction
- Leaf-shaped Front Cap for Better Heat Dissipation
- Silicon Cable for Easy Cut and Neat Wiring

Better Craft
- Balance Correction Before Leaving Factory for
- Best Balance While Running




Better Performance
- 21% More Thrust Power
- 9% Higher Efficiency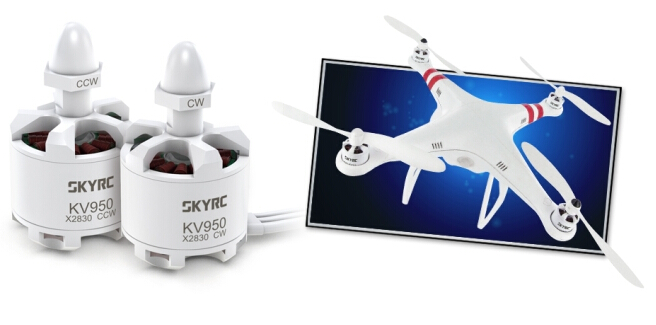 Brushless Motor for 400-500 Quadcopter!

Also for DJI Phantom quadcopter!
- There are 4 pcs of motors in the set, 2pcs marked with CW and 2pcs marked with CCW. It referred to the adapter and bullet's screw thread.
KV
(RPM/Volt)
Max
Amps
Max
voltage
(V)
Max Power
(W)
Resistance
Weight
(g)
Diameters
(mm)
Winding
type
Number of turns(T)
No load
current

Shaft
(mm)

Rotor
Poles

Stator
950
28
15
350
0.152Ω
65
28
DELTA
11
0.4A
Φ3
14
12