5 Axis CNC Breakout Board + LCD Display Board+ Digital Handle Set
Description:
- Pulse can be equipped with an external handle with digital display, with the handle can automatically switch the computer and handle control, mutual non-interference, and automatically shielded handle control functions automatically detect the computer-controlled movement, a few significant track record computer data and handle control of mobile data
- Computer path track record of running in the computer processing time can be record keeping, processing data offline automatically repeat the processing run.
- Manually move the processing and record keeping, traceability records manually move the machine data, and automatically repeat the processing run manually move the path.
- Manual data input processing path, and automatically run the input path
- The driver XYZ-axis or Z axis of the knife can be done automatically, without the operation of complex computer software
- Up to 3.5A stepper motor drive current, adjustable.
- Up to 16 segments, higher accuracy, and run more smoothly.
- Overload flow through the temperature automatic protection function, and fully protect your computer and peripherals
- Bipolar constant-current chopper drive, low speed creeping phenomenon, noise, non-resonant region.
- Closed optical isolation, two-stage signal processing, to fully protect your computer and equipment.
- Rd input control, you can set the limit, stop, which is divided into the knife.
- The maximum matching 5-axis stepper motor driver
- The two-stage signal processing, signal transmission smooth, powerful anti-jamming
- 3:5 input interface to define the emergency stop, limit, points in the knife, etc.
-  relay output control interface, can be accessed by the spindle motor or the air pump, water pump, etc
- five-axis job LED display, visual display products, working condition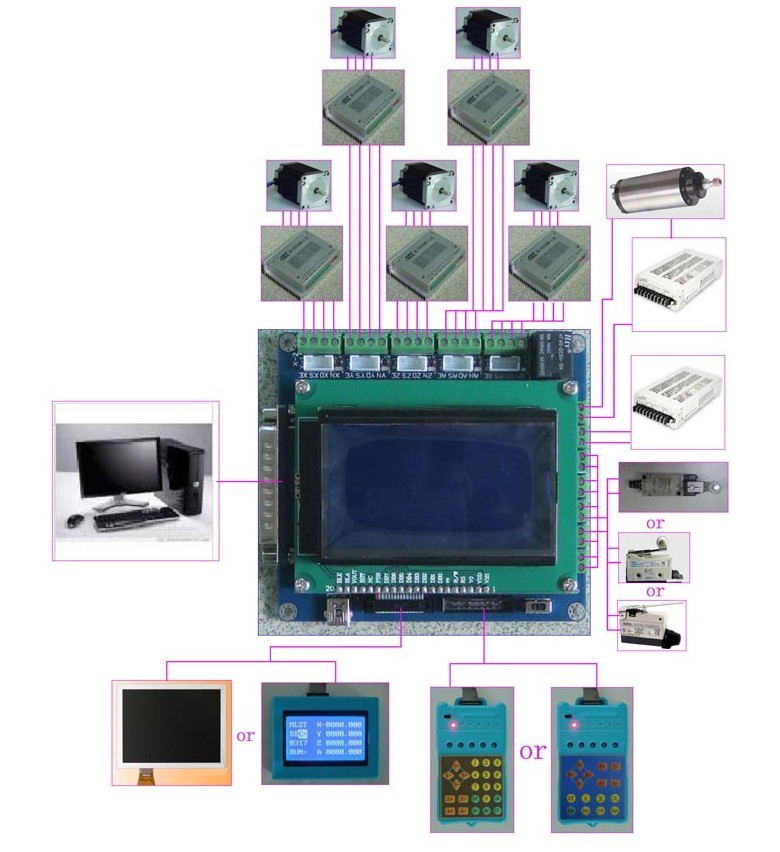 Electrical performance

Input Power

5V DC power supply or computer USB to take power

Work axis stepper

Received the highest 5-axis independent driving

Drive

Pulse + direction + enable signal.
Package Content:
- 5 Axis Breakout Board + LCD Display + handle