AD8367 VGA Amplifier RF Broadband Signal Amplifier Module 500MHz 45dB Linear Variable Gain

Feature:
- Name: AD8367 variable gain amplifier
- Power: + 5V
- Size: 45mm X 28mm
- Layout design layout is reasonable, generous timber
- For students to learn and participate in competitions

Specifications:
- Wide range of analog variable gain: -2.5 dB to 42.5dB
- Cut-off frequency of 500MHz 3dB
- Gain and debuffs mode
- Linear decibel scale is 20 mV / dB's
- Resistance Grounded reference input
- Nominal ZIN = 200ohm
- On-chip, the square-law detector
- Single-supply operation: 2.7 V to 5.5 V

Description:
The AD8367 is linear in dB gain control from low use of high-performance variable gain amplifier within 45 db up to several hundred megahertz range, and gain flatness response precision using ADI's X-AMP architecture, the recent series of powerful the concept of variable gain proprietary application, which far exceeds the competition can use technology to achieve.

This input is applied to a 9, 200ohm resistor ladder network. Each stage has a loss of 5 dB, 45 dB of total attenuation given. At maximum gain, the first tap selection; in decreased earnings, leading to move smoothly and continuously toward higher attenuation values. Even at high frequencies, after 42.5 db attenuator is substantially fixed gain feedback amplifier having an operational amplifier 100 GHz, and a gain-bandwidth product is very linear. Output third-order intercept of 20 db at 100 MHz (when +27 dBm, at 200ohm), at 1 V PP with VS = 5 V output level measurement.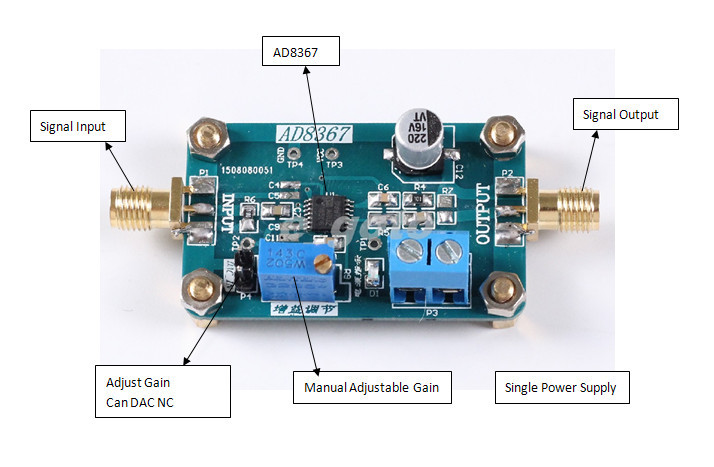 Package List:
- 1 x Signal Amplifier Module