APM OSD MinimOSD ARDUPILOT MEGA OSD for APM2.0 APM2.5 APM 2.6 Flioght Control OSD

Description:
- MinimOSD - Introduction
- MinimOSDis a super-tiny board designed by 3DRobotics. It's all you need to get OSD telemetry data from ArduPilot Mega. Just connect your FPV camera and a video link and you're ready to fly with instruments on screen.





It's intended to be a dedicated APM telemetry video output. So, it readsMAVLinkmessages from its RX and request rates from APM if you connect its TX to ArduPilot "telem" port.

Important note:You cannot connect the OSD when your APM 2 is also connected via USB (they share the same port).Make sure you disconnect your USB cable from the APM 2 board before attempting to use the OSD.
Details
- It has the Max7456 chip powered by two stages to avoid noises from servos attached to ArduPilot Mega board.
- It provides an extra clean power line to feed the FPV camera and video link.
- The approach is to use two external power sources: 12V from a Lipo Battery and 5V from APM: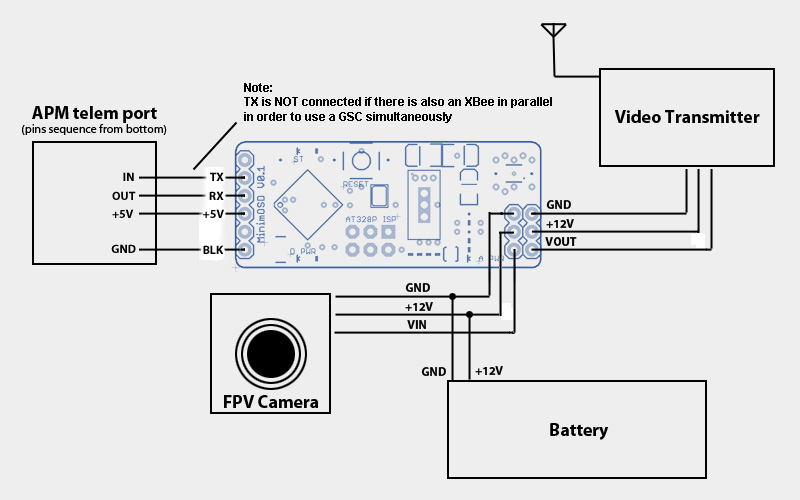 Raw 12V from Lipo Battery:
- Feeds directly FPV camera and video transmitter.
- It also feeds Max7456's analog line (AVDD and AGND) by a 5V voltage regulator (avoiding noises from servos attached to APM).

5V from APM telem port:
- Feeds the ATmega 328P and Max7456's digital line (DVDD and DGND);

Note: Optionally, you can use two solder jumps to "tie" digital and analog lines.