Arduino SHT1x SHT10 Digital Temperature & Humidity Sensor Module

This sensor uses SHT1x sensor.  SHT1x is individually calibrated in a precision humidity chamber. The calibration coefficients are programmed into an OTP memory on the chip. These coefficients are used to internally calibrate the signals from the sensors. The 2-wire serial interface and internal voltage regulation allows for easy and fast system integration. The tiny size and low power consumption makes SHT1x the ultimate choice for even the most demanding applications.
As to environmental temperature and humidity measurement and control,Swiss Sensirion launched the SHT family integrated of digital temperature and humidity sensor,which is undoubtedly a very good choice. Although the prices is a littile more than common analog temperature or humidity sensor, it is good when you need to read an accurate temperature and humidity values. Besides it has high reliability and excellent long-term stability.
This digital temperature and humidity sensor based on most widely used SHT10 from SHT family.
SHT10 used a two-wire serial interface similar to I2C (bidirectional 2-wire), so we need to use two connection ISC/COM cables to connect with the electronic building module.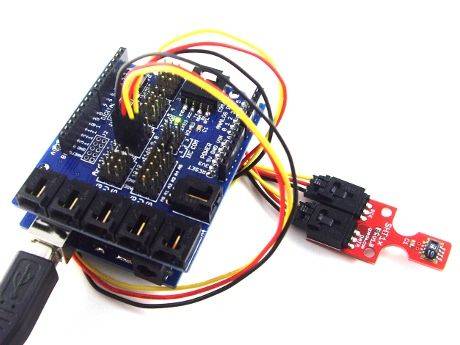 When connecting to Arduimp sensor shield,you need Arduino sensor cables (15cm / 30cm / 60cm / 100cm / 200cm optional)