Product Features:
- ARKBIRD is designed for fixed wing and with OSD, auto-stabilizing and Autopilot (auto return) functions to ease flying:
- Height acquisition through barometer, reliable design; on-board voltage regulation chip, "ESC+ voltage regulation" dual voltage design.
- Inertial measurement unit, suitable for any kinds of weather environment.
- Suitable for small-space model, support delta wing.
- Easy to adjust, which saves much time for adjustment and applicable for most models. Intelligent PID control.
- One button auto-leveling, one button auto-go-home, go-home once radio turn off.
- Auto-go-home even the signal of GPS is poor.
- Gyro normal balance and 3D balance.
- One button hovering mode.
- Straight constant-height flight.
- Turning to auto-go-home while flying over the rectangle area specified.
Specifications:
- Size (w/o pin): 50 x 38 x 14mm
- Weight of Arkbird (w/o cable and cover): 26.8g
- Weight of Current sensor (w/o cable and cover): 12.6g
Package:
- Arkbird OSD with heat shrink tube x 1
- GPS antenna with wire x 1
- 30cm male-male servo extension x 4
- 15cm male-male 3pin extension x 6
- User's manual CD (CH, EN and JP language) x 1
Notice and install tips:
As AIRBIRD has no reverse polarity protection, any incorrect wiring will damage the product, please pay attention while installation.
Please note that ARKBIRD shall be leveling during installation including pitch and roll. You may adjust through observation of OSD artificial horizon.
MUST keep the transmitter setting as default, especially end-point, travel range, and sub-trim. Any problem, please adjust the control link of plane.
Please be reminded that test without wind.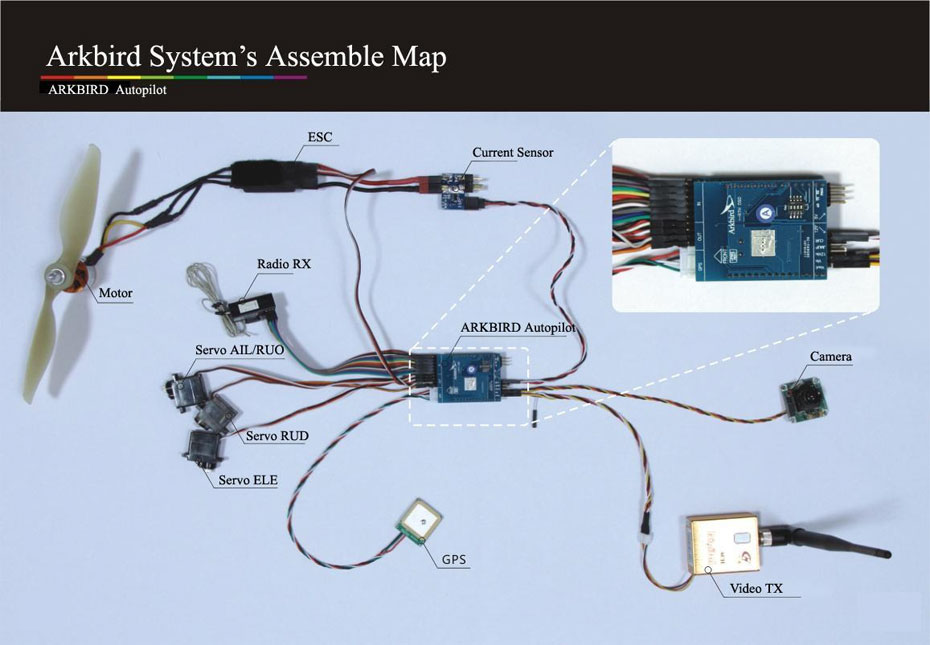 Relevant information:
- Video:
Arkbird OSD/Autopilot Demo
,
Arkbird OSD/Autopilot Gyro Stabilize Demo
,
Arkbird OSD/Autopilot use on P-38 fly til loss RC signal
,
RTH enable 1/2
,
Arkbird OSD/Autopilot use on P-38 fly til loss RC signal
,
RTH enable 2/2
- How to use a crimping tool
- Taiwan Dongji Island back and forth. Total flight distance 91Km.
User's manual :
English
Firmware upgrade instruction manual and tools:
-
English
-
USB Link Driver
-
Firmware Writter
-
Serial Port Exper