Assembled L20 SE 350W+350W Simplified Dual Channel 2CH Amplifier Boards Adopts Toshiba A1943 C5200 chip

Descriptions:
- Very good with excellent control, low distortion, wide range of voltage support. High-power high-current output load.
- Each channel 2 of ON Semiconductor original power tubes NJW0302G NJW0281G, the maximum load current of 20A.
- Voltage support a wide range of installation of each channel can be any two pairs, four pairs of high-power tube. Standard suite of high-power tube per channel 2.
- Power 200W8R 350W4R DC + - 65V

Performance parameters:
- Dual AC power range of 12V to AC dual 45V. Proposed dual-voltage AC 36V.
- THD = 0.009% 1K HZ 50W 8R
- SR = 35V / US
- Noise 92DBU
- EIN = 114 DB
- Frequency Response 20-20KHZ + - 0.5 DB
- 34 times the voltage gain
- All resistors are precision 1% precision resistors copper feet, including the output of high-power high-precision resistors are used.
- Double-sided FR4 PCB 2MM thick plate, 75 UM thick copper wire. The PCB area 113MM width and height 71 MM
- All capacitors are imported original. Four pairs per channel audio power tubes imported original ONSEMI.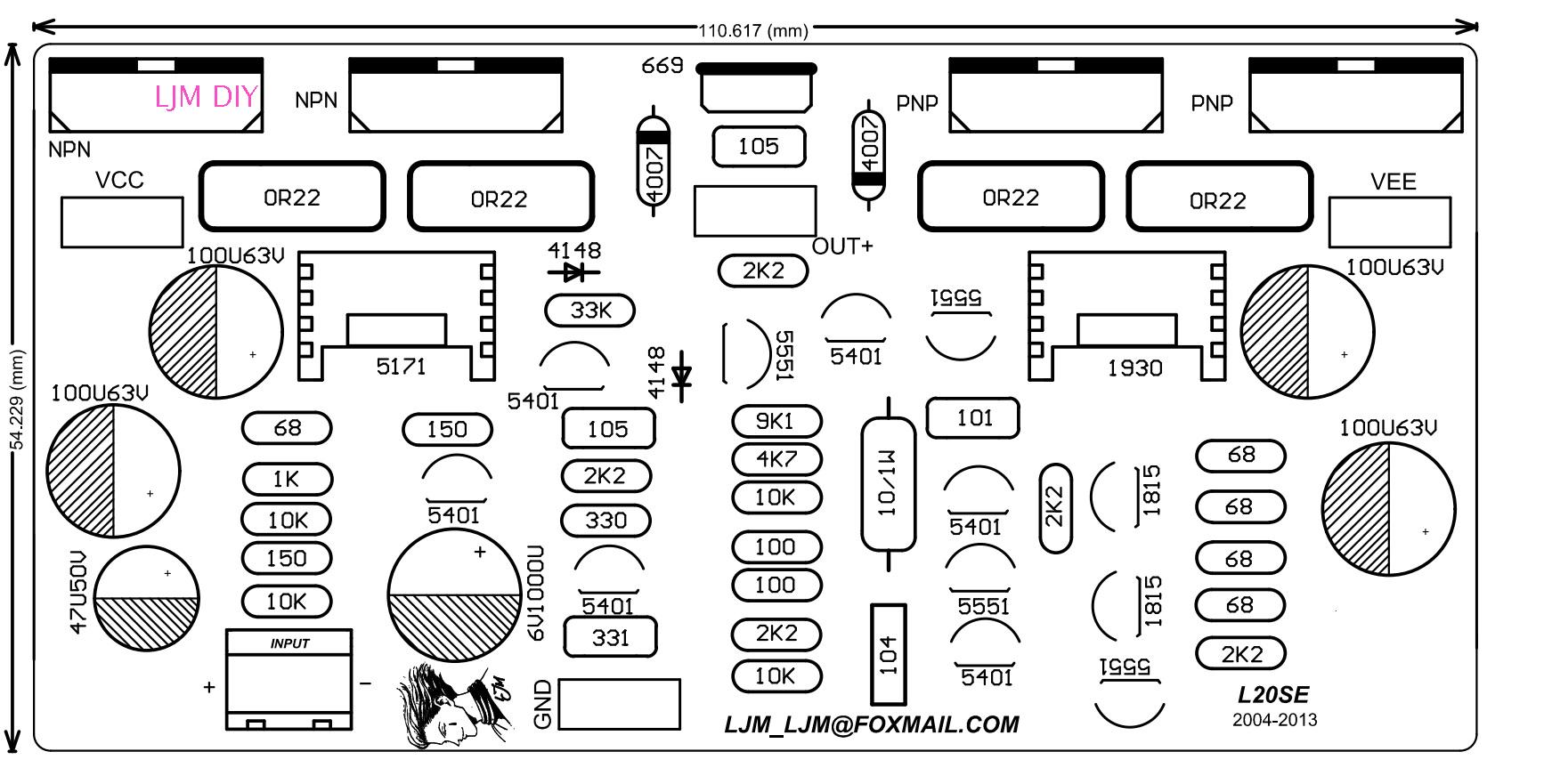 Features:
- High-quality NIPPON CHIEMI-CON series of high-grade LOW ESR decoupling capacitors.
- And nichicon or RUBYCON series.
- Ultra-low-loss film capacitors corner posts. And feedback ULTRA LOW ESR capacitor.
- Small-signal transistors are used all the original ONSEMI TOSHIA transistors.
- Promote the use of tubes and high-power tube ONSEMI NJW0302G NJW0281G
- Toshiba A1930 C5171 and audio-specific import original transistor.
- Suite two boards, one board a channel. L20 must use the original transistor, not allow to replace other brands and models.

Package list:
- 1 x Assembled L20 SE 350W+350W Simplified Dual Channel 2CH Amplifier Boards