Bravo V2 12AU7 TubeValve Class A Tube Headphone Amplifier preamp New Version Pre Amplifier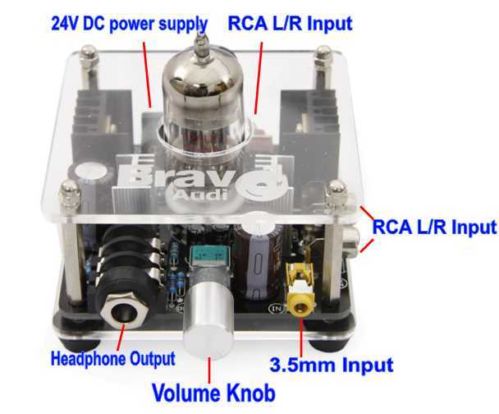 Description:
- This is a exquisite apperance Tube Class A Headphone Amplifier with acrylic plate installed in bottom and top.
- It is Pure Class A amplifier with Audiophile Performance. It brings you a powerful, dynamic and sweet TUBE SOUND from your headphone. You will be astonished by the improvement of sound quality, dynamic range, meticulous transparency, completely demonstrate its high performance and analytical ability,
- It can also connect with power amplifier to use as a high performance pre amplifier to improve your Hi Fi system.
- There is NO OP amp or IC in its circuit, which may introduce unexpected distortion to the sound.

FAQ:
Q: This Amp only has only Tube, how can I amplify stereo signal?
A: There are 2 triode in this Tube (12AU7), It's just like dual core CPU in your PC. So both channels were get amplified by the Tube.

Features:
- Affordable Price
- Powerful dynamic and sweet TUBE sound With ShuGuang 12AU7 TUBE
- Cute and Beautiful looking
- Pure Class A Tube amp, No op amp IC
- Low voltage, good safety
- Powerful for any Headphone

Specification
- Input: Stereo RCA x1, Stereo 3.5mm x1
- Output: Stereo 6.35mm x1
- In Put Power: DC24V
- Input Sensitivity: 100mV
- Input Impedance: 100KOhm
- Out-Put Impedance: 20~600 Ohm
- Gain: 30dB
- Frequency response: 10Hz-60KHz +/- 0.25dB
- Signal/Noise Ratio >90dB
- Dynamic range: 84.6dBA(300 ohm) 89.8dBA(33 ohm)
- THD: 0.016%(300 ohm) 0.45%(33 ohm)
- IMD + Noise: 0.045(300 ohm) 0.42(33ohm)
- Dimension:79mm (D) X 79mm (W) X 44mm (H)not measure to tube and transformer
- Shipping Weight: 600 g


Package:
- 1 x BRAVO V2 Headphone Amplifier
- 1 x Brand new ShuGuang 12AU7 tube
- 1 x Switching Power Supply Universal AC 100V-240V / 50~60Hz to 24V DC 1A out put
- 1 x 6.35mm to 3.5mm Gold coat earphone Jack adapter.