The Magic Cube is an ultra-portable, full-sized virtual computer keyboard.



The Cube is a compact and versatile product; it's a multi-touch capable mouse, a laser projection keyboard and a handwriting recognition device, all in one easy-to-use product.
Compatible OS: Android 2.0 (or later)
                              iPhone/iPad 4.0              
                              Windows 7 Phone
                              Windows 7 PC
                              Mac OS X



Features
The Magic Cube appears to your computer or mobile as a standard keyboard or touchpad, communicating via USB wired use or Bluetooth for wireless use. Power off/on the Magic Cube to switch between wired use with USB connected and wireless when not. No drivers are needed. Runs for up to 2 hours of continuous typing when wireless. Charges when connected via wired USB.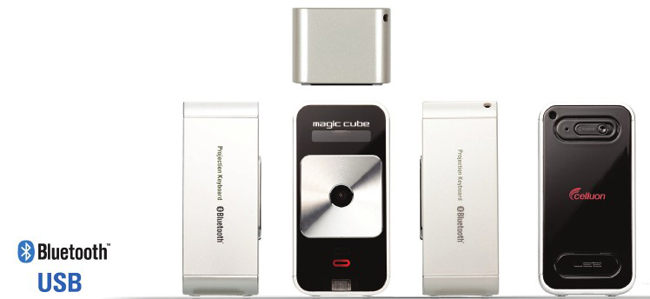 Typing
The experience of typing on a projected keyboard is different than a standard keyboard. Projects a condensed QWERTY layout. The Magic Cube detects movement just above the surface of each projected key. Practice using included tips is recommended. Devices with automatic keystroke correction, like the iPad, iPhone, and iPod improve accuracy significantly.
Compatibility
Keyboard function compatible with any operating system supporting the USB HID class or Bluetooth HID profile. Multi-touch mouse mode for Windows 7+ only. Specific compatible systems include Win XP SP2+,
Vista, Win7, Mac 10.4+, iOS 4.3.5+ (iPhone 3GS and later, iPod Touch 2nd generation and later, all versions of iPad), Linux and others supporting standard Bluetooth HID keyboards. Android 2.0+ compatibility limited to phones and devices that include Bluetooth keyboard support - please verify with your device maker before purchase.
Package including:
Black Celluon Magic Cube
internal Li-ion battery
USB 2.0 cable for charging and wired use
Manual/Quick Start Guide (English)