CRRC Pro GF50i 50cc Model Engine Gasoline Engine for RC Plane Aircraft

Description:
The biggest of our current 2 stroke petrol engines includes many of the features of the 26I but in a bigger package. Bigger doesn't necessarily mean much heavier either as the 50 comes in the same basic case as the 45 and only weighs 1660 g, with an output of 4.9 hp it will swing a 20 – 22" prop with ease and quite a few more rpm than the 45.
Pitts style exhaust also available.

Features:
- 2 pcs. aluminum crankcase,
- 3 ball bearings supported crankshaft
- 2 needle bearings connecting rod,
- walbro WT805 butterfly type carburetor.
- Auto-advance CDI ignition

Specifications:
- Type: 2 cycle piston valves type gasoline engine for airplane.
- Displacement(cc): 50cc
- Bore x Stroke(mm): 43mm*34mm
- Dry Weight: 1.69kg/3.7lbs. (With muffler and CDI)
- Carburetor: Diaphragm butterfly valve type
- Maximum Output: 4.85ps/7200rpm
- Speed range: 1500-7600rpm
- Ignition: Auto-advanced DC-CDI
- Ignition: 4.8V DC
- Gasoline/oil mixture: Pre-mixed Fuel, 40:1(25:1 for break in)
- Lubrication oil: 2 cycle engine oil
- Propeller: 20x10,22x10,22x8,23x8
- Cooling System: Air Cooled
- Plus a box package of 2.14 KG (Pls check DHL/EMS)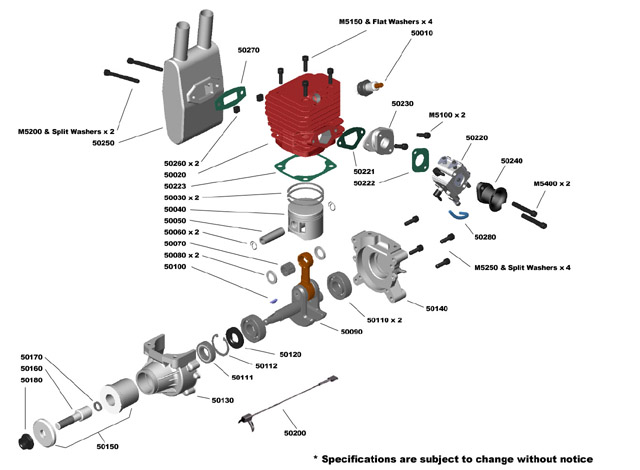 Package Include:
- Gf50i Gasoline Airplane Engine.
- Auto-advance CDI Electronic ignition
- spark plug, plug wrench, prop flange with washer, prop bolt, engine stand-off

Warning:
1. This gasoline engine is just for the RC model airplane use only. never use in the other situation.
2. This engine is not a toy! Serious injury and/or death can occur from its misuse! read and become familiar with this entire instruction manual. learn the engine's applications, limitations and possible hazards.