Degen DE1129 Portable AM FM Shortwave Radio MP3 Player and Recorder

The Degen DE1129 is the latest compact, full-featured, DSP-based, AM/FM shortwave radio from Chinese manufacturer. It is a versatile little radio with lot of functions & features. It seamlessly combines a conventional pocket radio, a 4GB MP3 player, a radio recorder and a voice recorder altogether into an incredibly light and compact gadget. Powered by one BL-5C Lithium rechargeable battery, this digital world band receiver will keep you connected to a comprehensive frequency range including FM, AM, shortwave. If you plan on traveling with a radio, the DE1129 is a very good choice.

You can either listen to the DE1129 via the built-in D40mm speaker or with the included earphones. The audio from the built-in speaker is impressive–in fact, this is possibly the best feature of this little radio. The DE1129 speaker offers enough bass to keep the audio (especially on FM, or good quality MP3 files) comparatively rich and full.

Beyond the ability to tune into various radio bands, the DE1129 also features a built-in battery charger, plugs it into an USB power source or connect it to your computer with the included USB cable. The DE1129 can also be used as a MP3 player with 4GB flash memory, you can also use the DE1129 to record any radio program or use it as a voice recorder. It can record from a built-in microphone or directly from the radio while playing. Depending on the sampling rate, the DE1129 can record up to 150 hours of radio program.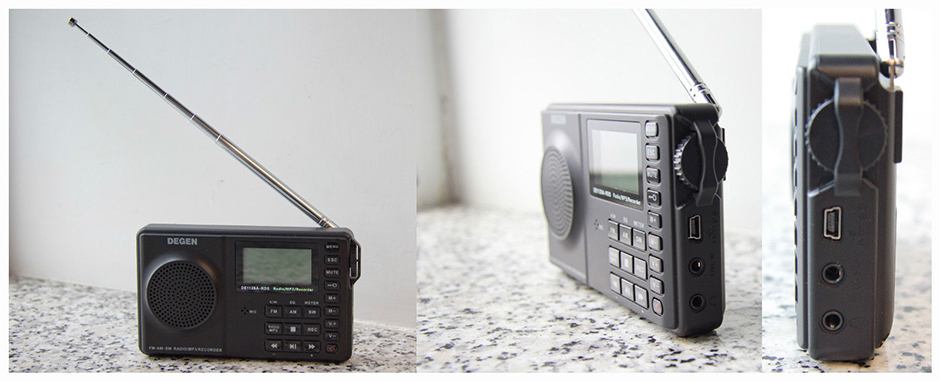 Feature and Specification:
- FM-stereo/AM/SW with Built-in 4GB MP3 player.
- 248 Stations Memories.
- Signal Strength Indicator
- 5 tuning methods: Jog Tuning, Manual, Auto Tuning, Memory, ATS
- Lattice LED Backlight
- Support MP3 and WMA Decode
- Various Repeat Mode
- Multi Sound Quality Mode
- Variable Speed Playback A-B Repeat
-Record Function : MIC Record, Record Radio
- MP3/WAV Recording Format Selectable
- Active Loudspeaker
- E-book: Support TXT
- Alarm on / off, Alarm clock function, Sleep timer function (5-90 minutes)
- Built in Flash Memory, Support Micro SD Card
- Key lock function
- Multiple language selectable
- Digital Volume Control (31 Grades)
- Intellectualized Charging, can be charged by PC
- Lithium Battery ,Battery consumption Display
- Max. Out Power (Speaker) ?500mW
- Power source : Built-in Lithium
- Battery :3.7V
- External Adaptor: 5V----300-500mA
- Lithium Battery Consumption (Volume is 22 Level)
- MP3: About 4H (by speaker) Radio : About 4H (by speaker)
- Speaker: D40mm
- Earphone: D3.5mm


Radio
FM: 87.0-108.0MHz or 64.0-108.0MHz
AM: 522-1710 KHz
SW: 2.30-23.00 MHz
Noise Limit Sensitivity: FM?5uV, AM?2.5mv/m, SW?50uV
Single Selection:?40dB
Present Memories: FM-99,AM-50,SW-99

Mp3
Memory: 4GB
Record Format: WAV/MP3
Max. Record Time : about 215H (40kbps,MP3 format,4G)
Earphone output :?10mW*2
Communication Standard : USB2.0 (high speed)
Access Rate: MP3:16-320Kbps WMA:8-384Kbps

Package Includes:
- Degen DE1129 radio
- Carrying pouch
- USB cable
- Li-ion rechargeable battery
- English manual