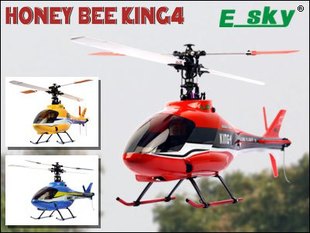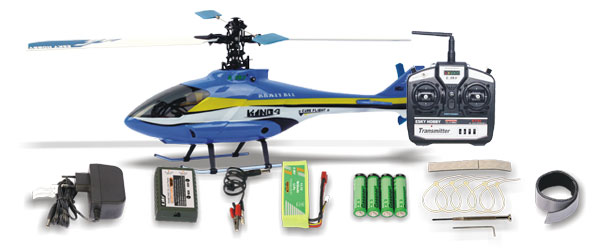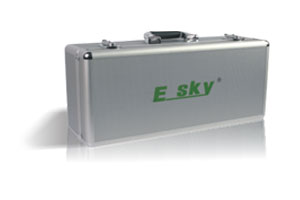 Description:

The latest ESky Honey Bee King 4 is an forth upgrade version of the world famous ESky Honey Bee King RC helicopter series. With totally fresh appearance and new canopy & simple designs for the main rotor and tail rotor systems, the Honey Bee King 4 increases the stability, powerful and accuracy of the helicopter as well as to give more direct control by the pilot.
With a cool appearance Fuselage, making it a very beautiful scale RC helicopter to play with. The fuselage is made with thin plastic, making it real light, not affecting the flying performance, ESKY factory also think about the easy access of the battery, the front fuselage can be taken out easily without any tools, it is a great features when you are playing outdoor.
Although it has a Scale Fuselage, it can also perform 3D aerobatic flights. The Honey Bee King 4 is a very stable and relatively easy to control 6 Channel CCPM Helicopter. For those who wish to enjoy the flight, it is a great model to start with.
The CCPM System allows the helicopter to perform perfect aerobatic flight.
E-Sky has created a newly designed 2.4GHz frequency band,"2.4GHz" RC system with advanced Spread Spectrum Technology and digital FSK(frequency shift key)Coding Technology. This offers many advantages compared to traditional 72 MHz transmitters.
Traditional remote control distance for helis and park flyers is about 250 meters,requiring a transmitter with 750mW transmitting power consumption. But 2.4GHz transmitter just needs 4mW power to perform at the same level.

Here are some highlight features of the Esky 2.4G 6CH Honey Bee King 4

- Completely assembled and tested at the factory, ready to fly out box!
- 120 degree ECCPM control system
- New High-tech 6-channel RC system
- High performance Heading Lock gyro is Capable of sport flying and 3D aerobatics
- Digital Sub-Micro servos and Micro Heading Lock gyro offer precise and powerful control
- Stainless steel flybar, main shaft and tail shaft
- 400 brushless motor, 25A brushless ESC and 3S 11.1V 1500mAh 20C Li-Po battery deliver incredible power and performance.
- Auto-rotation system
Specification:
| | | | |
| --- | --- | --- | --- |
| Main Rotor Diameter: | 600mm (23.6 inch ) | Tail Rotor Diameter: | 130mm (5.2 inch) |
| Main Gear: | 10 teeth | Main Drive gear: | 110 teeth |
| Drive System: | 3900KV Brushless motor | Driven Gear Ratio: | 14:1:4.44 |
| Length: | 550mm (21.7 inch) | Height: | 200mm (7.9 inch) |
| Flying Weight: | 390g (13.7 oz) | Radio Control Range: | 2500 feet (762m) |

Content:

- 6 ch transmitter
- 6 ch receiver
- 7.5g digital servo(1.0kg.cm,0.1s/60。)× 4pcs
- 25A brushless motor speed controller
- tail locked gyros
- 400 brushless motor
- Lipo battery balance charger、Adaptor、dry battery
- 11.1V 1500mAh Lipo battery