Feiyu X4 Pro Fiberglass FPV Quadcopter ARF Frame Kit Support KK MK MWC Flight Control

Description:
- Empty Frame Weight: 580g (receiver and battery not included)
- Payload Capability: 700g ( battery, receiver, and camera included)
- Maximum Gross Take-Off Weight: 1380g. DO NOT OVERLOAD ON FeiYu X4 WHICH CAN LEADTO DANGER.
- Airborne period: >10mins (with 3S 2200mAh battery)
- Cell Chemistry: 3S 1500mAh ~ 5000mAh Lithium Polymer, and instant discharge capacity >15C. Support PWM normal ESC.
- Can install FY90Q or FY91Q. needs at least 4 channels to fly your aircraft. We recommend you to use RC device with 5 channels or more for expansion. Support most.Compatible with all the RC devices.

X4 Pro include :
- Feiyu X4 Quadcopter frame kit x 1 set
- Fiberglass fuselage x1
- Fiberglass frame arm x 4
- Motor installed mounting plate*4
- Aluminium connecting pillar and screw*several
- ESC x 4
- Motor x 4
- CW CCW propeller x 4
- User Manualx1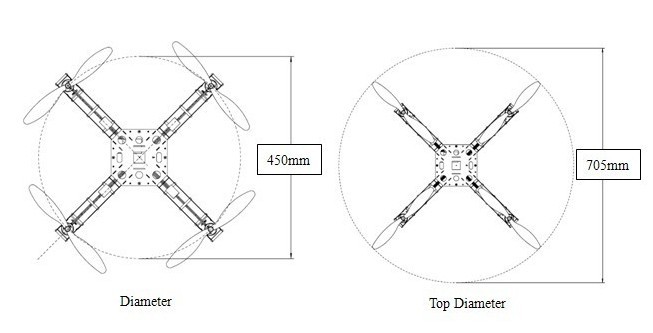 Install:
Step 1:Frame ArmAssembly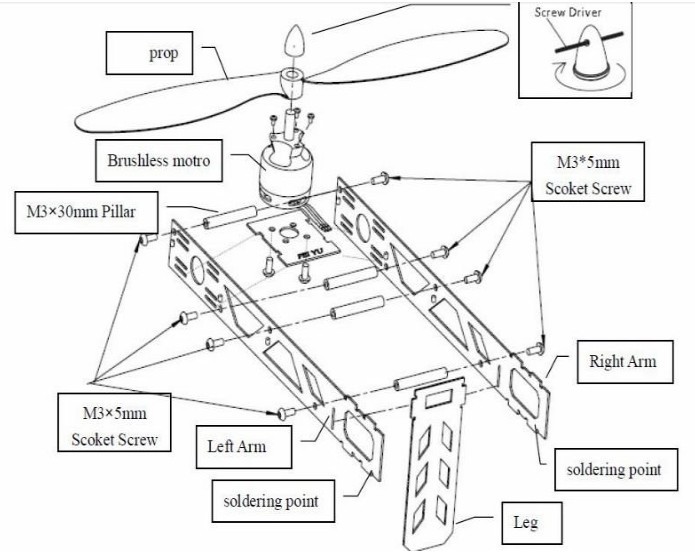 Step 2:Building the Fuselage and attaching and Welding the Frames to the Fuselage.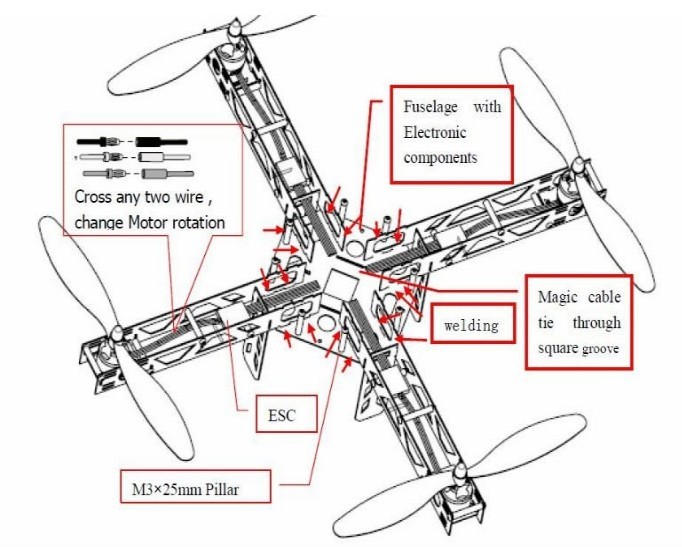 Step 3: Welding (soldering) the frames to the bottom fuse plate with the electronics.
Power detection: Fuselage Led flash
Status

LED on

Slow flash

Medium flash

Fast flash

battery

>11.5V

11.1V~11.5V

10.8V~11.1V

<10.8V

note

Enough power

Voltage

reduction

Need landing

Landing

Immediately
Step 4: Installing the ESC's and the Battery connector.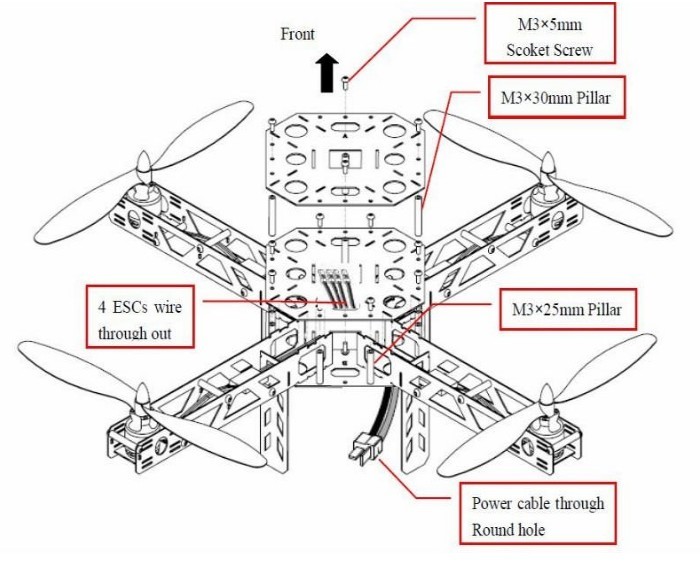 Test Vedio Address:
- http://v.youku.com/v_show/id_XMjQyMzgwNzA4.html
- http://v.youku.com/v_show/id_XMjI4MTc4NDY4.html
- http://v.youku.com/v_show/id_XMjI2Njc1MjE2.html
- http://v.youku.com/v_show/id_XMjE0MDczMDQ4.html