Freaduino UNO Rev1.2 Arduino compatible based on Arduino UNO Rev3  R3


Freaduino UNO is an Arduino compatible board. It is based on Arduino UNO Rev3 design. So you can use Freaduino as Arduino UNO Rev3 . All code, shield and IDE for Arduino UNO Rev3 are also valid on Freaduino UNO. Some visible improvement on hardware make Freaduino UNO more flexible and easier to use.
For example: 3.3v or 5v IO selectable allow you connect some 3.3v modules (such as XBee) to Freaduino directly. SPI, COM and IIC bus breakout make bus connect easier.

Features:
- Inherits all of Arduino UNO's features.
- Compatible to Arduino UNO/Duemilanove's pin layout, screw hole and dimensions.
- 3.3V or 5v Operating Voltage selecable
- More visible location of Indicator LEDs
- Wide range external input from 7~23V DC
- UART/IIC and SPI interface breakout
- Evolved with SMD components
- Digital I/O pins 14 (of which 6 provide PWM output)
- Flash memory 32 KB of which 0.5 KB used by bootloader
- SRAM 2 KB
- EEPROM 1 KB
- Clock speed 16 MHz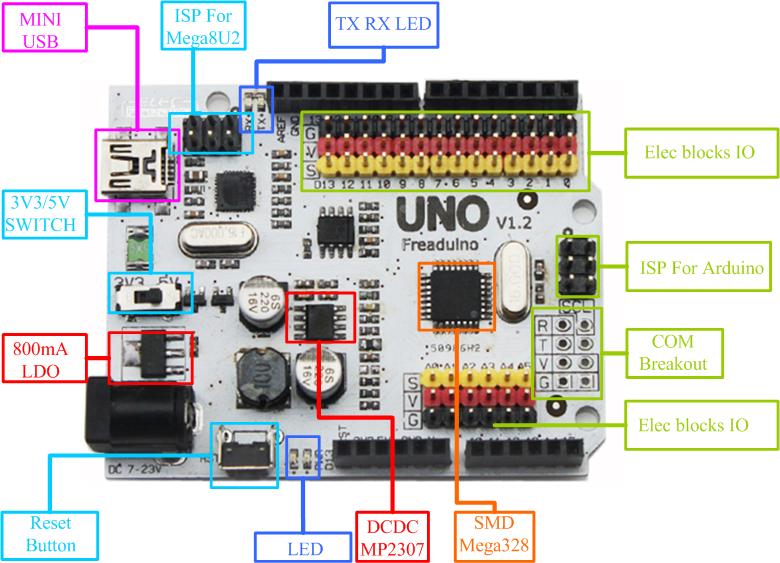 What is Freaduino different from Arduino Duemilanove?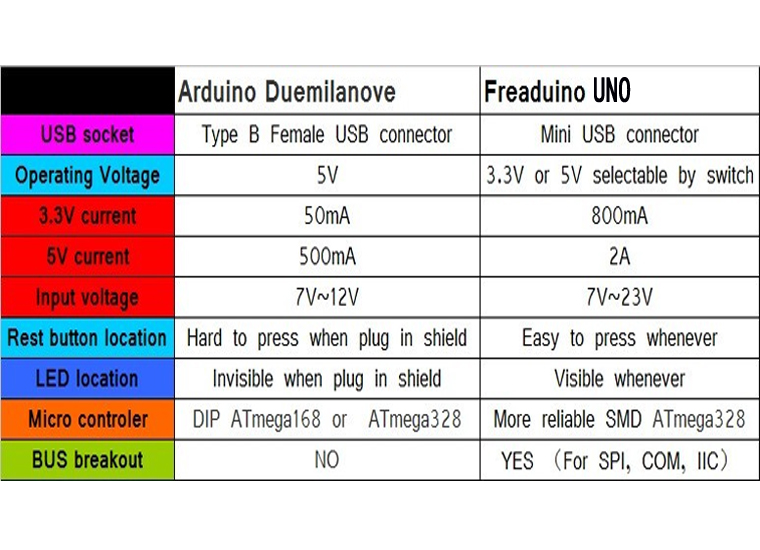 Documents:
Atmega 328 Datasheet
Schematic