Hifly Hand 3 Axis Red SCARLET EPIC Camera Gimbal Brushless Stabilization Stabilize 8108-90T Motor w/ Alexmos Controller

Note:
- This item is free shipping by DHL/UPS/EMS. Battery will be sent by Singapore post. So u will get two parcels.
- When you make order, pls send us message or make record which express you prefer.(DHL/UPS/EMS)
- For Brazil customers, when order, please leave us your CPF number.
- For Russia customers, when order, please leave us your full name ,only EMS can be shipping.

- Delivery/Commercial invoice Value:
- Based on most customer's suggestion, we will make commerical invoice value usd200 to avoid big tax.(if customer has different requirement of value, pls give us message or make record)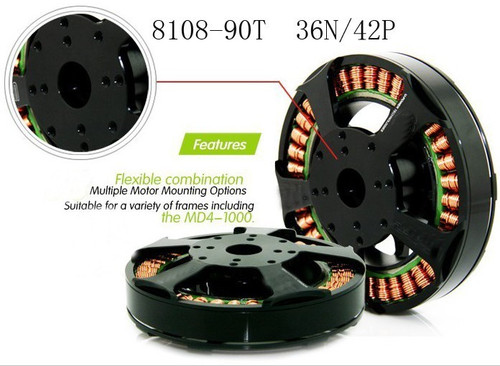 Specification
- size : 520w x 350h x 300d mm
- weight : 2kg
- supporting camera : Canon 5D Mark III, EOS-1D C & DSLR,Red EPIC & SCARLET
- payload : below 5kg

Requirement
- Radio transmitter & receiver(2.4ghz, more 6channel)
- Wireless video input/ output device.

Description
- It is steady cam device of a new concept of controlled electronically using the sensors and brushless motor.
- we've applied a control system of Alexmos
RED Gimbal (new production profile):
- After continuous efforts we have finally developed a suitable RED EIPC Brushless Gimbal, the new RED Brushless Gimbal has three major features:

1. this gimbal has been upgraded from the rack structure , the active rotation axis is more robust and more reliable.
2. the new brushless motor torque is also upgraded, it can take 5kg cameras, which means it can afford almost all of the cameras and some camcorders.
3. new tube corner fittings to create integrated structure, which makes installation fast and simple.

Full 3k Carbon,Big package
- Some Camera Models for your reference:
- CANON 1D-C CANON C500 CANON C300
- NIKON D4
- SONY FS700 SONY FS100
- RED EPIC RED SCARLET

Packing Includes:
- 3-axis steadycam rig kit for DSLR(2pcs 8108-90T(36N/42P) ,2pcs 5208-180T Motor)
- Alexmos 3-Axis controller
- lion power 11.1v 5300mah 40c battery
- (110v-240v)AC lipo Balance Battery Charge

you need to tune the gimbal controller,tks!!!!!!!!
more details you should study on the web: http://www.simplebgc.com/eng/
If you are a beginner for the Brushless Gimbal Controller,you need learn how to use the Brushless Gimbal Controller first.