LILLIPUT RM-7028S Dual 7" 3RU Rack Monitors IPS Screens Viewing SD HD and 3G-SDI

Description:
- Dual 7" 3RU Rack Monitors With dual 7" IPS screens, viewing SD,HD and 3G-SDI video on 3RU rack monitor
- Perfect 3G-SDI Monitoring with Broadcast Quality for Live Events & Shows
- Model: RM-7028S
- Features
- Metal Housing
- Resolution: 1280×800
- 178° wide viewing angles
- High brightness: 400cd/㎡
- High contrast: 800:1
- Faster response time
- TALLY interface with indicating light
- Firm & thin design

Specifications:
- Panel: 7"×2 LED backlit
- Physical Resolution: 1280×800
- Aspect Ratio: 16:9
- Brightness: 400cd/㎡
- Contrast: 800: 1
- Viewing Angle: 178°/ 178°(H/V) (IPS)
- Input Signal: 3G-SDI×2, HDMI×2, YPbPr×6(BNC), Composite×2, TALLY×2, LAN×1(coming soon), USB2.0(mini)×1
- Output Signal: 3G-SDI×2, HDMI×2, YPbPr×6(BNC), Composite×2
- Current: 1500mA
- Input Voltage: DC 12V
- Power Consumption: ≤18W
- Operating Temperature: -20℃~60℃
- Storage Temperature: -30℃~70℃
- Dimension(LWD): 482.5×133.5×25.3mm
- Weight: 2885g

Features:
- Intelligent SDI Monitoring
Lilliput 7" 3RU rack monitors are the best solution for high quality SDI monitoring! They have a various of use for broadcast, on-site monitoring and live broadcast van, etc! As well as setup a video wall of rack monitors in control room and see all the scenes.
A rack for a customized monitoring solution also can be supported for viewing different angles and images displays.
Perfect Dual Monitoring
Because of better filtering and scaling advantages, Lilliput's 3RU rack monitors are really suitable for broadcast quality monitoring system. With high quality SD, HD & 3G-SDI inputs, make sure that precise color can be controlled under multiple displays conveniently. Highly integrated Tally port and Tally description, which are ideal for large broadcast systems.

- Smart Ethernet Control (coming soon)
Using laptop, Mac or PC to set and adjust each monitor easily with relevant softwares via ethernet network.

- Excellent Display & Design
Lilliput's dual 7" rack monitors feature two attractive IPS panels, which with 1280x800 high resolution, 178° wide viewing angles, high brightness & contrast, and faster response time; that providing excellent viewing experience. Metal & thin housing design is also welcomed by live events and shows.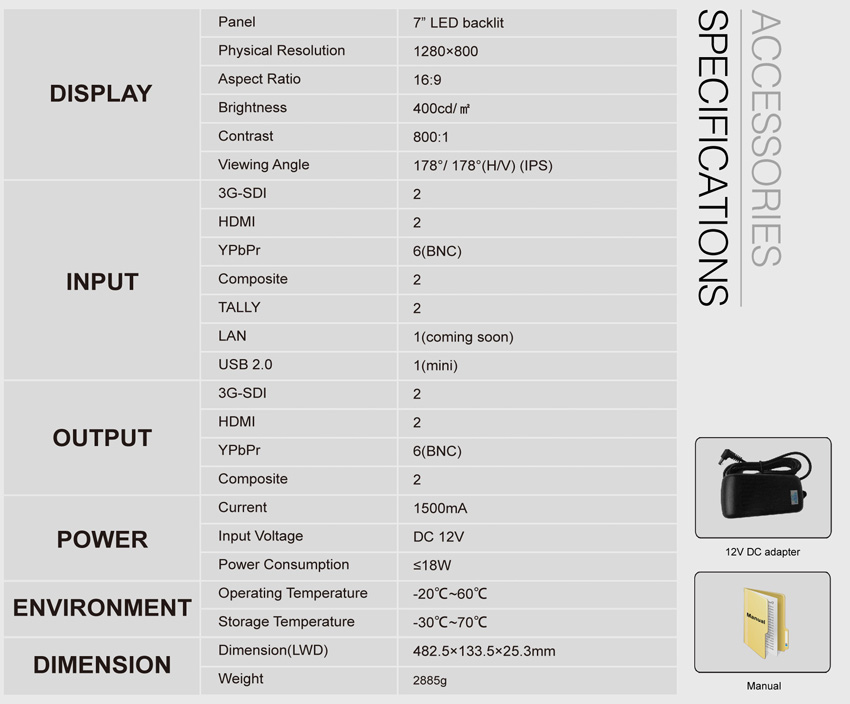 Package Contents:
- Lilliput 7" Dual 3RU Rack Monitors
- 12V DC adapter: 1piece
- Manual: 1copy