M128+ ATmega128A ATmega128 AVR Development Board System
Description:
- A complete starter kit and development system for the ATmega128 microcontroller. It is designed to give designers a quick start to develop code on ATmega128.
- This development system contains a main development board with the ATmega128A-AU chip and an additional expansion board with various peripheral devices.
- 10-pin Cables should be used between the BUS-A/BUS-B headers of the two boards to setup hardware connection (as shown in the figure right).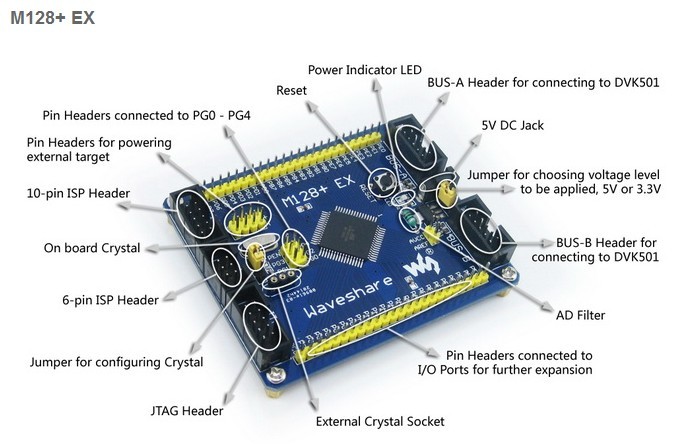 Specfications:
- Power voltage level configurable, 5V or 3.3V
- Crystal configurable, there is a jumper for selecting on board 7.3728M crystal or external crystal mounted via the socket
- AD filter circuit for AD sampling system
- Reset button
-  ISP header, compatible with standard ISP header pinout from ATMEL
- JTAG header, compatible with standard JTAG header pinout from ATMEL
-  All the pins are marked on the board. These marks describe the function of each pin
-  All I/O ports are connected to pin headers for further expansion
-  Expansion headers for connecting to the DVK501, gives users a quick start to develop code on various peripheral devices
M128+ EX Package
-  M128+ EX (with ATmega128A-AU)
- USB Cable for sourcing power
- 4-pin wire x 2
- 2-pin wire x 2
- 5V Power adapter
- User Manual CD