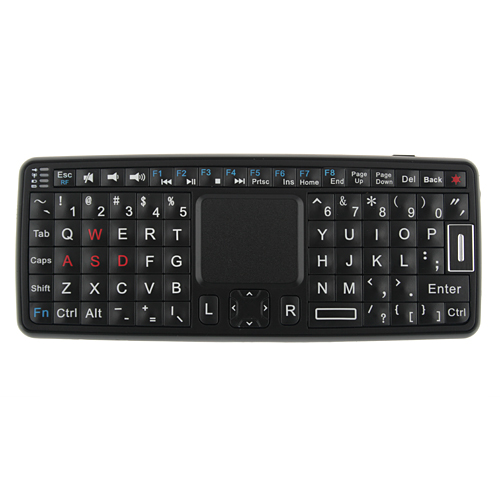 Features:
Specific multi-media remote control and touchpad presenter function handheld keyboard
QQ,MSN,Skype voice calls
Support for all internet voice calls
To enjoy PC Multi-media entertainment at home
Convenient and efficient for Conference, Speech, Presentation and Training
Enhances internet TV viewing with remote control, just like your TV remote controller
Function description:
1. On the code:
First used when inserted USB code, turn ON the power switch "ON" position, press "FN" key +"RF" button, close to the USB flashing lights to code LED to stop, to code success; No on the code LED flash, long time no against the code machine into the province electricity mode, LED also will be quenched, press any key awakened.
2.The mouse function:
More touch mouse data collection plate way function.
3.Speech function:
According to open and shut down a key language start music play function, speech  function can MSN,SKYPE and all the network voice calls)According to the volume button volume adjustment.
4.Low voltage testing function:
Voltage is lower than 3.3 V will enter into low voltage state,   every 30 seconds red LED to slow flash 5 times, says electricity shortage, must be charge.
5. Indicator function:
Charging the LED long bright, low electric LED flash, charging complete LED long bright Button flashing.
LED said it was sending code, Voice open LED indicator light on the LED indicator light when closed, Without any operation after 15 seconds into the sleep state, press any key to wake up.
Specification:
2.4G radio transceiver, 30 feet distance
Charge voltage: DC5V/300mA
Rating voltage: 3.7V
Low battery tips
The charging function
Laser pen function
USB receiving terminal
Net  Weight: 102g
Dimension: 157 * 61 * 12mm                        
Package size: 185 * 90 * 45mm
System Requirement:
WIN2000,WINXP,VISTA,WIN7, ANDROID, Mac O,S, Linux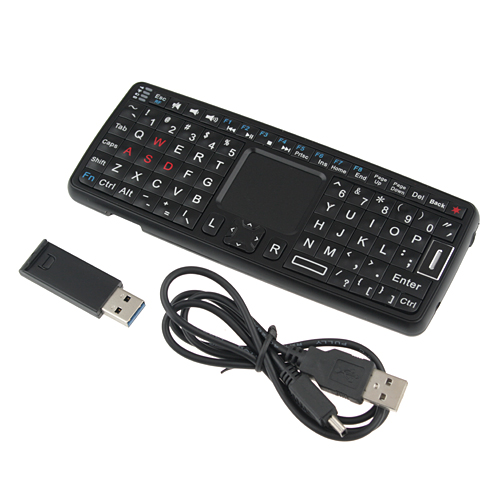 Package Contains:
1 x Mini 178  Handheld Keyboard
1 x Mini USB Cable
1 x User Manual