MV-E1002 HD Video Encoder HDMI Input Support 3U Structure H.264 Encoding for IPTV Broadcast

User manual: Click here

Introduction:
Mine Tech HD video Encoder (HDMI input) is our newest professional HD audio & video encoding device with powerful functionality, which supports H.264 encoding, dual-Streaming data. It is equipped with 1 HDMI channels input supporting MPEG-4 AVC/H.264 High Profile code format & main Profile code format. Its high integration and cost-effective design make this device widely used in variety of digital distribution systems such as CATV digital head-end, satellite and terrestrial digital TV etc, Besides, it supports 3U structure with 16 pieces capture cards in one chassis, and dual power supply make the system more stable. Further more, it full supports VLC decode.

Application
- IPTV
- NVR(Net Video Recorder)
- Digital Signage HD stream server
- Video Conference system video server
- Internet conference system video capture
- Replace HD video capture card
- Hotel cable TV system

Main features:
- Support H.264 Baseline Profile /H.264 Main Profile / H.264 High Profile
- Support MJPEG/JPEG Baseline
- Audio coding support MPEG1 Audio Layer2
- CBR/VBR/ABR code rate controlling , 16kbit/s~40Mbit/s
- Support Network interface full-duplex mode 1000M
- Support 1 channel HDMI input, also supports converting HDMI to VGA input
- Support up to 720P, 1080P HD video input
- Support image parameter settings
- Support HDCP protocol and HD blue-ray
- Support HTTP,UTP,RTSP,RTMP,ONVIF protocol
- The WEB operating interface, configuration interface in Chinese and English are optional.
- Authority management for WEB operating interface.
- Support the double stream output
- The main stream and the second stream can be transferred by different networking protocol
- Support the setting for stream resolution.
- Supports MP3 and AAC audio format selection
- Support switching mono and stereo for audio output stream.
- Support GOP frame rate settings
- Support a click to restore the default configuration
- Support decoding the set-top box
- Low-power design
- 3U high-grade chassis, with main power automatic switching function, which ensure the stability of the system.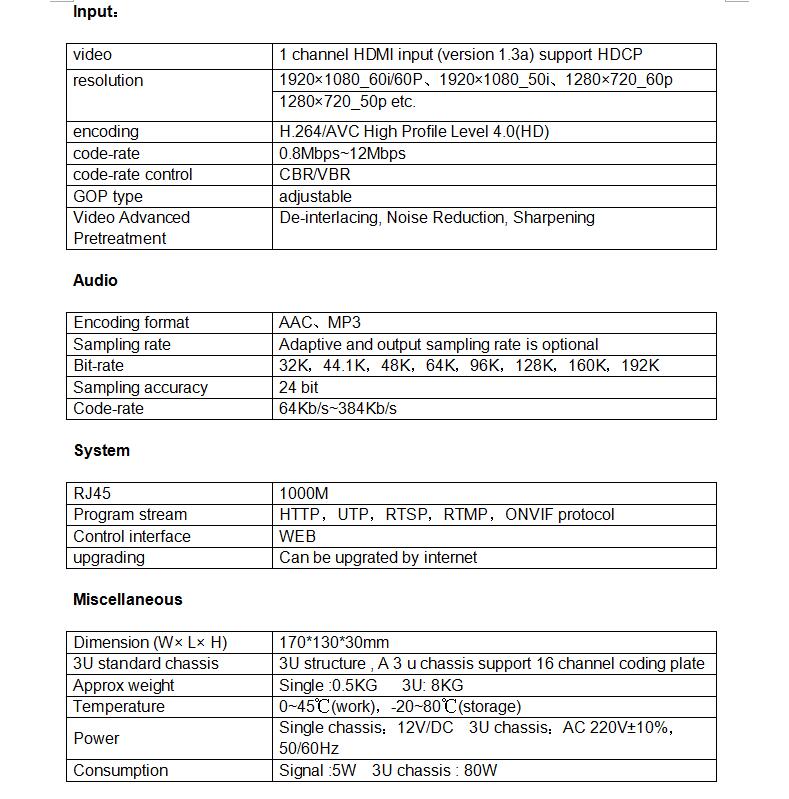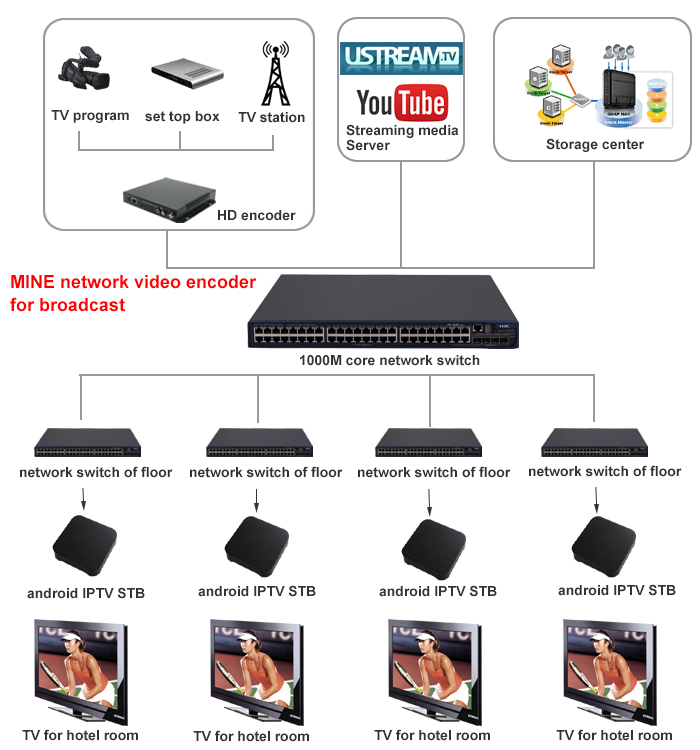 Package Contents:
- 1 x Video Encoder