Newest V2.2 Version EAGLE A3 Super RC Flight Controller System Fixed-wing w/6-axis 3 gyro+3 acc MEMS

Overview:
- A3 Super is the latest RC flight control system of EAGLE's A3 Series. It is designed especially for fixed-wing. With an integrated built-in high precision 6-axis (3 gyro + 3 acc) MEMS sensor and advanced attitude and PID control algorithm, the controller can accurately detect the angular velocity and attitude of the aircraft and issue commands to all servos, which enables the balance and stability throughout the flight. A3 Super provides mixing functions of delta-wing (flying-wing), v-tail and also supports separate dual aileron and dual elevator controls. It can be used in nearly any type of RC aircrafts.
- A3 Super offers four flight modes, including Normal Stabilization Mode, 3D Attitude Locking Mode, Self-balance Mode and Gyro Deactivated Mode. It also provides three kinds of control behavior including Stable Mode, Normal Mode and Sport Mode to meet the need of various user's requirement.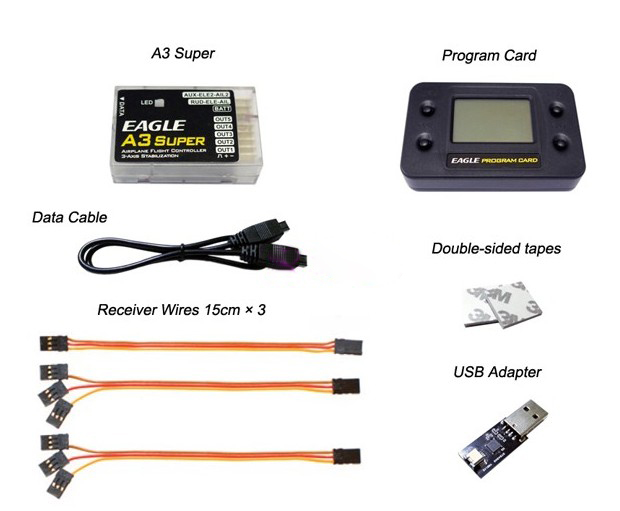 We also provide you a program card. Without connecting to a PC, you can easily setup all the functions and parameters even during the outdoor flight. The firmware can be upgraded through the USB adapter.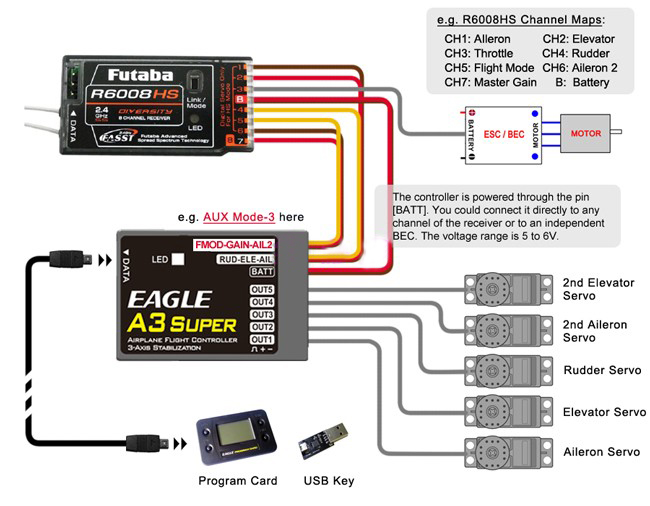 Features

Integrated design of 6-axis (3 gyro+3 acc ) MEMS sensor for self-stability and self-balance.
Advanced brown-out fast recovery ability provides you better security and reliability.
4 flight modes: Normal Stabilization, 3D Attitude Locking, Self-balance and Gyro Deactivated Modes.
4 AUX modes to define functional combination of input pins.
3 control behaviors: stable, normal and sport modes.
5 operating frequencies for servos, compatible with analog or digital servos.
Remote master gain adjustment during flight.
Separate dual aileron and elevator with dual input supported.
Independent gyro direction setup for aileron 2 and elevator 2.
Easy-to-use program card which supports both Simplified Chinese and English.
Independent gyro gain adjustment and gyro ratio selection for each flight mode.
Separate adjustments for servo travel limits.
Mixing functions of delta-wing (flying-wing) and v-tail.
More advanced settings such as gyro response rate, gyro switch, level offset, stick centering and stick dead band etc.

Functions

Flight Mode (NORM/3DAL/SBAL 3-position assignment)
AUX Mode(Mode-1/2/3/4)
Wing Type (Normal/Delta-wing/V-tail)
Master Gain (0~100%)
Normal Gain (Aileron/Elevator/Rudder 0~100%)
3D Flight Gain (Aileron/Elevator/Rudder 0~100%)
Self-balance Gain (Aileron/Elevator 0~100%)
Gain Ratio (NORM/3DAL/SBAL S/M/L)
Mount Orientation (Face Up/Face Down)
Servo Limits (AIL-L/AIL-R/ELE-U/ELE-D/RUD-L/RUD-R 0~100%)
Gyro On-Off (AIL/ELE/RUD ON/OFF)
Gyro Direction (AIL/ELE/RUD/AIL2/ELE2 NOR/REV)
Servo Operating Frequency (50Hz/63Hz/83Hz/125Hz/250Hz)
Response Rate (Very Slow/Slow/Standard/Fast/Very Fast)
Control Behavior (Stable/Normal/Sport)
Level Offset (Roll/Pitch ±20°)
Stick Centering
Stick Deadband (0-10%)
Data Save (5 copies)
Data Load (5 copies)
Language :Chinese/English)
Device Info.
Card Info.
Data Reset

Specifications

Gyroscope: ±2000 dps
Accelerometer: ±4g
Input Voltage: DC5V~6V
Supported Servo Type: 1520μs analog and digital servo
Operating Temperature: -40 ℃ ~ 85 ℃
Size: 43×27mm
Weight: 10g (excluding receiver wires)

Package Included:
- 1Set x A3 Super Flight Controller + Program Card