PAT-433 433MHz ISM Transmitter + Receiver Wireless IR Remote Extender 38KHz 200M

Descriptions:
- PAKITE PAT-433 Wireless IR Remote Extender. The product consists of a transmitter and a receiver. It adopts a Superheterodyne 433MHz wireless transmission scheme and has the advantages of long transmission range, anti-interference and high sensitivity. It can remotely control home appliances such as a TV, DVD, DVR, IPTV, satellite STB, digital TV STB.

Features:
- Use 433MHz ISM frequency band.
- The transmitter and the receiver are used in the same channel in a pair and can be used in the modes of point-to-multipoint or multipoint-to-multipoint.
- Wireless transmit ≤200m.
- Superheterodyne 433MHz Wireless IR Remote Extender is fully compatible with remote control signals of DVD, DVR, CCD camera, IPTV, satellite STB, digital TV STB and other AV devices.
- The product is equipped with super strong IR signal transmitting function or used in conjunction with an IR signal extension wire.
- Fully hardware-designed. There is no need to install software. Plug and play. Simple and convenient.
- Dimensions: 10cm (L) ×8.5cm (W) ×3.0cm (H).
- 433MHz module is FCC CLASSB certificated. Wireless application is safe and reliable.

Transmitter
Receiver
IR Transmitter
Superheterodyne 433.92MHz
433MHz Sensitivity
-110dBm
Carrier frequency
38KHz
Carrier frequency
38KHz
IR Receiving Range
≥10m
IR Transmitting Range
≥5m
Power Supply
DC 5V-1000mA
Power Supply
DC 5V-1000mA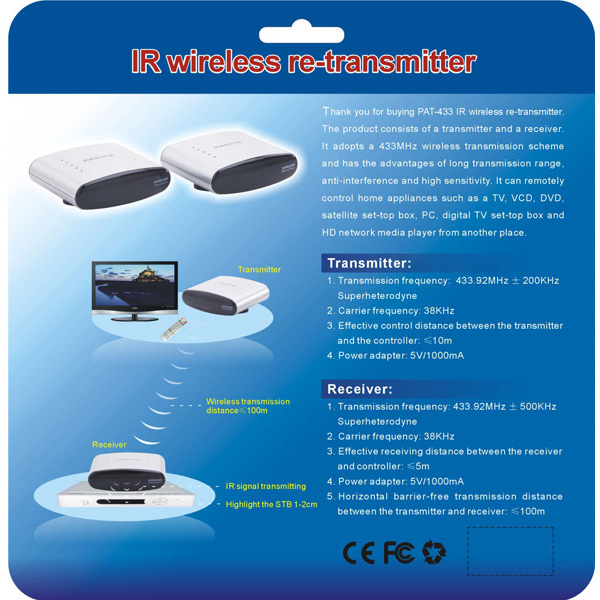 Application:
Can to use wireless remote control signal in different place, to remote control DVD, IPTV, Fan, air conditioner, satellite receiver, digital television STB and other Various kinds of equipment.