Portable Digital Electronic Tabletop Roll up Drum Kit Standard drum-set

Description:
- This USB Roll-up Drum Kit is great for beginners or professionals! It allows users to record own rhythm sets or has the ability to play your own music from your song library to play along to! this kit comes with two pedals so you can get the real feel of a kick drum and hi-hat pedal. The roll up design makes it easily portable and the price makes it easily affordable! Get your beats down faster with this great item!

We sincerely hope that it will give full play to your musical talent, and bring your immense joy and wonderful experience.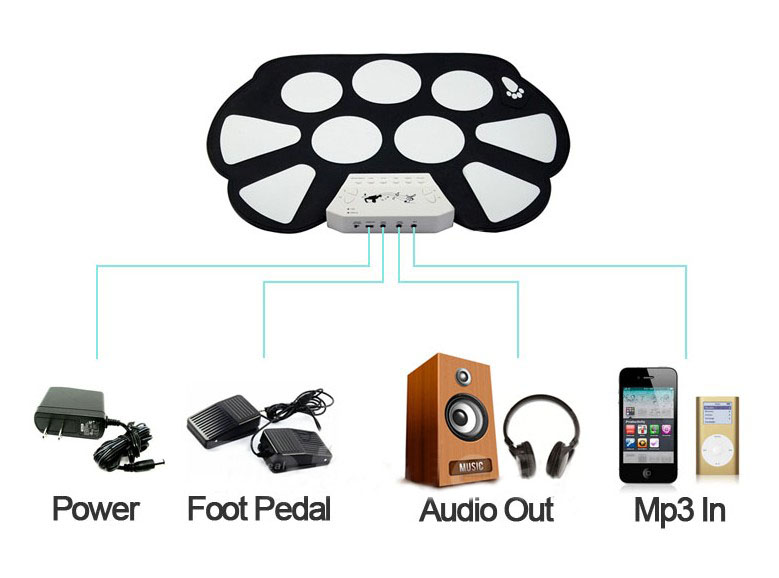 Features:
- The world's first multifunctional, portable and professional MIDI Drum
- Portable, fashionable, concise, easy to carry
- High quality drum sound inside, very nature and the most powerful sound
- Standard drum-set and the expansive pedal makes you feel absolutely the same as real drum
- Professional demo inside, convenient to study
- Style inside, tempo adjustable, gives you the best way to study and practice
- Record function inside, convenient to record your inspiration anywhere anytime
- Powered by batteries, high quality speaker inside, you can use it anywhere and anytime
- Audio input and output, excellent expandability for other device
- Power supply by USB and DC 5V
- Size: 38.5(L) X 27.5(W) X 2.5(D) CM
- Weight: 360g
- Input voltage: USB 5V or battery AAA X 1.5V X 2PCS (not included)
- Material: silicone

Package list:
- 1 X Electronic Drum
- 2 X Drum Stick
- 1 x USB Cable
- 1 X Drum Foot Pedal
- 1 X User manual