SkyRc Toro Short Course 120A ESC Combo + 4000KV/4P Brushless Motor + Programming Card for 1/10 Scale Car


ESC Part Introduction: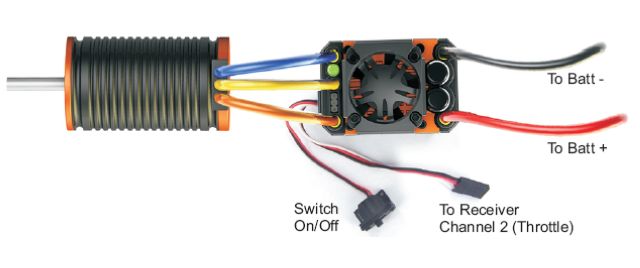 Connection to Brushless Motor:
Connect the blue, yellow and orange motor wires to the motor. There is no polarity on the three ESC-to-motor wires, so do not worry about how you connect them initially. You may find it necessary to swap two wires if the motor runs in reverse.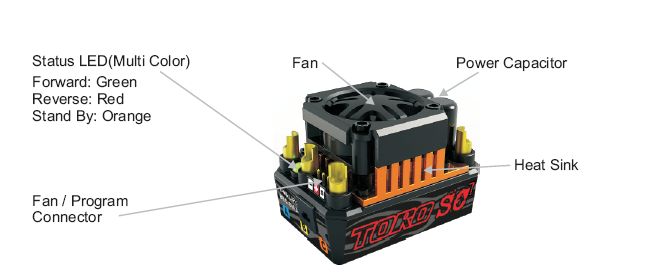 ESC Specifications:
| | |
| --- | --- |
| Controls, TORO SC | Rev/Brk/Brk or Fwd/Fwd |
| Motor Limits, TORO SC | Input Power (Cells) |
| Brushless KV ≤ 6000 | Up to 2S(8.4Volt),ideal for 1/10 Short Course |
| Brushless KV ≤ 4000 | Up to 3S(12.6Volt),ideal for 1/10 buggies and Short Course |
| Brushless KV ≤ 3000 | Up to 4S(16.8Volt),ideal for 1/8 buggies |
| On Resistance, Brushless | 0.0004 Ohms per phase at 25℃(77°F)Trans.Temp |
| Continuous/Burst Current | 120Amp/760Amp |
| Switching BEC | 6V 5Amp |
| Status LED | 1 with 3 color (Red, Green & Orange) |
| Thermal Overload Protection | Yes |
| Dimensions(L*W*H) | 55*37.6*38.4mm(2.17*1.47*1.51in) |
| Weight(Without wires) | 87g(3.07oz) |

Motor Features:
tem Name
Toro 4000KV/4P BL Motor for 1/10 Short Course Truck
Sensored /Sensorless
sensorless
No loading
3.4A
Max power
2000W
Max current
155A
KV value
4000KV
Resistance (Ω)
0.0064Ω
Poles
4P
Max voltage
21V
Size
36*62.5mm
Weight
220g
Extend shaft diameter
5mm
Length of extend shaft
15.5mm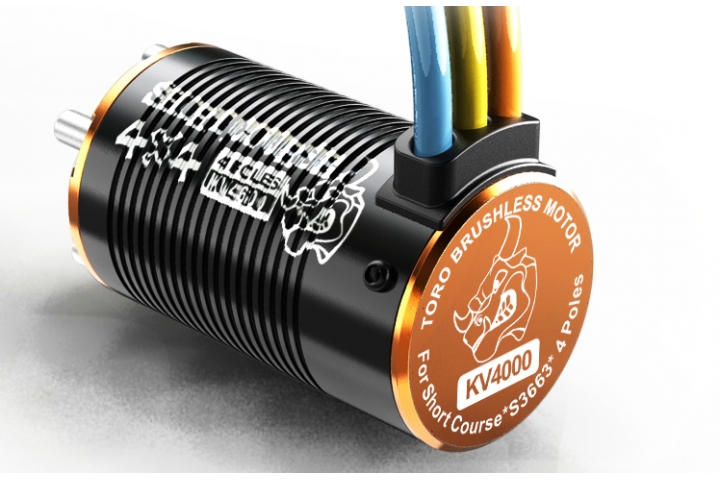 Programming card specifications:
- Dimension: 52.5x79.5x6.6mm
- Weight:11g