Tarot TL100A17 Shock Absorber Assembly Anti-vibration Damper for 3 axis Camera Gimbal Mount
Description:
- Tarot TL100A17 is applicable for the 3 axis Camera Mount Tarot TL100AAA and TL100ABB, it adopts Imported 3K carbon fiber cloth woven of pure carbon fiber plate full CNC machining.

Note: according to the weight of the PTZ camera, two-color shock pad the quantity and specifications of self-regulation (black shock hardness: 32 degrees, Blue shock hardness: 40 degrees)
3-axis PTZ shock assembly with connection DJIS800/TAROT T810 aircraft, six hexagonal aluminum column.
3-axis PTZ shock assembly connected with TL100B01/TL100A01 aircraft, the eight hexagonal aluminum column.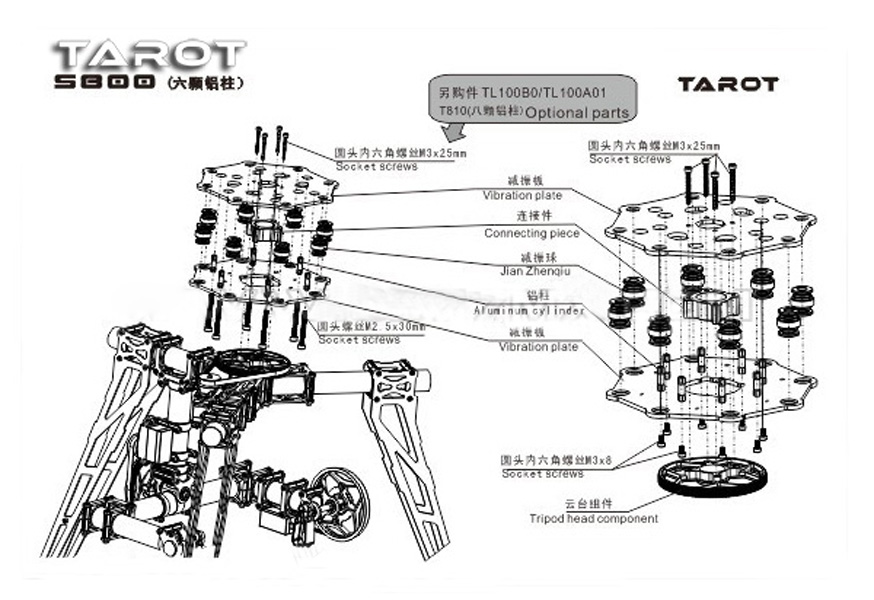 Tarot TL100A17 Specifications:
- 2.5MM3K pure carbon fiber upper shock plate x 1
- 2.5MM3K pure carbon fiber under shock plate x 1
- M3 x 5MM Round Head SHCS x 16
- M3 x 25MM Cup head SHCS x 4
- Blue suspension ball (hardness: 40) x8
- The black shock absorbers ball (hardness: 32) x 8
- The M3H5 x 20MM metallic hexagonal aluminum column x 8
- Metal shock connection guide the column x 1 (33 x 33 x16.5MM)
- Weight: 195G