TDA2030A Audio Power Amplifier DIY Kit Components OCL 18W x 2 BTL 36W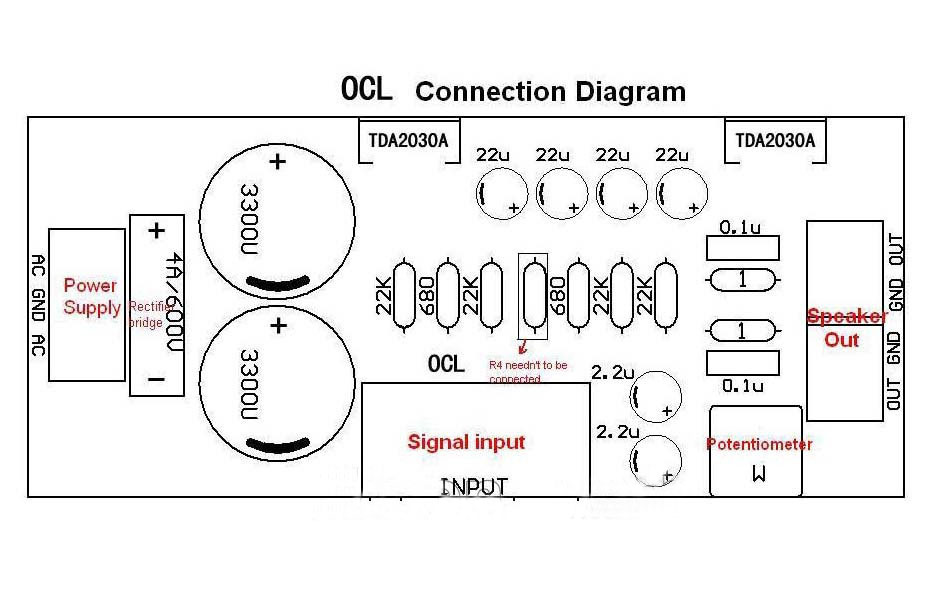 Note: what you will receive are just components and you need to assemble it by yourself

Features:
- Great PCB for Two kind of connections (OCL and BTL)
- Double kneading board design
- PCB Size:40mm X 92mm X 1.6mm
- Power Input:2 X 12VAC, that is 12V - 0 -12V AC
- Dual-channel kit can be accessed by OCL or mono BTL circuit, flexible, wide range of applications. The famous 1% metal film resistors in China, Panasonic capacitors and Wima film capacitors, two Rubycon 3300uF/25V filter capacitors. Volume on the design board potentiometer.The circuit board design is reasonable, low noise, high performance-price ratio, is the beginner's first choice!

NO 1:
- For OCT Type, R4 needn't to be connected.

No 2:
- For BTL Type, C9 needn't to be connected and singnal is inputed from the right part of the RCA sockets.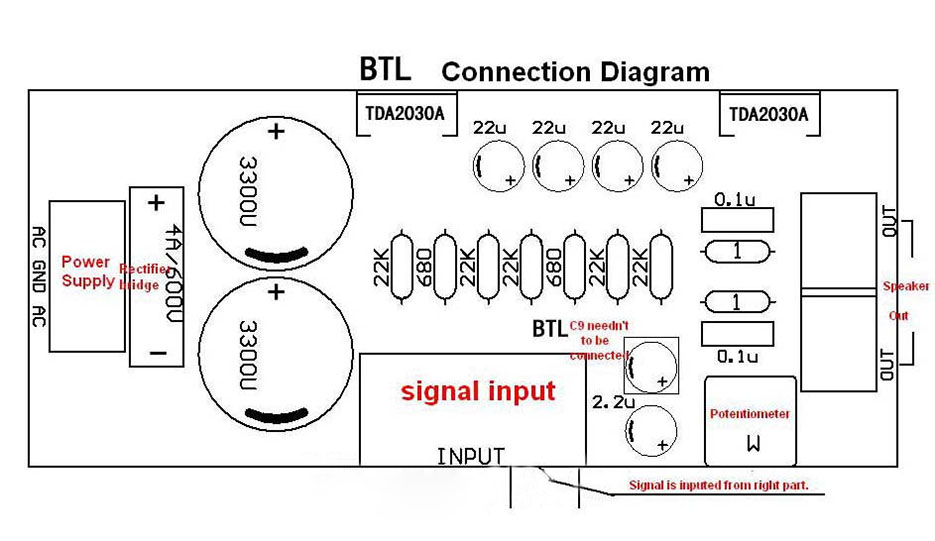 Package Include:
- PCB,Components,installation drawing.

List
| | | | |
| --- | --- | --- | --- |
| Double-Sided PCB | 1 | 1 Ohm metalfilmresistor | 2 |
| TDA2030A+Insulating Material | 2 | 680 Ohm metalfilmresistor | 2 |
| 3300U/25V (Rubycon) | 2 | 4A/600V Rectifier bridge | 1 |
| 22u/50V (panasonic) | 4 | 2 wire holder | 2 |
| 2.2u/50V (panasonic) | 2 | 3 wire holder | 1 |
| 0.1u WIMA | 2 | Installation drawing | 1 |
| 22K Metalfilmresistor | 5 | RCA sockets & Potentiometers | 1 |