Tiny210 SDK + 7" LCD SLC 1G Samsung S5PV210 CortexTM-A8 Development Board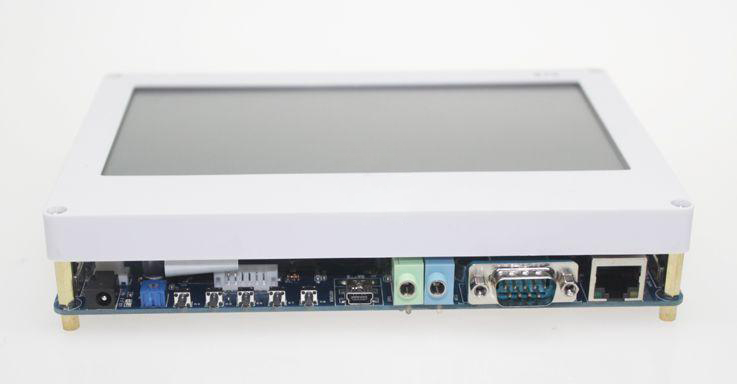 Description:
- Tiny210 is a high-performance Cortex A8 core board, from Guangzhou, a friendly arm design, production and distribution sales. It uses Samsung S5PV210 as the main processor, running at up to 1GHz. Integrated PowerVR SGX540 S5PV210 internal high-performance graphics engine, support for 3D graphics run smoothly, and can be smooth to play 1080P video of the large size.
- Mainly using the tiny210 double-pin 2.0mm pitch, leads to the CPU the most common functional pin, and seeks to Tiny6410 core board three rows of pin-compatible (P1, P2, and the CON2); also features the S5PV210 chips, respectively, leads to the standard miniHDMI interface, and 1.0mm pitch SMD CON1 Block (51Pin), as shown above.
- Tiny210 onboard 512M DDR2 memory, and can smoothly run advanced operating system, Android, Linux and WinCE6. It is ideal for the development of high-end Internet of Things, advertising, multimedia terminal, smart home, high-end surveillance system, video game control panel device.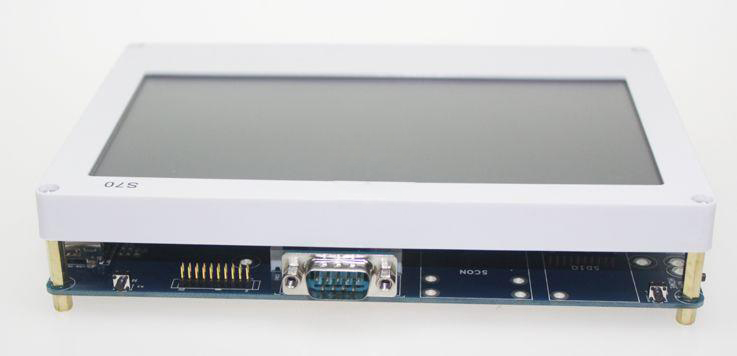 Hardware configuration:

CPU:
- The samsung S5PV210, based on the Cortex ™-A8, running at 1GHz
- High-performance graphics engine built-in PowerVR SGX540
- 2D/3D graphics acceleration to support the smooth
- Supports up to 1080p @ 30fps hardware decoding and smooth video playback, the format can be MPEG4, H.263, H.264,
- Supports up to 1080p @ 30fps the hardware encoding (Mpeg-2/VC1,) video input

DDR2 RAM memory:
- Size: 512MB
- 32bit data bus, single-channel
- Operating frequency: 200MHz

FLASH memory:
- The SLC the NAND Flash: 256MB (standard) / 1GB

Interface resources:
- 2 x 60 Pin 2.0mm space the DIP connector
- 1 x 30 Pin 2.0mm space the DIP connector
- 1 x 51 Pin 1.0mm space of SMD the connector

On-board resources:
- 4 x the User Leds (Green)
- 1 x Power Led (Red)
- Supply Voltage from 2V to 6V (support wake up from sleep mode)

PCB Size:
- Eight-storey-density circuit board, immersion gold process to produce
- Size: 64 x 50 11 (mm)

Software Support:
- Superboot-210
- Android 2.3 + Linux-2.6.35
- Android 4.0 (provisional Preview image file)
- Linux-2.6.35 + Qtopia-2.2.0/Qt-4.4.3/Qt-4.7
- WindowsCE6

TinySDK main features:
- Integrated USB 2.0 Hub: Extended 4 USB host ports, three of them as the standard side port, and an by SCON interface leads
- Serial Port: 4, 2 of them have been converted to RS232, and leads through the DB9 Block (COM0, COM1), through the CON1, 2, 3, 4, Block leads to TTL level
- Interrupt style keys: 8, leads CON7 Block, user-friendly extended use
- RJ45 Ethernet port: NIC using DM9000AEP, 10/100M adaptive
- Audio input and output: using the WM8960 professional audio chip, containing Class D amplifier on-board microphone, and supports HDMI audio and video synchronization output (exclusive)
- USB Slave: 1 Road, the USB 2.0 specification
- Infrared receiver: 1
- ADC input: 6, which AIN0 connected out resistance in the plate can be used to test
- Buzzer: 1, control by the PWM0
- LCD Interface: 2 LCD interface, both 40 Pin 0.5mm Pitch Chip Block, support front-line precision touch support 3.5 "-19" full color TFT display
- SDIO interface: used to connect the SD WiFi module and other
- The CMOS Camera: used to connect CMOS camera
- RTC clock: with a backup battery (according to different regions or time periods, mailing may remove the battery)
- PCB layer: 2
- PCB size: 180 x 130mm, can be easily fixed all kinds of LCD modules, especially the 7-inch LCD module
- Power supply: DC-5V

Package List:
- 1 * Tiny210 core board
- 1 * TinySDK the developer board
- 1 * 7" LCD module
- 1 * DVD data discs
- 1 * Null modem serial cable
- 1 * mini USB cable
- 1 * Network Cable
- 1 * Power adapter, output 5V/2A