23000mAh Solar Panel USB Battery Charger for 12/16/19V Laptop/ phones/iPad dca

Product Description:
- for Laptop 12V 16V 19V Camera MP3 MP4
- There is no Lighting Adapter,
- please use your lighting cable for Iphone 5 & Ipad 4 ,Mini charging
- It can NOT fit for Samsung I9008, Moto me865, me526
- Note: You must select the correct voltage to get rid of being burnt out
- Brand new High capacity 23000mAh Solar battery
- With 10 mobile adapters, mostly suitable for Ipad 3 4 Mini Iphone 3 4, 4S, 5, Ipod, MI, MP3 ,MP4, Camera, Sony Ericsson, PSP, HTC,Samsung(except I9003), Nokia, LG, Moto ( excetp Me865 Me526 ) etc.
- And 12V/16/19V laptops, such as Acer, HP, Asus, Dell, IBM, Sony, Benq, Toshiba ect.
- High campacity, Solar charing , great for business trips, outdoors and traveling
- With advanced intelligent protection chip, the overcharge protection, discharge, discharge protection, overload protection chip, short circuit protection, leakage protection, and five heavy security protection.
- SunPower Solar panel High-efficiency Monocrystalline Silicon solar panel, conversion rate > 22%, normal life>20 years.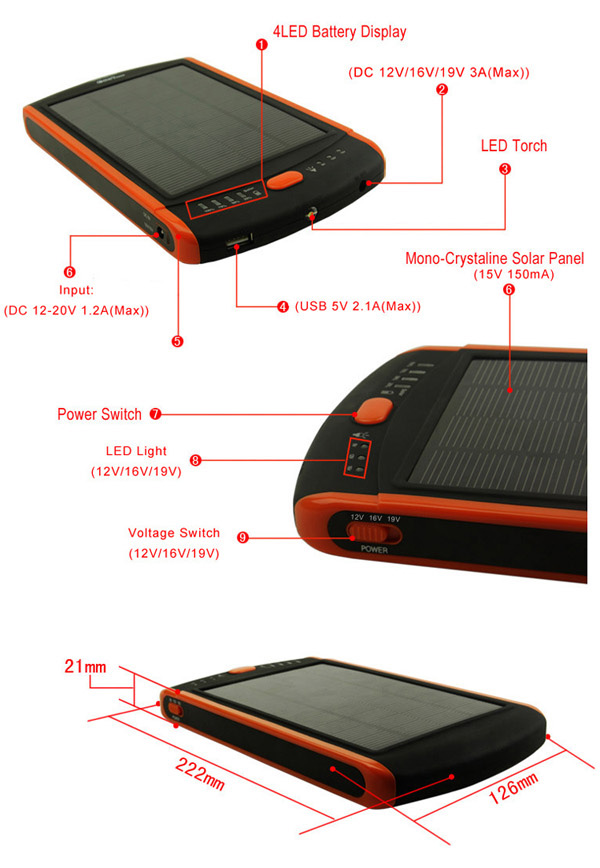 Specification
- Battery Type: Li-Polymer 5159115PL*6 Battery
- Capacity:23000mAh
- Input:DC 9-12V 2A Solar Charger:10V 220-230mA
- Output: DC 9V/12V/16V 2A USB 5V/2A
- Dimension:222*126*21mm
- Weight:649g
- Charging time:about 8h for DC Charging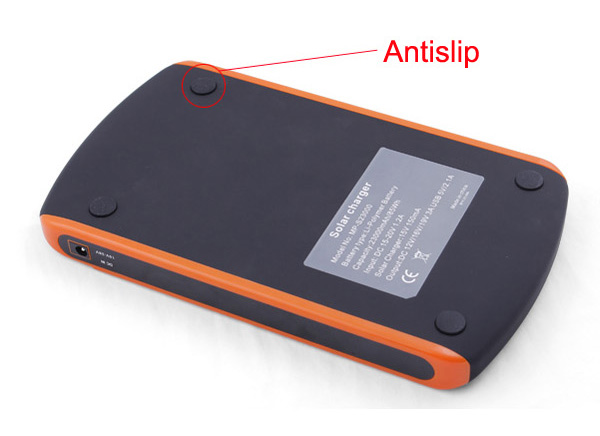 Package Content:
- 1 x 20000 mAh Power bank
- 1 x DC 3.5 Switch Cable
- 1 x DC power adapter
- 10 x laptop connectors
- 10 x mobile adapters
- 1 x english manual