Digital TV Box LCD VGA/AV Tuner DVB-T FreeView Receiver For UK SPC-0002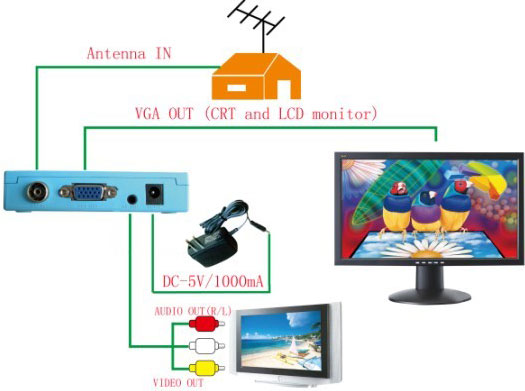 Features:

Brand New and High quality.
Watch DVB-T TV on PC monitor, no software required.
This DVB-T LCD TV Box supports VGA/AV output, enables one watch DVB-T TV programs and Listen to the radio on a LCD/CRT monitors or TV set.
It is also a media center. The USB host function enable one record TV program to a USB storage device for later watching/replaying.
Easy to use.
Support DVB-T Protocol(ETS 300 744).
Digital Terrestrial TV/Radio Program Playing.
Electronic Program Guide (EPG).
Support 16:9 Widescreen mode.
Support teletext.
Composite Video Output for TV.
VGA Output for LCD/CRT Monitor.
Channel auto scan at 6/7/8 MHz.
Provides multi-channel preview of 9 channels on the same screen.
Programming of automatic recording.
Record TV programs in MPEG2 format.
Multi-Media Player: MP3/JPEG.
Software with multilingual surface: GB, F, D, I, E, S, P, FIN, NL, TK, CZ, GR, DK.

Specifications:

Receiving Frequency: VHF 174~230 MHz, UHF 470~862 MHz.
Channel Bandwidth: 6 / 7 / 8 MHz.
RF Impedance: 75 Ohm.
FFT: 2K / 8K.
Constellations (Modulation): QPSK / 16 QAM / 64 QAM.
Guard Interval: 1/32, 1/16, 1/8, 1/4.
Code Rate: 1/2, 2/3, 3/4, 5/6, 7/8.
Decoding: MPEG2.
Output: PAL (720 x 576) / NTSC (720 x 480).
Output Interface: AV / VGA.
Decoding: MPEG2, Layer I/II.
Output: Stereo / Mono.
Main Power Input Voltage: 5V, DC, 1A.
Main Consumption: Max. 4W.
Power Supply Input: 100/240V~1.5A 50-60Hz.
Power Supply Output: 5V, 1A.
D-SUB Connector for VGA Output.

It can only receive PDTV(Popular Definition Television) and SDTV(Standard Definition Television) signal. HDTV(High-definition TV) signal can't be received.

I/O Interface:

Power jack x 1
Antenna plug x 1 (input)
Infrared ray receiver x 1 (input)
AV composite output x 1 (yellow-video, red/white-audio) (output)
USB Plug x 1

CANNOT Use in U.S.A, Brazil, Mexico, Canada.