GSM M2M RTU Remote Monitor Temperature Humidty Alarm System SMS GPRS Communication BTS Access Relay Control S270

Description:
- ARM Cortex-M4 32 Bit RISC Core, 168 MHz inside, RTOS system;
- Widely Rated voltage range, 9~36VDC, Inbuilt large capacity rechargeable backup battery;
- Large internal memory for save 1000 historical data, USB port for configuration and upgrade firmware;
- 2 analog inputs, 12bits, supports 0-5V, 0-20mA, 4-20mA;
- 2 Relay outputs, 5A/30VDC,5A/250VAC;
- 2 digital inputs, dry contact or level input. One of the input can be used as counter;
- 1 temperature probe input, 1 humidity transducer input;
- 2 IP data centers, supports Modbus TCP,TCP/IP protocol over GPRS/3G network;
- Automatically resend the data while communication failure, GPRS failure will alert by SMS text;
- Supports remotely restart the RTU, and configure it by SMS commands remotely;
- Supports over voltage protection and phase-reversal protection;
- 10 SMS Alert and auto dial numbers, can program to receive specified alarm message.
- 10 access control authorized numbers, can open the BTS door or turn on/off machine with a free charge call at the specified time.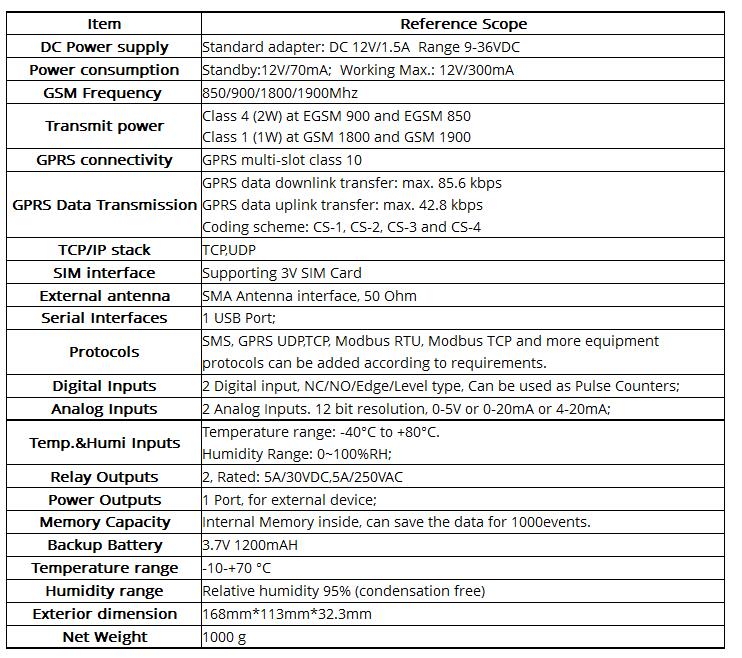 Package list:
- S270 M2M RTU Controller unit *1