Morse Code Learner Trainer Shortwave Radio Oscillator Telegraph Learning Radio Station

Product introduction
MORSE CODE LEARNER Morse code learning device includes a variety of functions, the characteristics of the humanized design is very convenient for users to operate. Not only for the individual learning Morse telegraph, It can also be used on other occasions, such as: the school classes, ham radio club training, radio beacons, the room escape the game of Morse code theme. Simple and practical performance can be used in different countries to support international trade, provide the instructions in Chinese and english.

Functional characteristics
- Hommization key layout design, operation is simple and fast, without the instructions can also be quick to get started.
- Can be connected to straight key、paddle key、bedbugs key to automatic learning,It can automatic identification input key types, Suitable for different stages a start to learn,the operator to quickly master the CW morse code skills.
- The volume and tone of the cable can be adjusted, which can be put out or to the earphone. Can simulate the output of audio or switch to UV radio or HF short wave radio transmitter.
- It can memory storage, play the input CW morse code message, can call the message output audio and switch.
- Can be connected to the 5V mobile phone Android charger for power supply, but also can be connected to Android mobile phone charging for a long time outdoor power supply.
- Internal chips use low power dissipation components, the minimum can be stable operation in the case of DC 3.3V power supply. In outdoor work for a long time, Can be use of Morse code as exercises or beacons.
- Can be used as a radio direction finding game signal source, any edit message and playback order, cycle operation, connect the UV radio or HF shortwave radio for transmitting signals.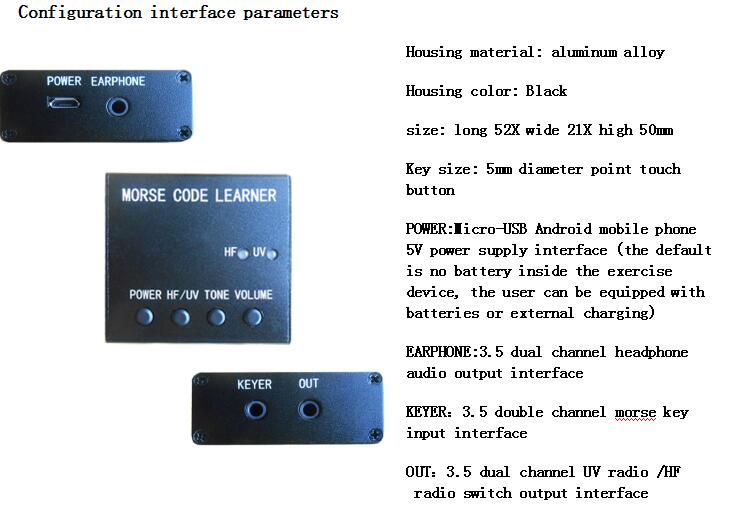 Key function
POWER:
- Switch power function: connect to power supply, press the POWER key to on, long press 3 seconds off.
- Play memory function: in power on state press POWER key to play memory data, If no contents will not play.The default storage content loop playback, playback is completed after the interval of 2 seconds delay again loop playback. click POWER key first start playing "0-9" total 10 numbers, click second again to playing A-Z total 26 English letters, click Third again to playing total 24 groups of cw abbreviations(schedule details of page 5). Click fourth again to playing the user to customize the contents of the user.

HF/UV:
- Switch output radio mode function: press switch HF short wave or UV radio mode,the OUT port type will be changed.
- Switching paddle key left or tight "Di""Da" sound function: KEYER port connect paddle key, long press the HF/UV key 2 seconds, at the same time put paddle key left or right, hear "Di" or "Da" tone opposite set. The default first use paddle key right "Da"tone, left "Di"tone.

TONE:
- Adjust the tone function: press the TONE key to set the tone, from 500hz-1100hz, total 7 levels.
- Recording storage paddle key input content function: long press the TONE key 2 seconds hear the sound of a "Di" began recording, each number, letters, characters, spaces, included count in the 1 bytes, recording up to 500 bytes most. Press the HF/UV key hear "Di"sound twice after the completion of the recording, If storage space beyond the recording will hear "Di" three times three sound warning tone storage finish. Note: recording storage function only supports paddle key input, other types of invalid can't used.

VOLUME:
- Adjust the volume function: press the VOLUME key set volume, from 1-7, mute, total 8 levels.
- Adjust the WPM speed function: long press VOLUME key 2 seconds later, at the same time put paddle key left or right corresponding set of fast and slow levels. If use the straight key is the same settings put 1 time change a speed level, from WPM 10-50, total 40 levels. Note: this WPM speed is globally defined, playing stored content is also valid.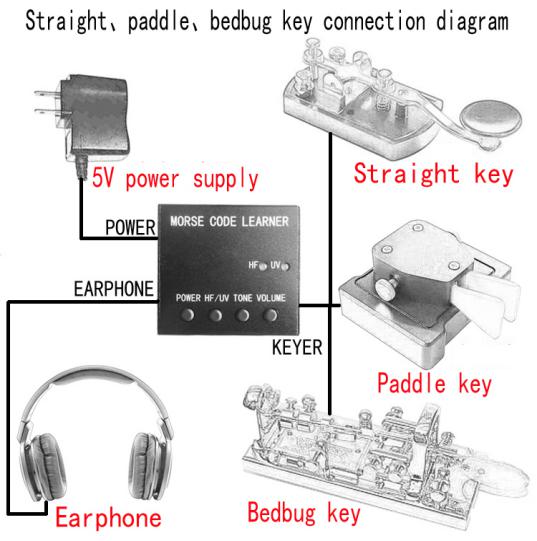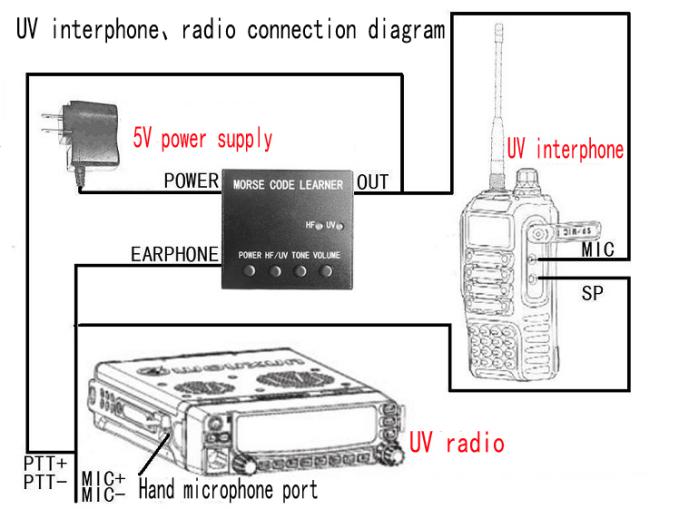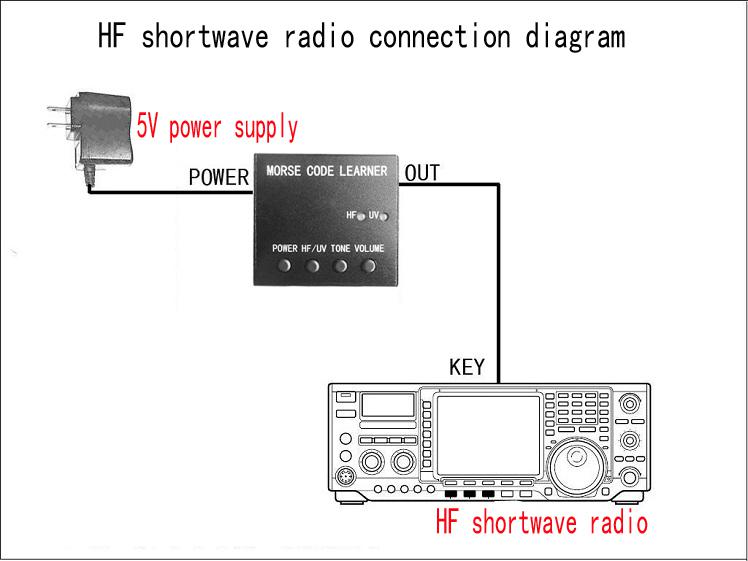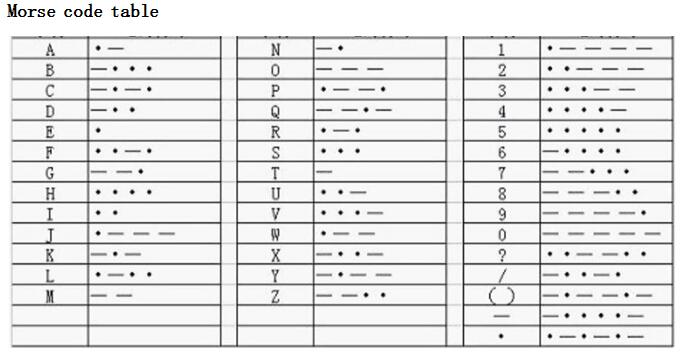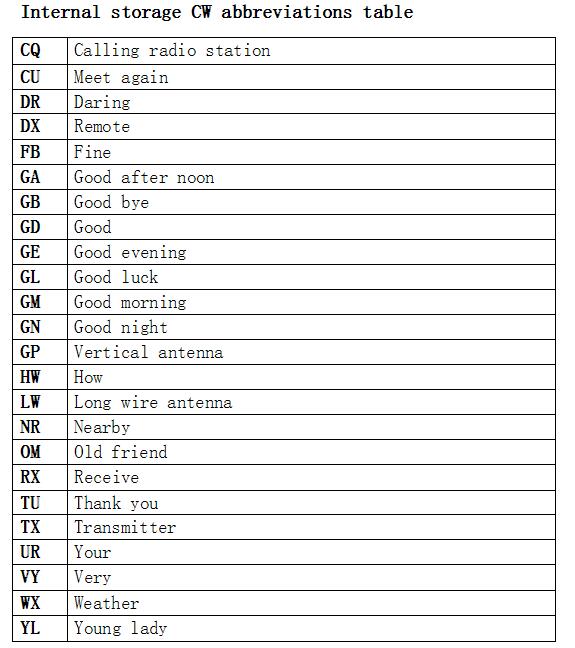 Package list:
- 1 x Morse Code Learner