T-Motor Tiger Brushless Motor MT1306 3100KV for Multi-rotor Quad/ Hexa /OctaCopter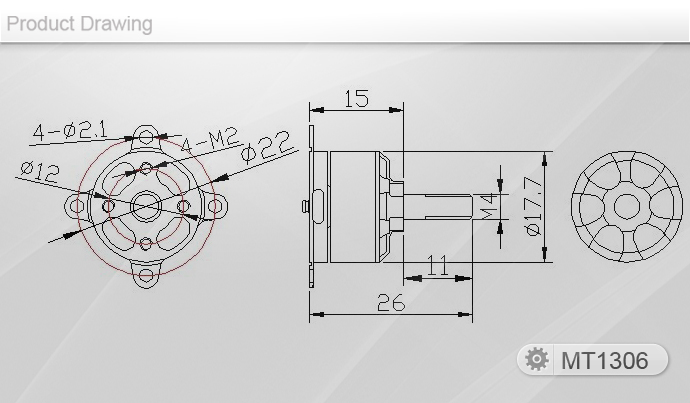 Features:
- All of our motors come with extremely permanently lubricated EZO ball bearings from Japan.
- All the stators of our motor are made with NO.1200#0.2mm sukucib laminations from Japan for maximum efficiency and minimum eddy current losse. High quality stator plates are epoxy coated on the inner surface to prevent winding shorts
- Specially designed N45uh magnets with a 200 C (392 F) temperature rating for trouble-free operation.
- All motors sound and feel perfect, the bearings sound great, they don't sound at all.
- Oxygen-free copper wire temperature of 180 degrees is used in winding the motors.
- CNC Machined aluminum front and rear housing with cooling holes that pump air through the motor while it runs.
- Orderly winding configuration
- Offering perfect balance movement performance.
- Rear threaded mounting holes with both hole spacing fit a variety of applications.
- A machined aluminum cross style mount and a threaded prop mount is included with every motor, along with a wobbly adapter on select models.
- To sum up, creating a high quality T-motor motor
Specifications:
KV.................................................................................................................3100
Configu ration.........................................................................................9N12P
Stator Diameter.......................................................................................13mm
Stator Length.............................................................................................6mm
Shaft Diameter..........................................................................................2mm
Motor Dimensions (Dia.*Len).................................................Φ17.7×15mm
Weight(g)...................................................................................................11.2g
ldle current(10)@10v(A)...........................................................................0.2A
No.of Cells(Lipo).......................................................................................1-2S
Max Continuous current(A)180S................................................................6A
Max Continuous Power(W)180S.............................................................44W
Max. efficiency current...............................................................(1.5-4A)>71%
internal resistance..................................................................................62mΩ