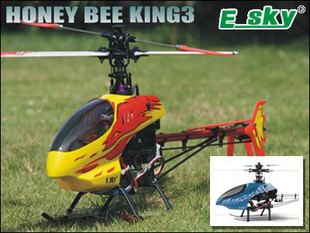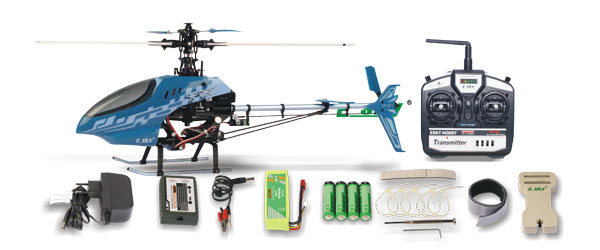 | | |
| --- | --- |
| | |
| Semi Metal Swashplate | CCPM System |
| | |
| ESky Head Lock Gyro | Belt Driven Tail Rotor |

Description:

One of the best selling helicopter of ESky before 2008 was Honey Bee King 2. It was so popular because of its innovative small size, aggressive 3D performance and affordable price. Actually, Honey Bee King 2 was the pioneer of mini 3D helicopter.

Now, ESky is trying to continue the legend. They have upgraded Honey Bee King 2 to a new generation helicopter - King 3. ESky King 3 helicopter is equipped with 2.4GHz Radio System, the best Head Lock Gyro created by ESky (EK2-0704B), High Performance Brushless Motor (EK5-0005 3900KV), Electronic Speed Controller (25A) and High Capacity Battery (11.1V 1500mAh). The body frame, swashplate and many parts of ESky King 3 are redesigned and improved.

Here are some highlight features of the Esky 2.4G 6CH Honey Bee King 3:

- Completely assembled and tested at the factory, ready to fly out box!
- 120 degree ECCPM control system
- New High-tech 6-channel RC system
- High performance Heading Lock gyro is Capable of sport flying and 3D aerobatics
- Digital Sub-Micro servos and Micro Heading Lock gyro offer precise and powerful control
- Stainless steel flybar, main shaft and tail shaft
- 400 brushless motor, 25A brushless ESC and 3S 11.1V 1500mAh 20C Li-Po battery deliver incredible power and performance.
- Auto-rotation system
Specification:
| | | | |
| --- | --- | --- | --- |
| Main Rotor Diameter: | 600mm | Tail Rotor Diameter: | 130mm |
| Motor Gear: | 10T | Main Drive gear: | 140T |
| Gear Rate: | 14:1:4.44 | Weight: | About 390g |
| Length: | 550mm | Height: | 200mm |

Content:

- 6 ch transmitter
- 7.5g digital servo(1.0kg.cm,0.1s/60。)× 4pcs
- 25A brushless motor speed controller
- lock tail type gyros
- 400 brushless motor
- Lipo-battery balance charger、Adaptor、dry battery
- 11.1V 1500mAh Lipo battery