HoverCamera Follow Me 360 Spin with 4K HD Camera RC Quadcopter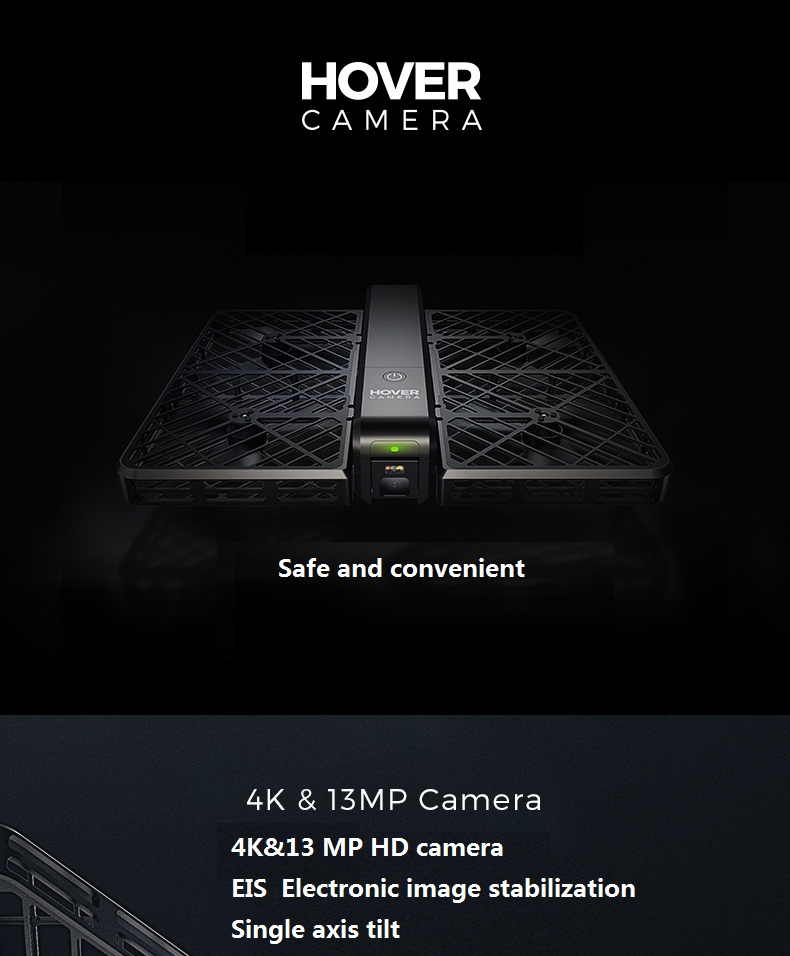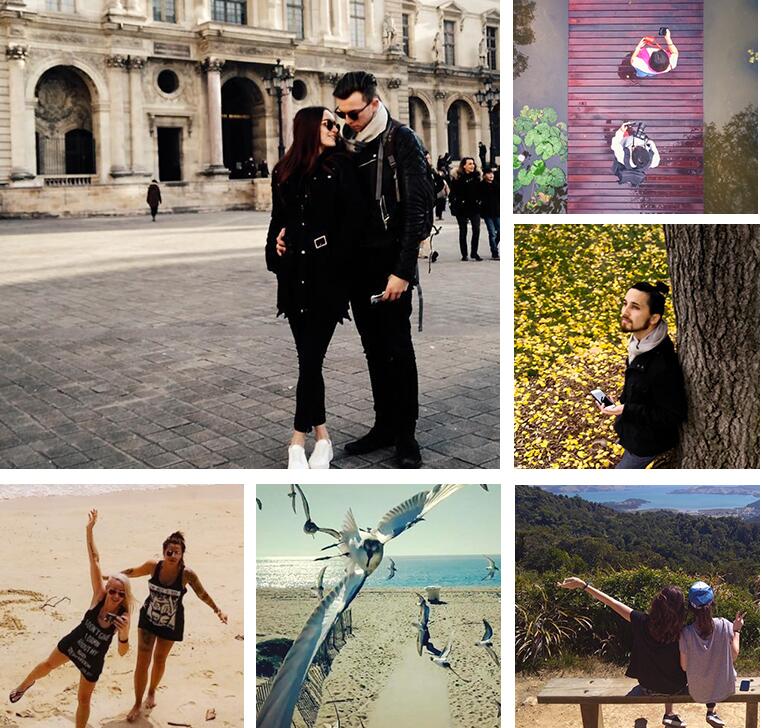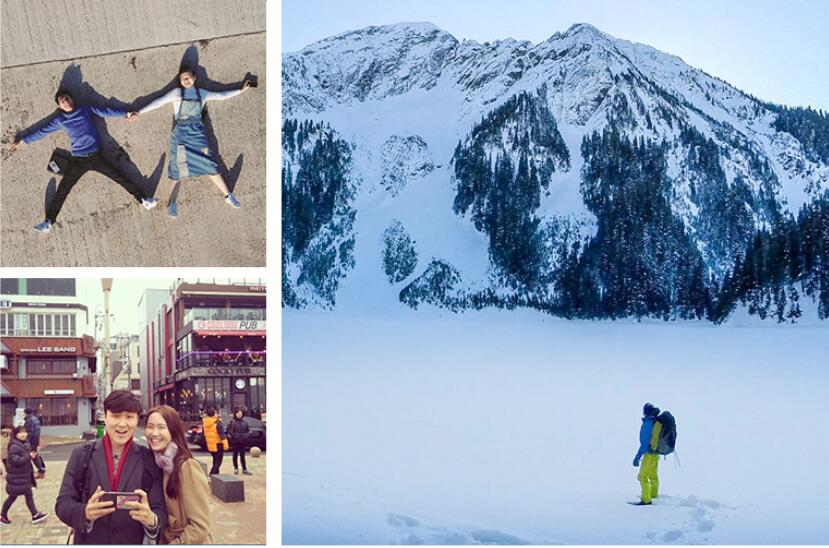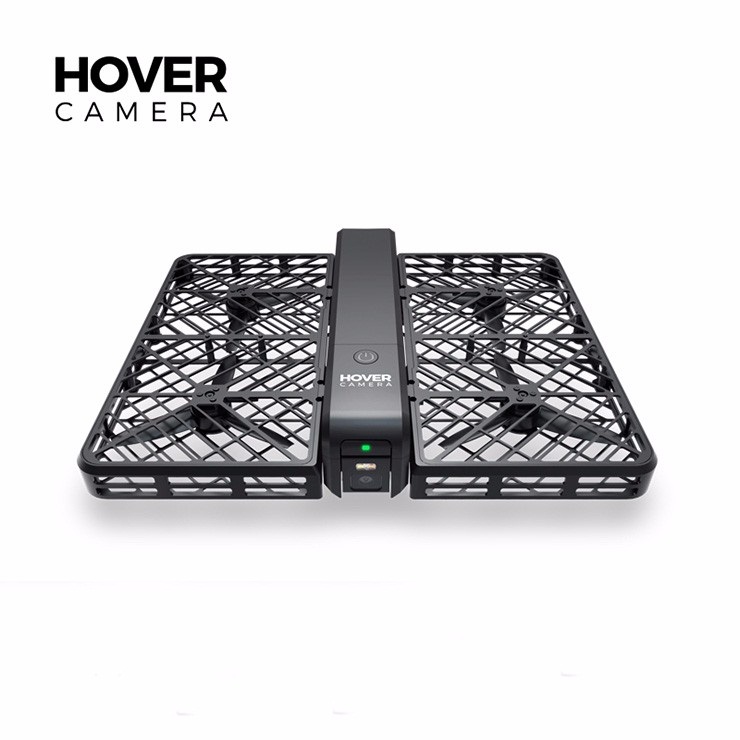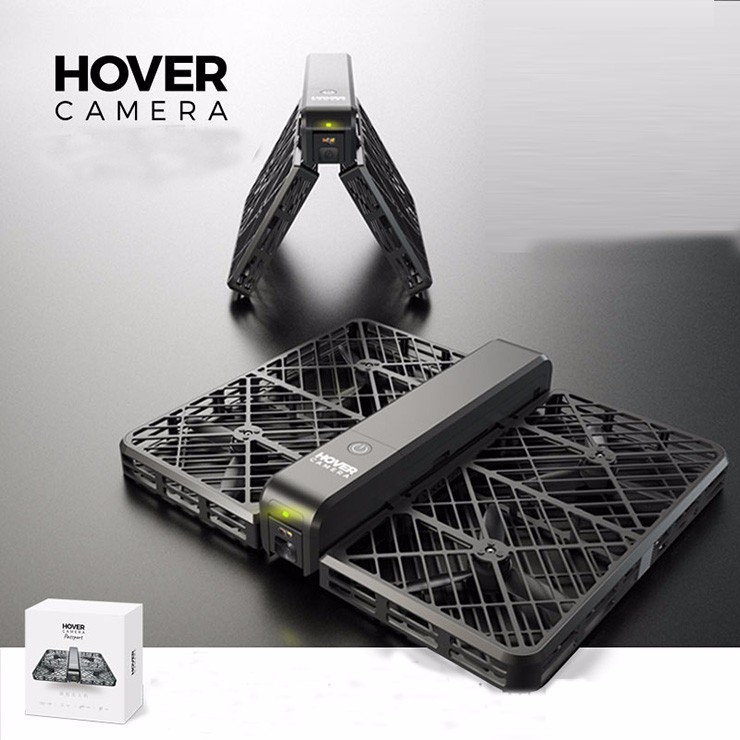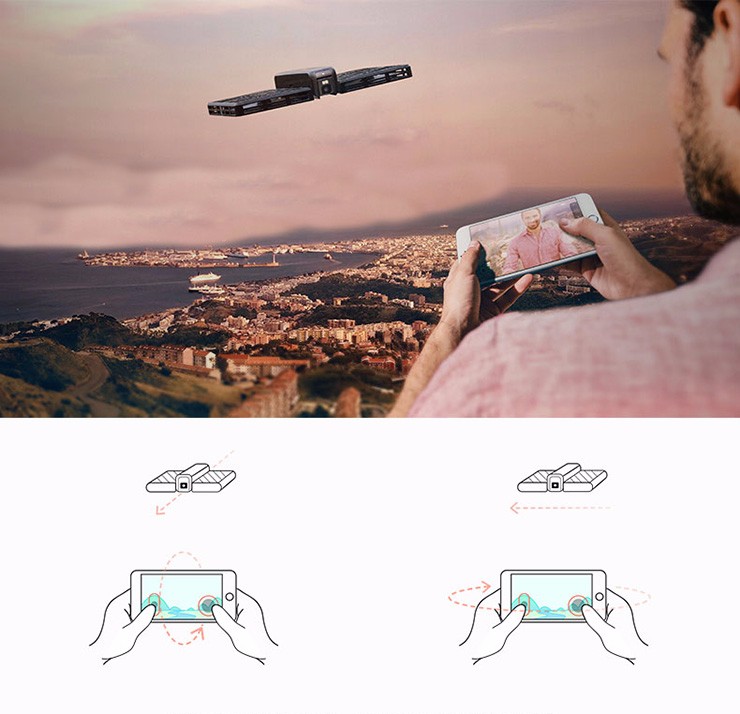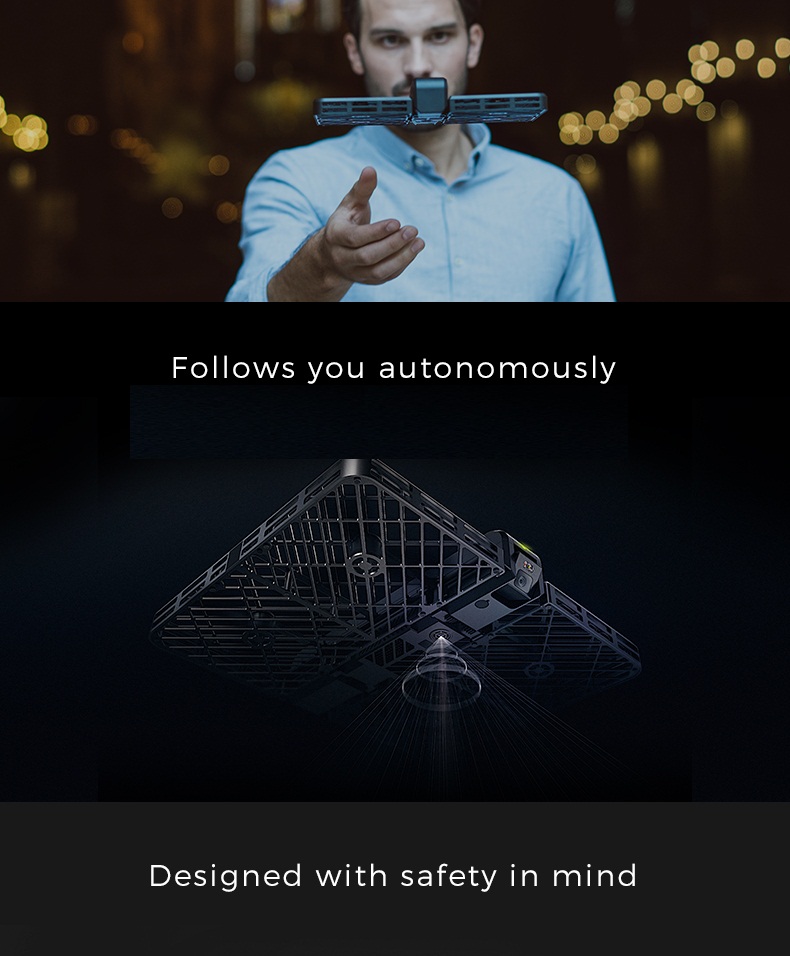 Product Description:
- Press the somatosensory button on the right of the screen, tilt the phone body backward ,forward /left ,right to control Hover camera passport the flying direction.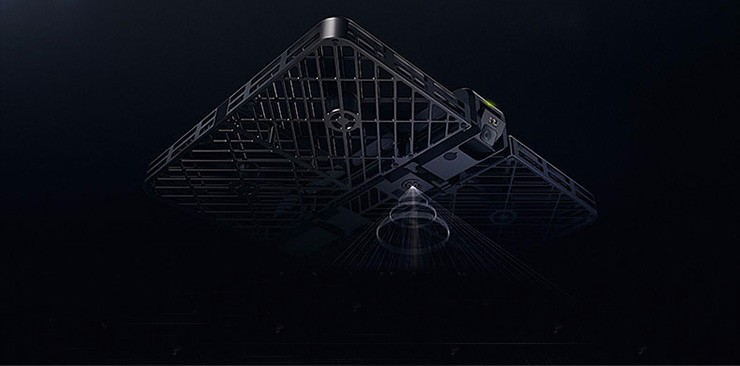 - Autonomous positioning technology:With optical flow built in the bottom,plus combination of sonar and a variety of other sensors,achieving autonomous positioning,auto reset ,stable hover.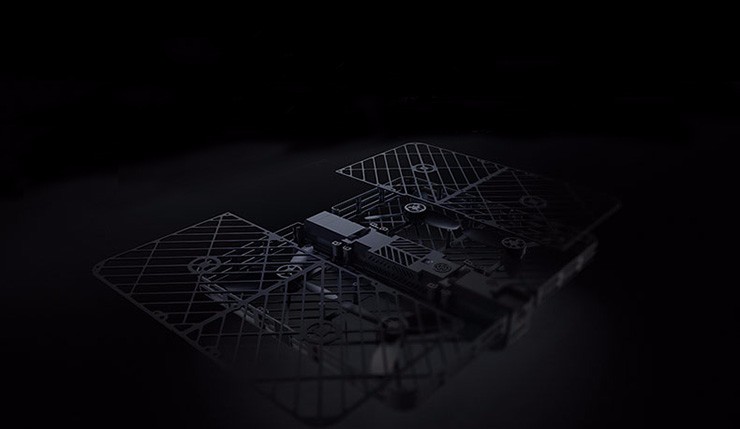 - Carbon fiber protection structure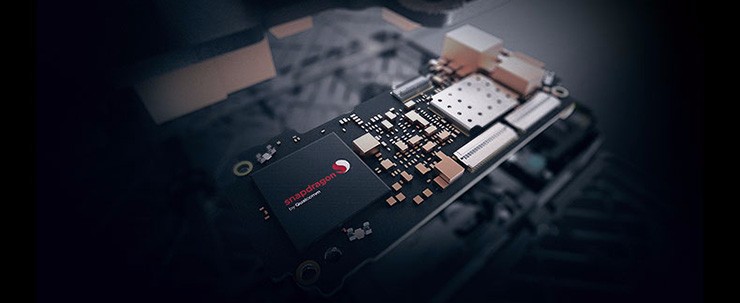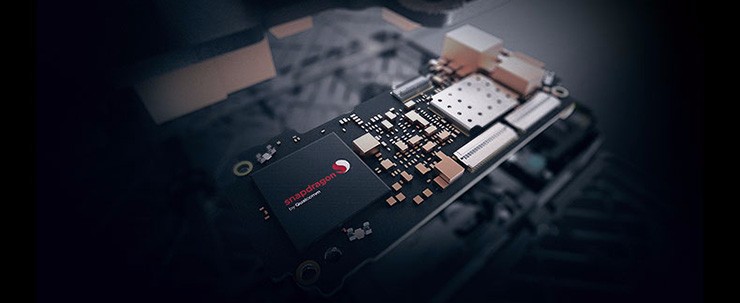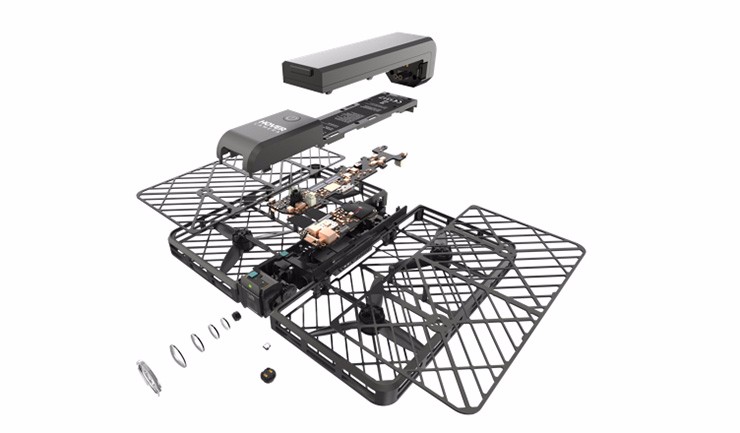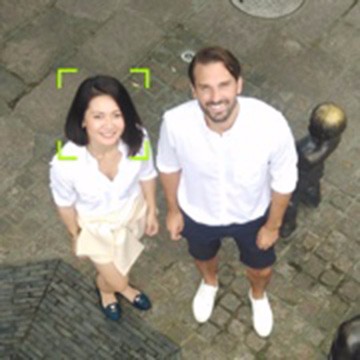 - Face Tracking: Using face detection technology, Hover Camera Passport can track your face and accompany your journey.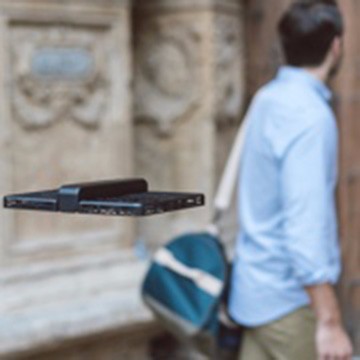 - Body Tracking: Whether you're jogging, skating, biking, or street dancing, Hover Camera Passport can keep up with your activities as it follows you.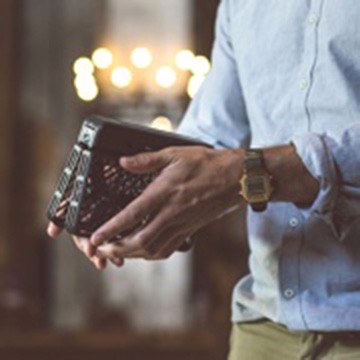 - Grab & Go: Unlike drones, Hover Camera Passport's enclosed carbon fiber form factor enables you to grab it mid-air to retrieve it.


- Lightweight: Hover Camera Passport weighs in at a mere 242 grams, meaning you don't need to be registered to use it in some regions.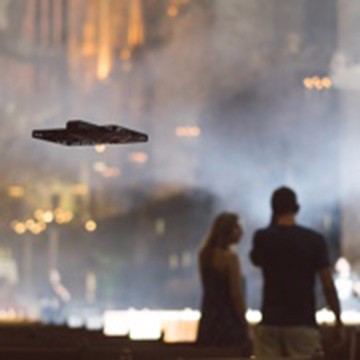 - Orbit: Film yourself autonomously as Hover Camera Passport circles around you.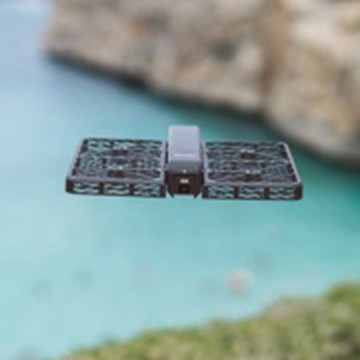 - 360 Spin: Capture 360 degrees of panoramic video, featuring you in your environment.

Specification:
- Aircraft
- Folded Dimension: 182x132x33mm³
- Weight: 242g (including battery)
- Max Speed: 8m/s (17mph)
- Max Service Ceiling Above Sea Level: 2000m (6562ft)
- Max Hovering Time: 10mins (no wind)
- Control distance: <=20m
- Operating Temperature: 5-35°C
- Camera
- Sensor: 1/3.06" (CMOS); Effective pixels: 13M
- Lens: FOV 78.4°; 28mm (35mm format equivalent); f/2.0;
- Depth of focus: 1.2-6.7m
- ISO Range: 100-3200
- Pitch Range: -90° to +30°
- Stable system:Electronic image stabilization (EIS)
- Image Max Size: 4208×3120
- Video Recording Modes: 4K: 3840×2160 at 30fps;1080P: 1920×1080 at 30fps;720P: 1280×720 at 30fps
- Photo/Video Format: JPEG/MP4
- Storage Capacity: 32G (including system files)
- Battery
- Capacity: 1360mAh
- Voltage: 7.6V
- Energy: 10.34Wh
- Battery Type: LiPo 2S
- Weight: 71g
- Operating Temperature: 5-40°C (41°F-104°F)
- Charger
- Input Voltage: 11-20V
- Power: 36W
- Output Voltage: 8.7V MAX
- Output Current: 2.8A MAX
- Adapter Input: 100-240V~50/60Hz, 1.0A
- APP/Image transmisison
- Mobile device APP: Hovercamera
- Real-time transmission: 720p@30fps
- Mobile device: IOS 8.0 or higher version,Android 4.4 or higher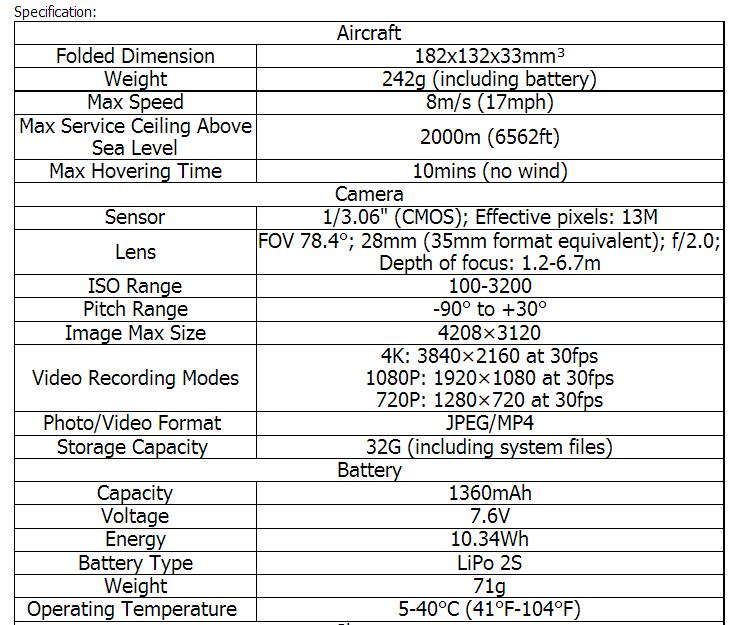 Package List:
- 1 x Hover Camera Quadcopter
- 1 x Protective Case
- 1 x Case Strap
- 1 x Easy-Carry Bag
- 1 x Docs
- 1 x Rechargeable Lipo Battery Pack
- 1 x Charger
- 1 x Adapter
- 1 x USB 3.0 Cable
- 1 x Propeller(cw&ccw)
- 1 x Screwdriver
- 1 x Screw