Parrot AR.Drone Quadcopter Controlled by iPod touch iPhone iPad and Android Devices (Orange/Blue)
Product Description:
- Parrot AR.Drone lets you see what the pilot sees. With its built-in Wi-Fi system, you can control the Parrot AR.Drone using the built-in accelerometer in your iPhone, iPod touch, or iPad device, as well as Android-based phones and tablets. On-board cameras (one forward facing, one facing down) let you see in real time what the pilot sees as you complete complex flight maneuvers. Augmented reality turns the world around you into a video game. Chase a fighter jet through your house solo or with friends. Powerful processing lets the AR.Drone integrate computer generated images directly into its real-time streaming video to create an augmented reality gaming environment complete with air-to-air missiles, interactive targeting systems, and fiery explosions. No ordinary RC helicopter, the Parrot AR.Drone uses military-grade technology for super-stable flight. This four-rotor quadricopter employs dual ultrasonic altimeters, a three-axis accelerometer, multiple gyroscopes, and an embedded Linux platform to continuously stabilize itself during flight. AR.Drone can even compensate for turbulence caused by wind. In fact, its so easy to control, anyone can fly it. At home indoors or out. Fly your Parrot AR.Drone anywhere you like. The included indoor hull protects the rotors during tight maneuvering around walls and furniture then removes easily to minimize weight and wind resistance during outdoor flights. Copter is made of carbon fiber and high-resistance plastic. Rechargeable LiPo battery is included. Now with Apps for both Apple iOS and Android devices. Order your Parrot AR.Drone from Brookstone today to experience video gaming on a whole new level! Note: we are unable to ship AR.Drone to addresses outside of the United States. For ages 14 and up.
- The AR.Drone remote-control quadcopter is a groundbreaking device combining the best of many worlds, including modeling, video gaming, and augmented reality. The AR.Drone is remote-controlled by your device (see compatibility below) and features a number of sensors, including a front camera, vertical camera, and an ultrasound altimeter. The AR.Drone can also be used in video games, such as AR.FlyingAce, a dogfight between two AR.Drones
The First Quadricopter Controlled by iPod touch/iPhone/iPad/Android Devices
Control with Your Device
Thanks to its on-board Wi-Fi system, you can control the Parrot AR.Drone using an iPod touch, iPod touch, iPad,or Android device (OS 2.2 (Froyo) or higher, 3-inches wide minimum, and multi-touch).
The Parrot AR.Drone
The AR.Drone is the first quadricopter that can be controlled by an iPod touch, iPod touch, iPad, or Android device (OS 2.2 (Froyo) or higher, 3-inches wide minimum, and multi-touch).
High-technology Sensors Offer Simple Piloting
A mix of captors, wide-angle camera, high-speed camera and MEMS (micro electro mechanical systems), accelerometer, gyro sensors, and ultrasound sensor combine with a powerful on-board computer to make piloting the AR.Drone easy. Simply use your device and just tilt and touch to control the AR.Drone.
Connect and See
The Parrot AR.Drone generates its own Wi-Fi network to which you connect your device to control. The front camera view is streamed to your piloting device display.
Autopilot
The AR.Drone autopilot allows easy takeoff and landing. After takeoff, autopilot stabilizes the AR.Drone at an 80-centimeter altitude. When you remove your finger from your device, the autopilot function automatically puts the AR.Drone into stationary flight. Lost connection with the AR.Drone? Autopilot takes over again and stabilizes the device before attempting a soft and safe landing.
Indoor and Outdoor Hulls Included
The full hull shield protects the AR.Drone from impacts that occur during wild battles against enemies hidden in the rooms of the house. The streamlined colored hull is aerodynamic, allowing greater control outside.
High Durability and Easy Repair
AR.Drone is a quadricopter made of carbon fiber and high-resistance PA66 plastic. All parts can be changed for easy repair.
Free Piloting App
Please download the free AR.Freeflight App (iTunes App Store or Android Market) to control the AR.Drone.
Augmented Reality Games
Not only see what the AR.Drone sees with the front-mounted camera, but enjoy a wide variety of games in augmented reality. AR.Games sold in the iTunes App Store and Android Market. Choose from a selection of single-player and multiplayer games, using the AR.Drone's camera and the augmented reality applications. Shoot enemies or other drones.
AR.Drone Details
Compatibility
Apple iOS devices: iPod touch, iPhone, and iPad
Android OS devices: Optimized for: Samsung Galaxy S, Samsung Galaxy S II, Motorola Xoom, HTC Desire; Also compatible with: HTC Desire HD, HTC Sensation, LG Optimus 2x, and Sony Ericsson Xperia Play
Embeded system:
- ARM9 frequency: 468 MHz
- DDR 128 M,frequency 200MHz
- Wifi b/g
- high spped USB
- Linux system
Battery(please note that the battery is genuine, the immitate one is much cheaper)
- Fly time: 12 minutes
- 3-cell lithium polymer battery
- Capacity: 1000 mAh
- Charge time: 90 minutes
- Motors
- 4 x 15 W electric brushless motors (3,500 rpm)
Construction
- High-efficiency propellers
- Carbon tube structure
- Front camera
Safty system:
- adopts EPP hull when fly in the door
- propeller automatic-lock when clash into other objects
- UL2054 battery
- with emergency button to stop engine
- Horizontal stabilization
- Altimeter
- Ultrasound-based
- Range: 6 m
- Emission frequency: 40 kHz
- Vertical stabilization
- Internal guidance system
- MEMS (micro electro mechanical system)
- 3-axis accelerometer
- 2-axis gyroscope
- 1-axis yaw precision gyroscope
- Embedded computer
- ARM9 RISC 32-bit 468 MHz
- 128 MB DDR RAM
- Wi-Fi b/g
- Linux OS
- USB socket
- Dimensions
- Size: 52.5 x 51.5cm with Shell; 29 x 11 cm without shell
- Weight: 13.4 ounces
Package list(including all the accessaries to fly):
- AR.Drone set with compatible propeller
- indoor hull, outdoor hull (orange/blue),
- battery, charger, 4 brushless motor
- four adapters (EU, US/JP, UK, Aus/NZ),
- sticker for outdoor hull (for multiplayer battles),
- quick start guide.
- portable bag
Battery( as reference)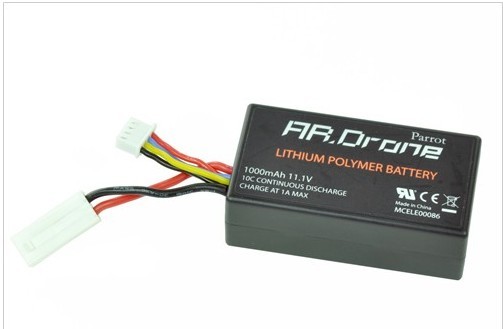 portable bag