Waterproof Splash Drone 4 Axis FPV Quadcopter with Remote Controller 7" LCD Monitor Transmitter AUTO Version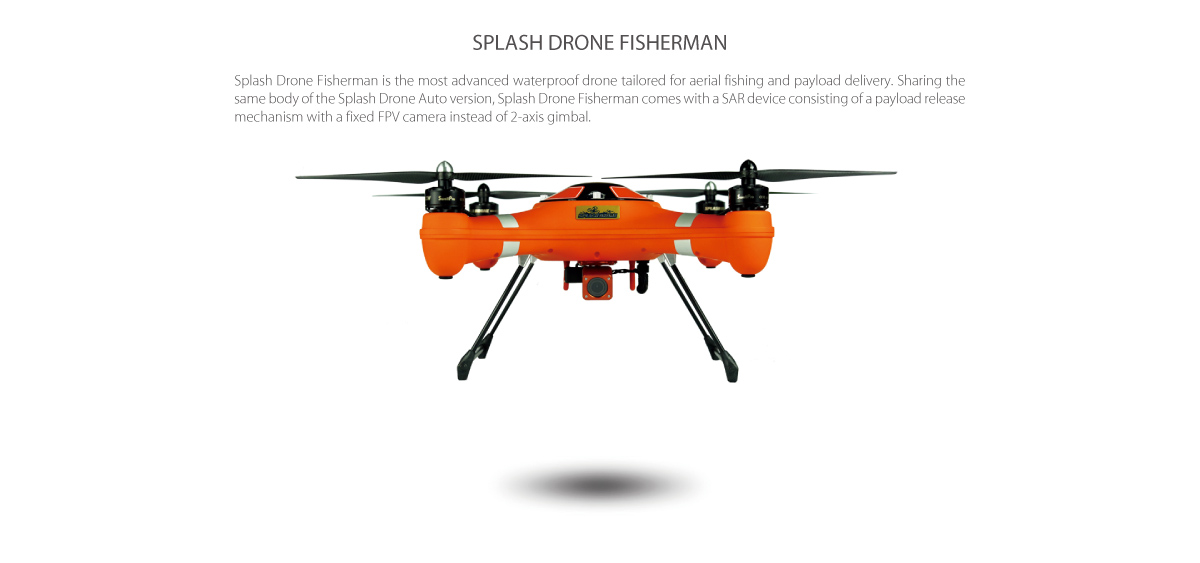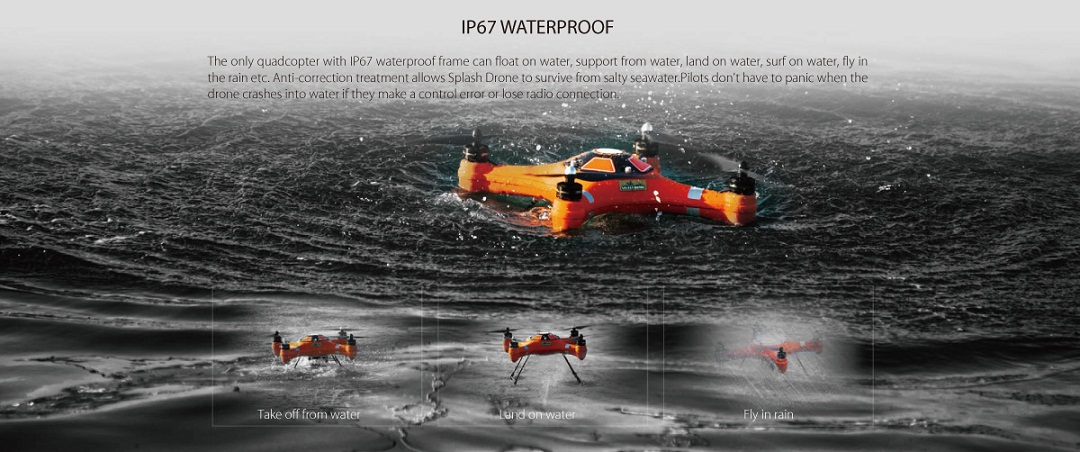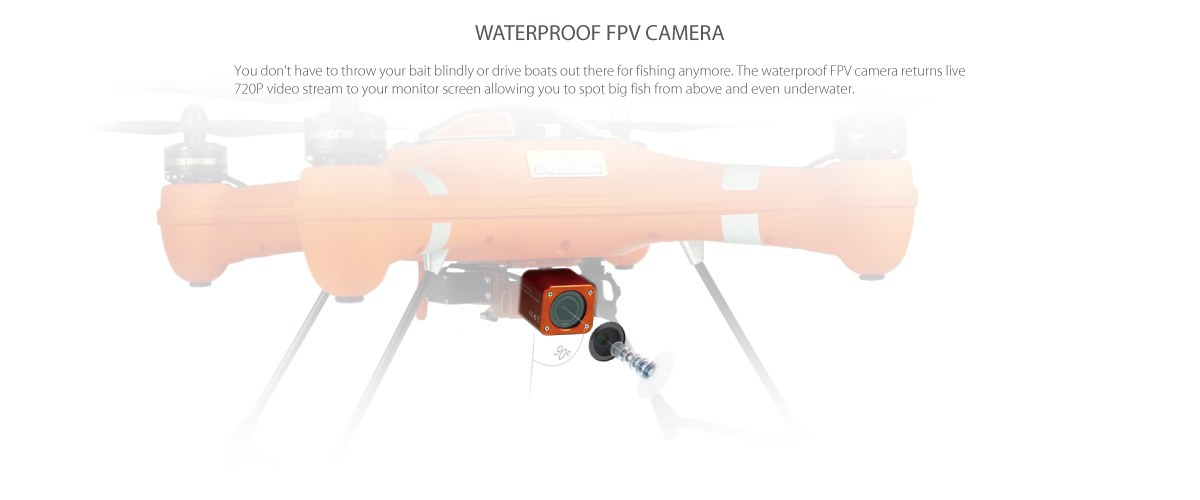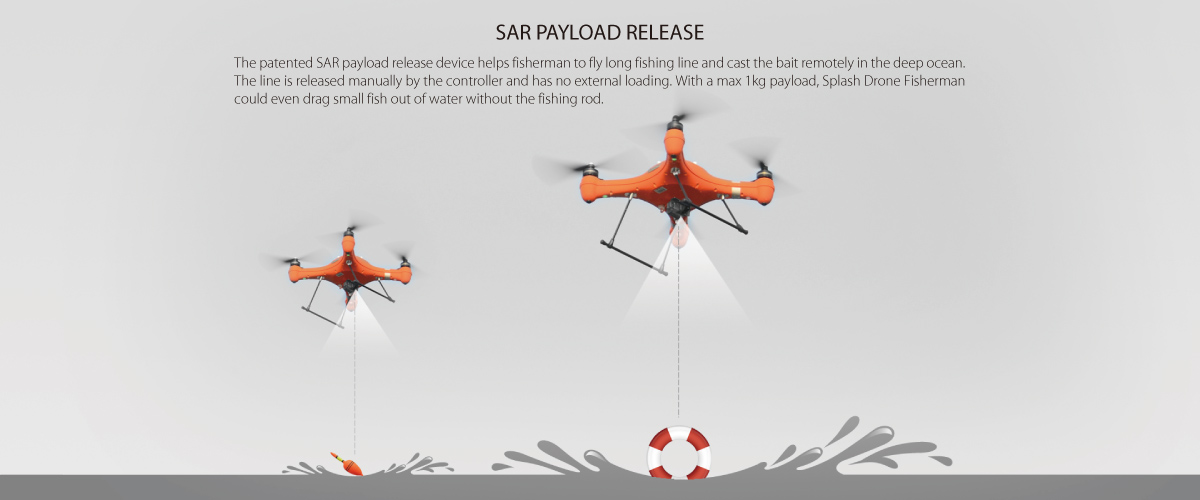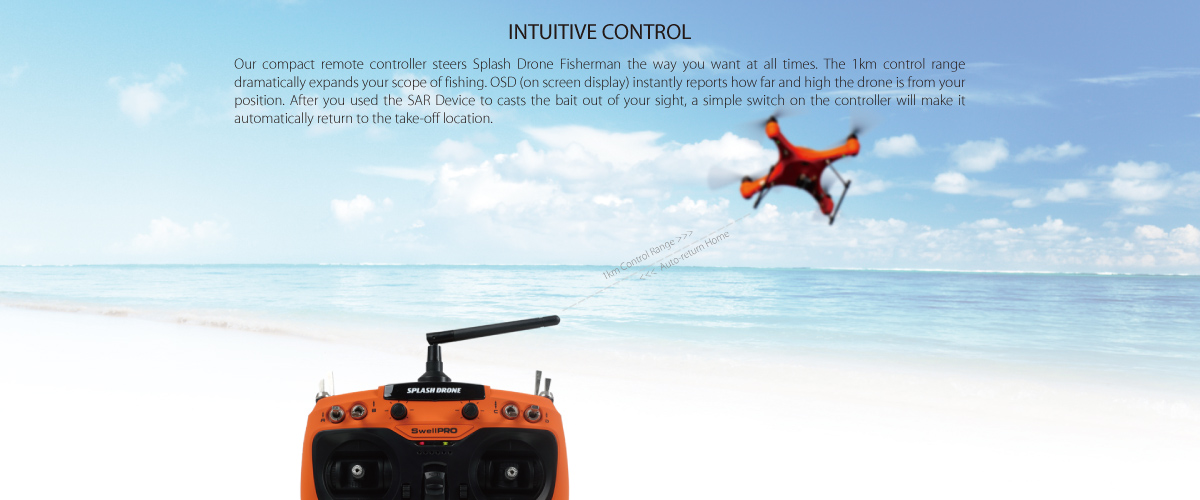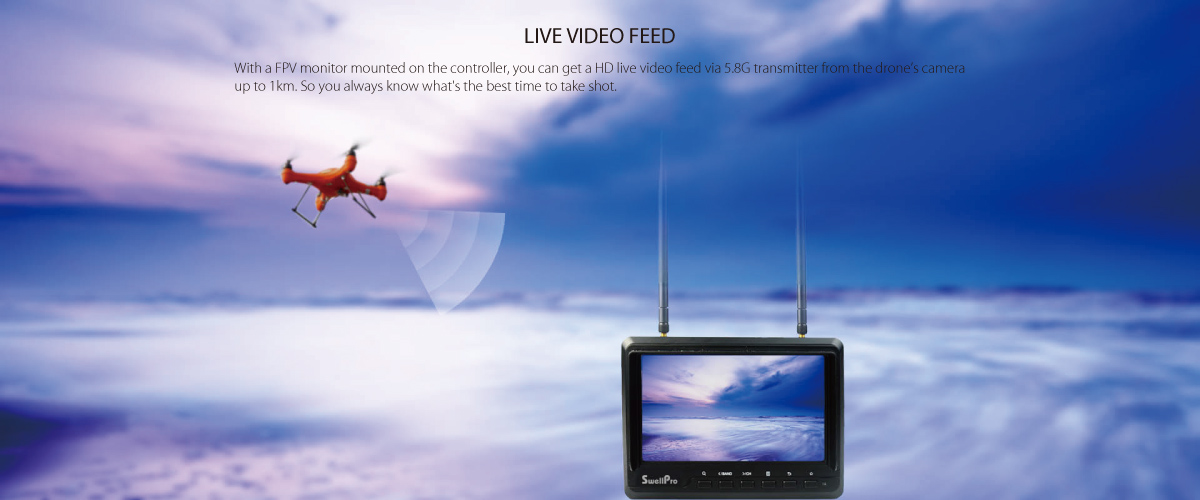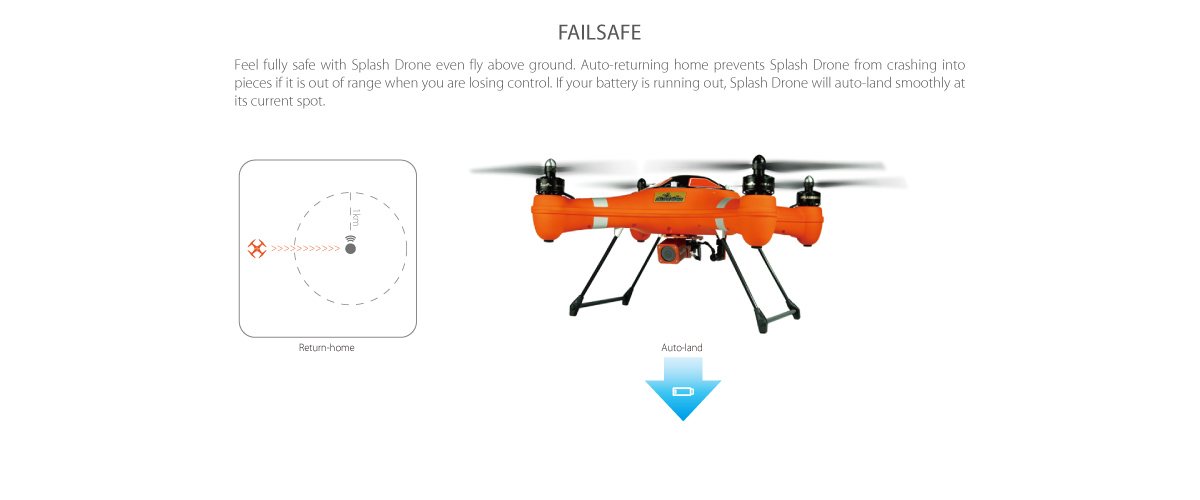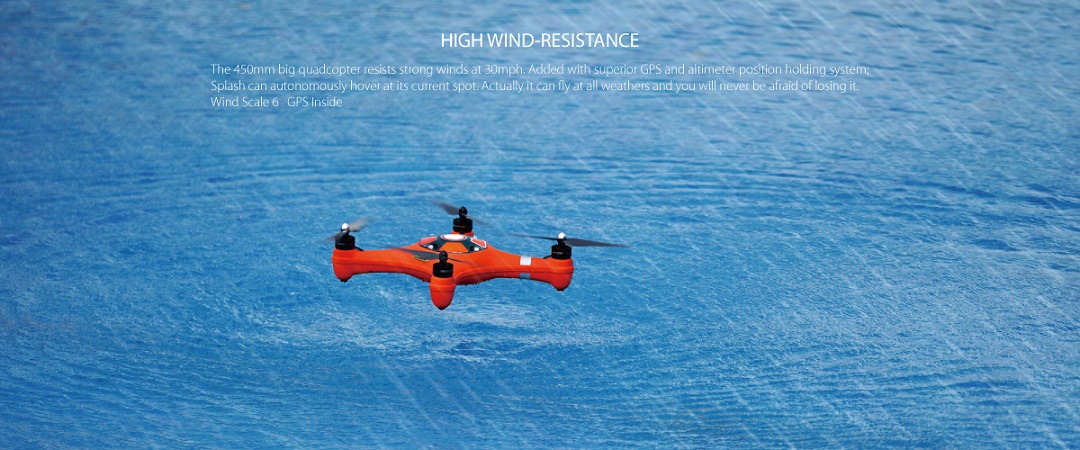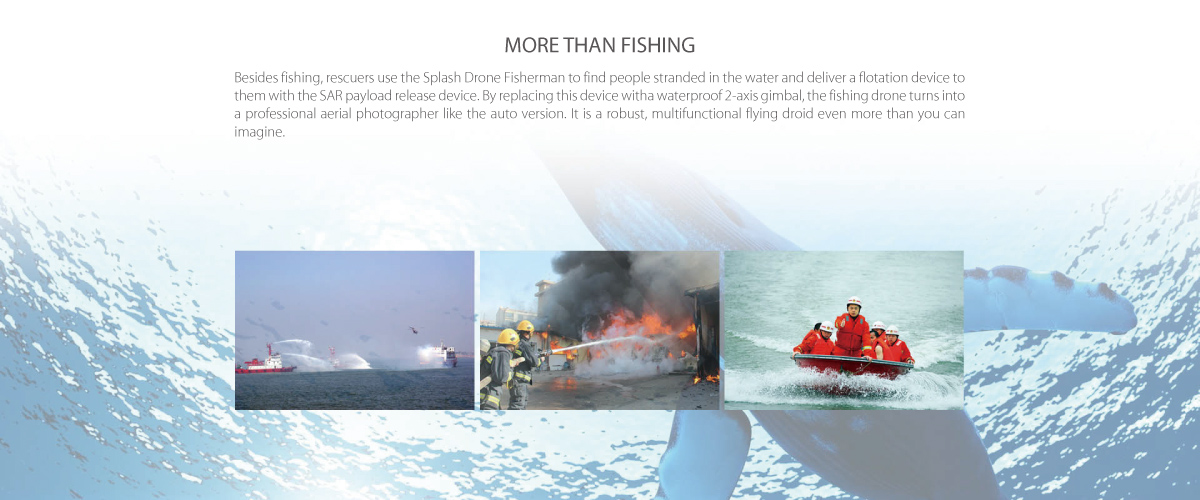 TIPS: Please choose express delivery because the product includes battery.

SPLASH DRONE FISHERMAN
Splash Drone Fisherman is the most advanced waterproof drone tailored for aerial fishing and payload delivery. Sharing the same body of the Splash Drone Auto version, Splash Drone Fisherman comes with a SAR device consisting of a payload release mechanism with a fixed FPV camera instead of 2-axis gimbal.

IP67 WATERPROOF
The only quadcopter with IP67 waterproof frame can float on water, support from water, land on water, surf on water, fly in the rain etc. Anti-correction treatment allows Splash Drone to survive from salty seawater.Pilots don't have to panic when the drone crashes into water if they make a control error or lose radio connection.

WATERPROOF FPV CAMERA
You don't have to throw your bait blindly or drive boats out there for fishing anymore. The waterproof FPV camera returns live 720P video stream to your monitor screen allowing you to spot big fish from above and even underwater.

SAR PAYLOAD RELEASE
The patented SAR payload release device helps fisherman to fly long fishing line and cast the bait remotely in the deep ocean. The line is released manually by the controller and has no external loading. With a max 1kg payload, Splash Drone Fisherman could even drag small fish out of water without the fishing rod.

INTUITIVE CONTROL
Our compact remote controller steers Splash Drone Fisherman the way you want at all times. The 1km control range dramatically expands your scope of fishing. OSD (on screen display) instantly reports how far and high the drone is from your position. After you used the SAR Device to casts the bait out of your sight, a simple switch on the controller will make it automatically return to the take-off location.

LIVE VIDEO FEED
With a FPV monitor mounted on the controller, you can get a HD live video feed via 5.8G transmitter from the drone's camera up to 1km. So you always know what's the best time to take shot.

FAILSAFE
Feel fully safe with Splash Drone even fly above ground. Auto-returning home prevents Splash Drone from crashing into pieces if it is out of range when you are losing control. If your battery is running out, Splash Drone will auto-land smoothly at its current spot.

HIGH WIND-RESISTANCE
The 450mm big quadcopter resists strong winds at 30mph. Added with superior GPS and altimeter position holding system; Splash can autonomously hover at its current spot. Actually it can fly at all weathers and you will never be afraid of losing it. Wind Scale 6 GPS Inside

MORE THAN FISHING
Besides fishing, rescuers use the Splash Drone Fisherman to find people stranded in the water and deliver a flotation device to them with the SAR payload release device. By replacing this device witha waterproof 2-axis gimbal, the fishing drone turns into a professional aerial photographer like the auto version. It is a robust, multifunctional flying droid even more than you can imagine.

PRODUCT INTRODUCTION:
- This is AUTO Version
- Splash Drone is the world's best amphibious & waterproof drone. Packed with useful and practical features it is capable of landing and floating on water.
- The Splash Drone is perfect for the outdoor fans that use a GoPro style action camera to memorize their adventures however wet or rough.
- It's also an ideal tool for ocean farers, lake and ocean scientists, boat owners, professional fishermen, water-sports, and all enthusiasts around the world.

AUTO VERSION FEATURES:
- Full waterproof design that allows flying in wet weather or conditions, like in rain, fly over/land on ocean, lake and river etc.
- Waterproof payload release allows up to 1kg load to be flown and released at a specified location. Suitable for water rescue with life vest; to deliver fish food for fisherman; fishing etc.
- Waterproof gimbal: The world's first waterproof gimbal for drones! It fits GoPro Hero3/3+/4 and particularly the Swellpro ZERO camera.
- Added feature with the ZERO camera: control recording/standby for taking picture or shooting video via radio controller.
- Built-in 5.8G video transmission system, bundled with a high-resolution 7" FPV screen, ensuring great FPV flying experience within 1km range.
- Auto Return to Home (RTH) function: Prevent loss of the drone in control difficulties or emergency situations. This provides good re-assurance for drone operators.
- Real time OSD data on the controller: Most of the important flight data is displayed on the radio controller LCD screen, to help you check the drone's status in flight.
- Follow me mode: The Splash Drone follows the ground station module and the smart phone GPS location, while filming the action.
- App control: Control your Splash Drone with the Android and iOS smartphone and tablet Apps.
- Way-point & Mission Planning flight: Allow pilot to drop waypoints and execute specific flight path at expected attitude.
- Circle Flight: Fly the drone around a specified target to catch a perfect 360° object centered film.
- Self-tighten Carbon Fiber Propellers: Strong and durable, no need of tools to screw the propellers on.
- Smart Charger: All-In-One design, with no complicated settings, that supports 2 to 4S Li-Polymer battery.
- Aluminum suitcase: The compact and strong design makes for an easy to carry case while offering great protection to the drone while having plenty of space for the drone and its accessories.