Arm 11 S3C6410 OK6410-A Development Board+4.3"LCD (256M RAM,2GB FLASH) Kit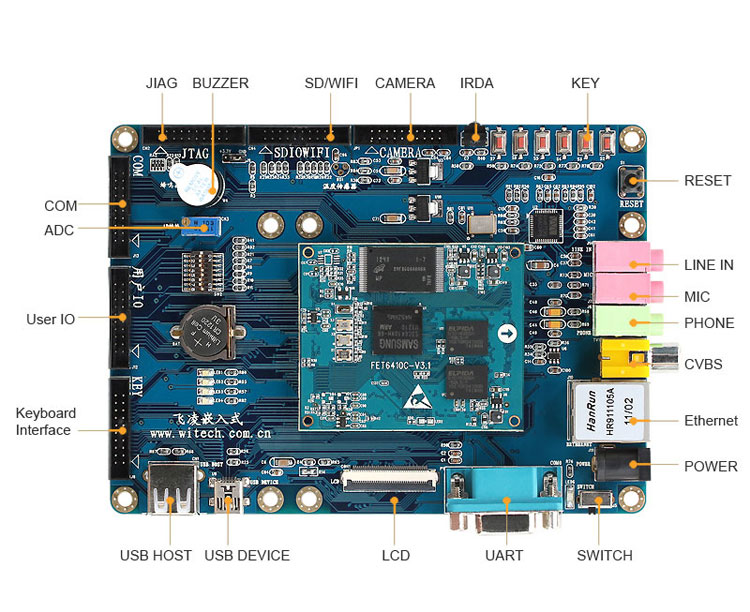 Items include:
- 1 x OK6410-CORE ARM11 System on Module
- 1 × OK6410 development board
- 1 × 4.3" LCD with touch panel and stylus.
- 1 × serial port cable
- 1 × USB cable
- 1 × Ethernet cable
- 1 × 5V power supply

Specification:

S3C6410 ARM11 development board bundled with a 4.3" TFT LCD. The most popular ARM11 development kit of 2011! 256MB DDR RAM, 2GB NAND Flash, WinCE / Linux / Android support, advanced Video / graphic support with 3D acceleration.

OK6410 Core Board — 6 layer PCB, stable performance tested through electromagnetism
Samsung S3C6410 microcontroller based on the ARM1176JZF-S core, main frequency @ 533/667MHz;
128MB Mobile DDRram, 256MB DDRram available;
256MB NAND Flash;
12MHz、48MHz、27MHz、32.768KH clock source;
5V power supply adaptable
Dimension: 60 x 50mm
OK6410 Carrier Board— 4 layer PCB, stable performance tested through electromagnetism
One reset button implemented with specific reset chip;
8-bit toggle switch for selecting boot mode;
Four serial ports, including 1 5-wire RS232 and 3 3-wire RS232;
One 100M Ethernet port with DM9000AE and indicators;
One USB Host interface supporting USB1.1 protocol;
One USB Slave (MINI-USB) interface supporting USB2.0 protocol;
One high-speed SD card slot supporting SD Memory and SDIO;
One WIFI expansion interface;
Stereo audio I/O sockets;
LCD and touch screen interface supporting 3.5", 4.3", 5.6", 5.7", 7" TFT LCD;
One CVBS output interface (PAL/NTSC)
One CMOS camera connector supporting ITU-R BT601/656 8-bit mode;
Built-in RTC (Real Time Clock) with back-up battery;
One JTAG interface using 2*10pin connector;
One Infrared receiver;
Four user LEDs;
One Buzzer;
Three 2*10pin expansion interfaces. One of the expansion interface contains 1 x GND, 1 x DA, 8 x AD, 10 x IO, 1 x SPI., One for connecting 8 x 8 matrix keypad; the other one can be connected to the three TTL serial ports and 6 I/Os
Dimension: 145 x 105mm

All softwares are provided for free!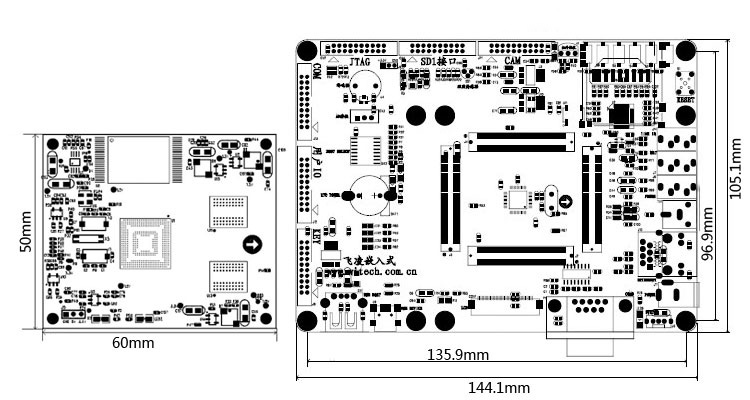 BootLoader

U-BOOT-1.1.6, supporting USB2.0 download.

100% open source.

Embedded Linux

kernel

Linux 2.6.28 &

Linux2.6.36, 100% open source

BootLoader

U-BOOT-1.1.6

Filesystem

cramfs and yaffs2 provided

Grapical Interface

Qtopia 2.2.0, Qtopia 4.4.3 & QT 4.7.1

Drivers

system interrupt and clock driver

Serial device driver

RS485 driver

SD card driver

NAND Flash driver

Ethernet card driver

Audio driver

USB driver

Display (LCD/VGA/TV)

Touch Screen driver

CAN Bus driver

Camera driver

Temperature Sensor driver

Hardware Acceleration

JPEG CODEC

MFC(Multi Format CODEC)

CMM(Codec Memory Menagement)

TVOUT

Post processor

source code and API description provided

Demo Applications

H.264 hardware decode testing program

MPEG-4 hardware decode testing program

H.263 hardware decode testing program

VC-1 hardware decode testing program

Multiple decoding and quarter hardware decoding

image acquisition and MFC coding test

MFC decoding and camera image acquisition

JPEG decoding

TV output MFC decoding and camera image display

TV output H.264 decoding

Multi-process test

Multi-thread test

process communication program

SOCKET programing demo

LED test program

button test program

temperature sensor test

multi-serial port test

Ethernet support

Complete TCP/IP protocol

Telnet server

Telnet remote logging in

FTP server

Web Server

LCD support

wide resolution support: 320×240、480x272、640×480、800×600、1024×768

Cross Compilers

arm-linux-gcc-4.2.2-eabi

WinCE

Version

WinCE 6.0 R3 (BSP provided as source code)

BootLoader

E-BOOT supporting USB2.0 download

Drivers

system interrupt and clock driver

Serial port driver

&

CD Download:
- Please download CD 1 data here
- Please download CD 2 data here
- Please download CD 3 data here
- Please download CD 4 data here
- Please download CD 5(new) data here
- Please download CD 6(new) data here
- Please download CD 7(new) data here