CNC Intelligent TB6560 3 Axis 3.5A Stepper Motor Driver Control Pad LCD Display for CNC Engraving Machine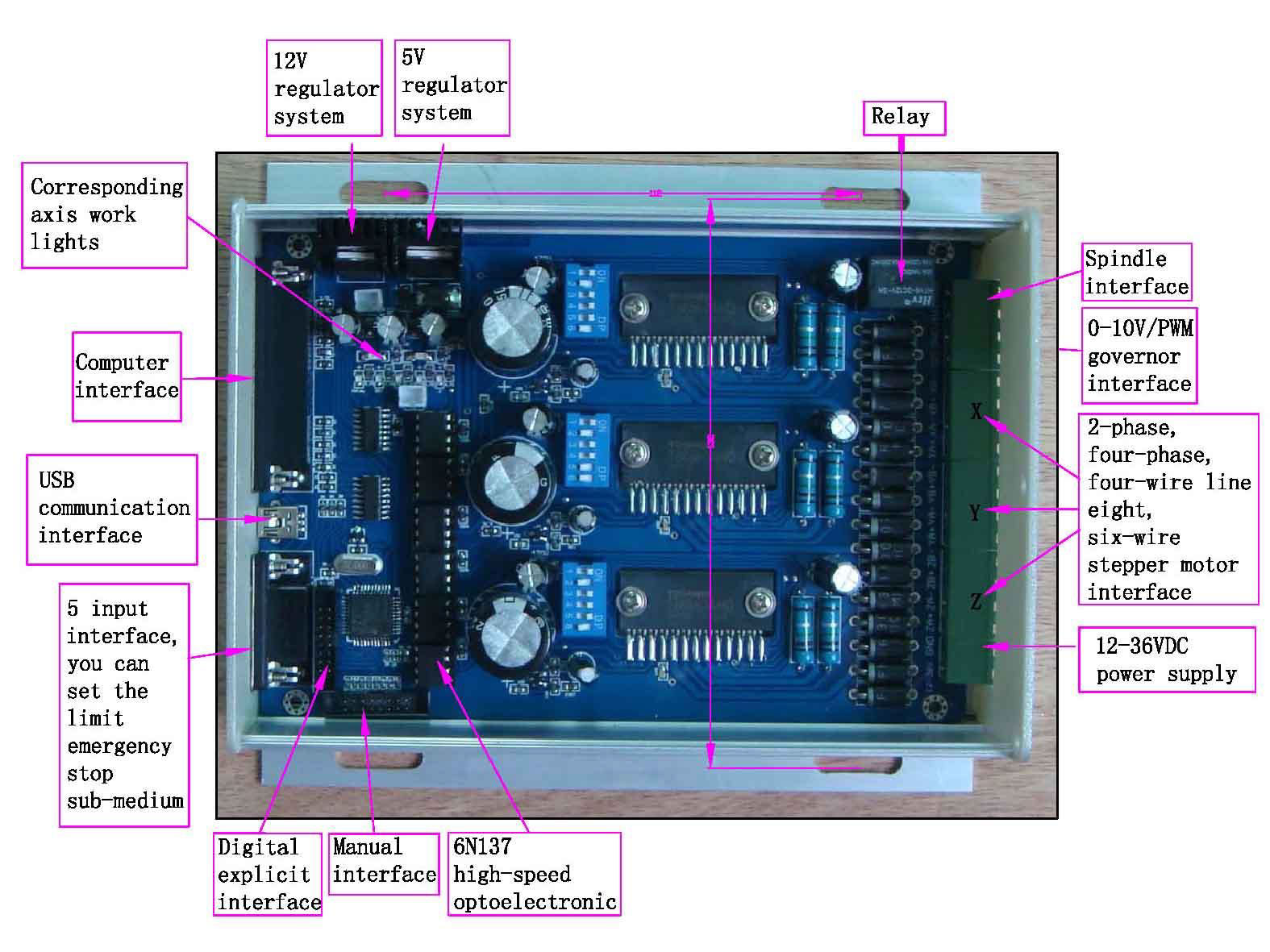 Feature
- 1: Pulse can be equipped with an external handle with digital display, with the handle can automatically switch the computer and handle control, mutual non-interference, and automatically shielded handle control functions automatically detect the computer-controlled movement, a few significant track record computer data and handle control of mobile data
- 2:Computer path track record of running in the computer processing time can be record keeping, processing data offline automatically repeat the processing run.
- 3:Manually move the processing and record keeping, traceability records manually move the machine data, and automatically repeat the processing run manually move the path.
- 4:Manual data input processing path, and automatically run the input path
- 5: The driver XYZ-axis or Z axis of the knife can be done automatically, without the operation of complex computer software
- 6: Up to 3.5A stepper motor drive current, adjustable.
- 7: Up to 16 segments, higher accuracy, and run more smoothly.
- 8:Overload flow through the temperature automatic protection function, and fully protect your computer and peripherals
- 9: Bipolar constant-current chopper drive, low speed creeping phenomenon, noise, non-resonant region.
- 10: Closed optical isolation, two-stage signal processing, to fully protect your computer and equipment.
- 11:A the road 0-10V/PWM speed control signal output
- 12: Rd input control, you can set the limit, stop, which is divided into the knife.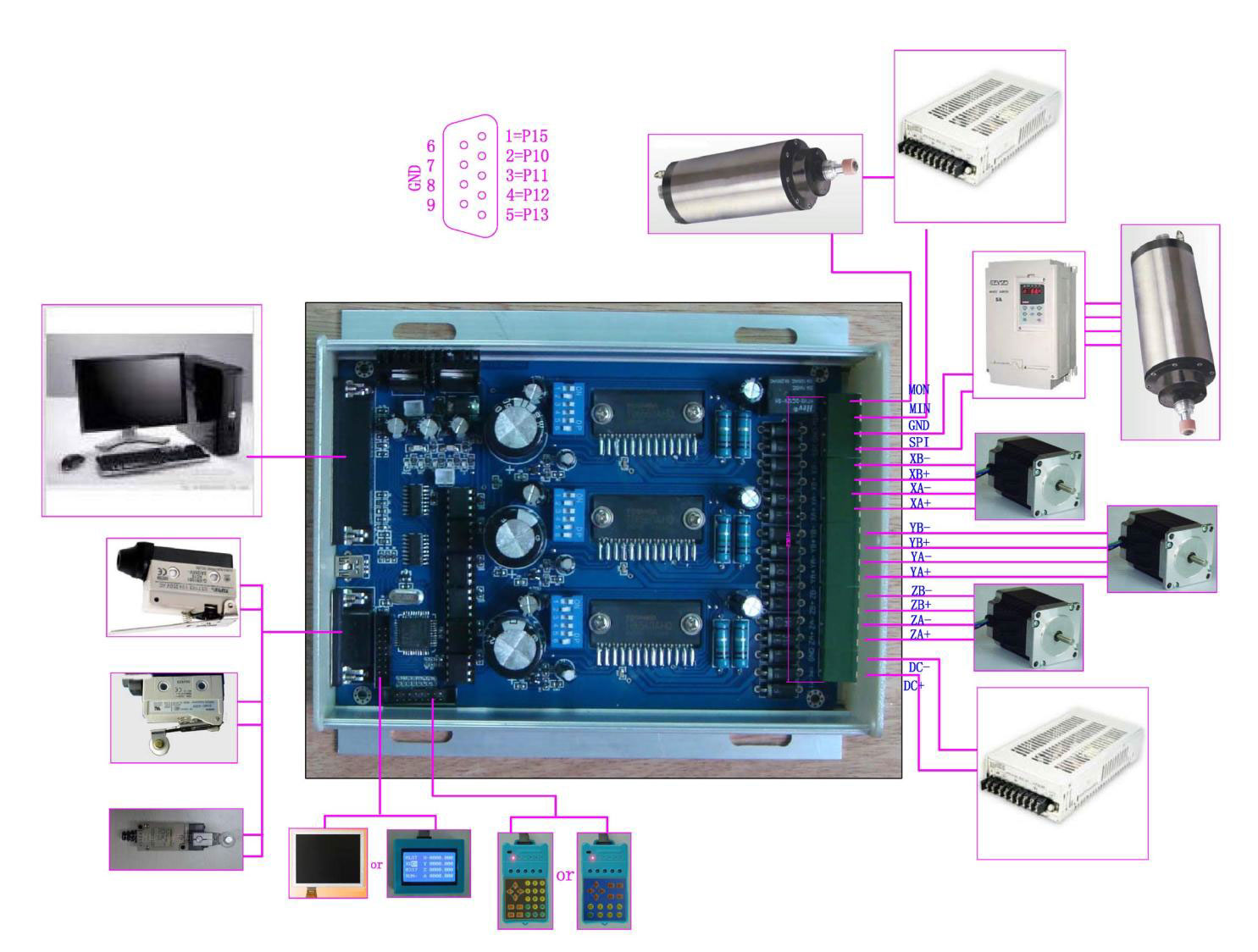 Specifications:
- Electrical properties (ambient temperature Tj = 25 ℃):
- Input power:12 - 36V DC power supply
- Output current: 3A (peak 3.5A)
- Driven approach:Bipolar constant-current PWM drive output.
- The drive motor:42,57,86 stepper motors, two phase -4 phase (4-wire, 6 wire and 8 wire stepper motor)
- Weight:About 300g
| | | | | | | | | |
| --- | --- | --- | --- | --- | --- | --- | --- | --- |
| Current | SW6 | DW5 | Buffer | SW4 | SW3 | Sub | SW2 | SW1 |
| 100% | ON | ON | 25% | ON | ON | 1 | ON | ON |
| 75% | ON | OFF | 50% | ON | OFF | 2 | ON | OFF |
| 50% | OFF | ON | 75% | OFF | ON | 8 | OFF | OFF |
| 25% | OFF | OFF | 100% | OFF | OFF | 16 | OFF | ON |
Click here to download the manual !

Package list:
- 1 * Intelligent 4 Axis 3.5A TB6560 Stepper Motor Driver Controller
- 1 * Handle Controller Pad (Built-in)
- 1 * LCD Display Panel (Built-in)
- 1 * Parallel Cable
- 1 * CD
- 6 * Terminal