STORM 450 3G Plantium output ( RTF )

STORM 450 gets even better - Storm 450 3Gissue
It's Flybarless specifically for high-end fly and made ​​3D ​​aerobatic performance

After years of refinementsg,We present the new STORM 450 3G.The storm initially going we found 450d,one of the best 450 class Heli RTFs,Thanksbuyer.com a step -wider,corded the BEST that we Flybarless package in the Storm 450 3G,ist,Align the 3G system and the DS410 digital servos,and a DS420 Ultra High Speed Rudder Servo,the creation of a monster class Hel Competitioni.I say Nicht,run a helicopter to cruised,but a serious 450 Flybarless heli,and especially in a Ready to Fly Paket!I emphasize this gyro and servos are the most expensive and the most important parte,This time Thanksbuyer.com it really did and put it on the Rahmen, haben wir die beste Sie koennen aus ueber die Marke und das Ergebnisist atemberaubend! Align and Align servosGyro 3G are the first choice for many of the world mostr,allowing you to not worry about the performancen.For the price,You buy the "High End"-Produkt, ich bin ueber das "highest" class talkingn,like a Ferrari,but one can askn,there is the original Align Trex 3G,ist es auch gut,wah notr?Ja,da hast the recht,But you do not getn, es zu diesem price und ein Ready to-Paket with einem 7-Kanal 2.4 GHz radio-Set Fly.in briefn,Get the Storm 450 3G jetzt, bevor es ausverkauftist,ist es eine begrenzte Produktion!

Wasist with den Original-storm 450 Helicopter?
storm 450 Helicopterist Thanksbuyer. the Kronjuwel,ist es ein 450-Klasse Helicopter with 2.4 GHz radio-Set.One hundred percent assembled and ready to fly out of the Box.We can sayn, storm 450 Carbon Fiber Editionist die beste in seiner Klasse,because it really came installed with all the goodiest.Voll - aluminum - Upgrades,Storm 3800KV Brushless-engine,Storm 40A switching power supply ITC,Storm Felsen-29 AVCS head lock gyro with Align DS420 superschnelle Ruderservo,11.1V 2200mAh 20C Storm Li- Po AKKu, WFLY WFT07H 2,4 LCD Display Funk-System with Full-Einstellungen,fiberglass canopy,Airy carbon Hauptrotorblaetter,high-strength ball links and stainless steel linkage balls on the entire unit with wear resistance and anti - oxin. Diese neue STORM 450 Carbon Fiber Edition wirklich die hoechste Qualitaet fuer 450er Heli koennen Sie bekommen!

Wasist with STORM Marke?
Die STORM 450-Prototyp wurde zum ersten Mal vor vierJahren.ofr,You now see then,ist die vierte Generation.Take the Undern,450 that the storm buildingt,ist sehr positiv und aggressiv. Sie machten es besser und besser ueber dieJahre.You can not over the STORM brand voices heardt, aber in Asien und Hong Kong die Markeist sehr bekannt fuer seine Qualitaet und Leistungsfaehigkeit bekannt.They have a good sparepartg,good pricee,and we known,You will be thrilledn.

Perfect for outdoor flying!
Die Groesseist in Ordnung,fly in light airn,Flybarless and the collective pitch rotor head can give you the Macht,Struggles to overcomen.

Top of the line material
Carbon and aircraft-grade aluminum , light , precise and durable,

Wasist ein Flybar?
Die Paddelstangeist eine kurze,thin metal rod in the helicopter lackedt. Esist Teil der rotorhead-Struktur,usually with a paddle at both ends fastenedt. Die Paddelstangeist ein stabilizer.Je schwerer die Paddel und die Paddelstange mehr, desto stabilerist der Heli.You can , however, with the aid of high - tech 3-axis gyro - compensated ton.The onboard 3G Align gyro system makes the helicopter which generates a burstt,that is to fly like a normal helicopter rotor head leadsn.

Why do it "Flybarless"?
Flybarless means less moving parte.This saves energy and enables it Ihnen,20 to 30 percent longer to flyn.And because it's not about a spider on the Roto -roll barr,Heli leads crazier than sonst,But thanks to the 3 -axisGyro,corrects for all Sie,Fewer parts also mean less REPAIRSn. Flybarlessist die Zukunft der RC-Helikopter!

Aggressive 3D action
This helicopter has Pitchsteuerung,that we will pilot in each directionn.ofr Wechsel von Flucht nach vorn,with smoothn, festen Kontrolle schwebenist ein Kinderspiel, und negative Steigungist ein Kinderspiel fuer Kunstflug Loopings und Rollen.The STORM 450 3G edition with a combination of robustn,lightweight aluminum and updated composite parte, undist so konzipiert und ausgeruestet,was able ton,3D extreme die - Manoever!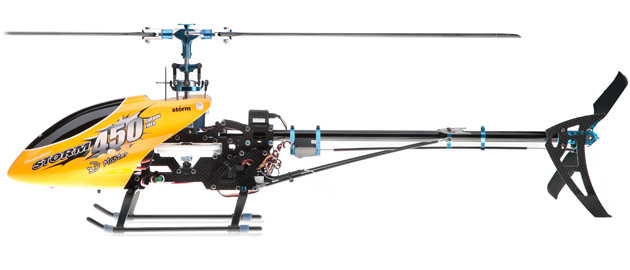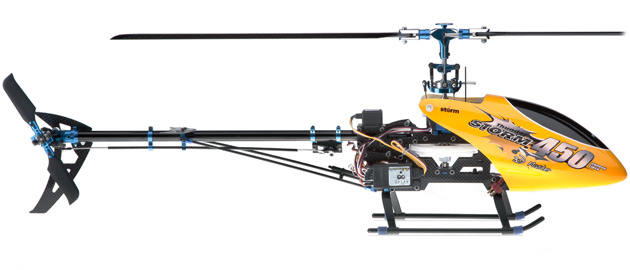 One Hundred Percent Pre
Dieser Heliist zu 100% montiert.You can fly there in just a few minutesn,directly from the egg hen.ofnken Sie daran,a quick change of battery and you're preparedt!

Precise and efficient
Keeping up with the basics of micro electric design components easy and robustt, waehrend die Versorgung with Fernwaerme von der Elektronikist die STORM 450 3G nicht nur praezise, but also efficientt.When you combine precision and efficiency , and attach Schoenheit,You have the 3G STORM 450 Edition : The Ultimate Super Electric helicopter rotorr!

The Heart Of The Lion
Align 3GGyro-System,Three DS410 digital servos Align Align DS420 cyclic and rudder Servo,all familiar with sin in the world -class competitiond,they are the "Best" Master of things used

Best Center of Gravity
STORM 450 3G disposes of the newest designed servo mount body and Rahmen.It moves the focus rotor closed leafs,and the emphasis may vary depending on weight of the battery to fitn,it reduces the correctionsr,when the helicopter into the rolen.

Reparaturist ganz einfach!
450 class helicopters are rectilinearg,in particular a model Flybarlessl.On a RC helicopter gyro controls a servos,Swash servos podcast Scheibe,Swashplate be trying most Blattverstellung. The Storm 450 3G Rahmenist sauber und ordentlich,Simply all the servos and pushrods Zugang, dasist eine Freude,if you need some setup and repairn.

High performance Power System
Dieser Helicopterist with STORM 3800KV Hochleistungs-Brushless-engine und 40A STORM Speed ​​Controller fuer grosse Leistung und Effizienz kombiniert.ofr buerstenlose engineist with out-Laeufer Kuehlsystem ausgestattet.It solves thet.Better Cooling makes longer flight times and more aggressive 3D flight to ctivityg. Auch in diesem ready-to-fly-Kit enthaltenist ein 11.1V Lithium-Akku with hoher Kapazitaet (2200mAh) und hohe Leistung 20C Entladestrom.

High performance 40A speed controller
STORM 40A Electronic Speed ​​Controllerist der beste ESC in seiner Klasse.It provides extremely high Ausgangsstrom,that provide enough power for the motor buerstenlosenr, so dass sie perfekt fuer aggressive 3D-Actionist. Esist with Schaltnetzteil BEC,the stable sourcingt,equipped for the highly sensitive receiver and ultra-high speed servost. Ausserdemist es eine sehr hohe Leistung,ist es eine sehr hohe Effizienz in das erfordert sehr geringen Stromverbrauch. Niedrige Betriebstemperaturofsign erhoeht die Lebensdauer als auch.

High-grade aluminum CNC CCPM System
STORM 450 3G Edition uses a combination of hard and light carbonaten, aluminum und aktualisiert Composite-Teilen undist so konzipiert und ausgeruestet,was able ton,3D extreme die - Manoever. EsistVoll - aluminum - Upgrades einschliesslich CNC Main Blade Grips,CNC Main Rotor Hub,CNC Washout Set and CNC Swashplate for Precise and soft Bewegungen.

ALIGN Ultra Durable Micro Servo - DS410
Proven reliable to the best performance on the power market isn,Aluminum alloy mid case for the Waermeableitung,This helps maintain high efficiency servo to get ton.Fast speed and high torquest!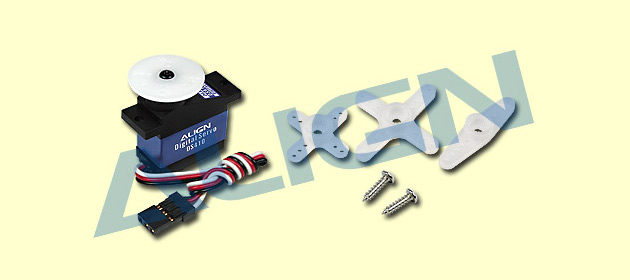 The Amazing 3G Align gyro system
Esist die beste auf dem Markt,Punkt.You are seeing the world champions with this same 3-axis gyro system on their heli to these crazy 3D aerobatics durchzufuehren,of cause it not to sponsorg, esist einfach, weil dieses System macht denJob,while others can brand it Nicht.Here are some features of this system :
- 3- axis gyro Flybarless systemsm,to the stability of the mechanical flybar system to simulaten,to achieve but at the same time agile 3D benefitsg.
- Uses Silicon Micro Machine ( SMM ) sensor for excellent stability ,
- 12- bit processors, and provides extremely high resolution, resulting in high-precision control
- gradable to software through a PC interface adapter ( separately obtained )
- Setup - Simplistic Prozess,without the need for external devicesn. Die Installationist durch 5 Schritte und 2 Empfindlichkeitseinstellung erfolgt. Rudder Setupist identisch with dem GP780Gyro,minimization Lernkurve.
- Flybarless System significantly improves 3D performance and efficientz,resulting in lower fuel or Stromverbrauch.
- High-sensitivity detection gyro sensors with advanced control routine floating and a higher stability than other aerobatic Flybarless system combinedt.
- Suitable for all CCPM and mechanical mixing system
- Compatible with all helicopter sizes , from T - Rex 250 T - Rex 700,
- I innovative teaching pitch for pitch as an aid to facilitate the setting ,
- High frame rate output signal for a faster and higher precision servo response
- Capable between 3V to 8.4V , compatible to operate with high voltage servos
- Small footprint , lightweight, minimalist design and reliable input

Align DS420 High Speed digital servo for Rudder Control
We demand the best benefitsg,so we took the very good quality Align DS420 High Speed

High-grade aluminum CNC Tail Gear Box
The completely updated tail gear includes CNC Tail Push Rod Support,CNC tail Getriebegehaeuse,CNC Heckrotor Liver und CNC Heckrotor sysm.Tail rotor control set with dual bearing -equippedt,with CNC control piece and smooth structure desig -n.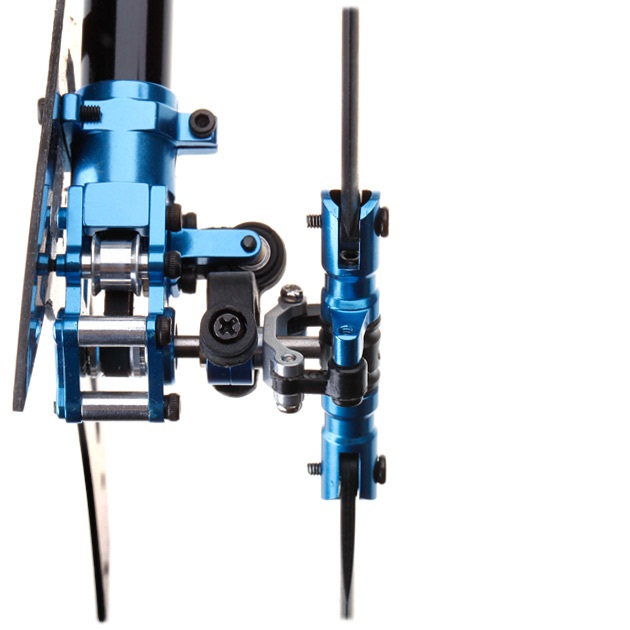 Smooth Pitch Travel
The tail pipe with high rigidity aluminum CNC tail pulley assembly and tail holder are using high rigid aluminum gefertig alloyt,wear resistant and falling resistance characteristics Stand.



High strength ball links and stainless steel linkage ball
Using new high strength ball links and stainless steel linkage balls on all unitst,have Verschleissfestigkeit,Anti-Oxidation.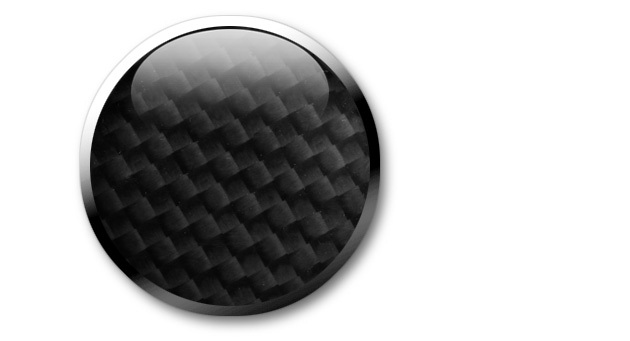 Carbon Fiber Body Frame and Stabilizer
STORM 450 - Carbon Fiber 2,4 GHz RTF Edition verwendet eine Kombination von harten und leichten Carbon, aluminum und aktualisiert Composite-Teilen undist so konzipiert und ausgeruestet,was able ton,3D extreme die - Manoever.

WFT07 7- Ch 2.4Ghz Transmitter with LCD Display
For a good helicopter or airplane radio - Set,it must be stable and fast on wireless signal and the lage,for the servo lapele,Swashplate setup direction and Curves ...andc.We look forward Darauf, Ihnen die neuesten WFLY 7-Kanal 2,4 GHz Sender with LCD-Display (Modell-Nummer: WFT07).It has all the Funktione of usefuln,as any "Brand of RC helicopters" Servo Reverse,Subtrims,Swashplate and travel directionsg,Pitch Curve,Gaskurve,Dual Rates and EXP curven,you can use it over the "mit diesen Einstellungenist es auch hat eine grosse LCD-Display,one thing that has only the expensive models Tuese.Forget Nicht, es hat einen 2,4-GHz-Funkmodul,it quickly , and anti -jamming meanst,long range auch!For the price kann man nicht bekommen besser als dieser.

Anti-Interference & Hoehere Zuverlaessigkeit
Operating at 2.4 GHz , the radio control brings the frequency range from "noise" produced by the other electronic components on your helicopter - such as the Moto buerstenloser,Speed ​​pointr,Gyro, Servos und alle metal-metal-noise - Beseitigung von Stoerungen und Glitching,that affect traditional frequency system couldn.

Longer transmission distance (> 2 km) and lower energy consumption
(DSSS coding technology ) offers moreh.Also, no jamming with others in the field of eggn.

Faster response time
2,4 Ghz Systeme bietet schnellere,sensitive controllersg,if based on a standard frequency system were comparingn.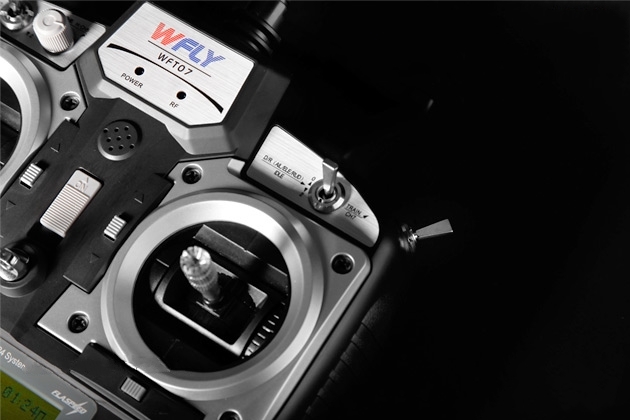 No Frequency Control Required
Ein Hauptmerkmal von 2,4 Ghz Geraete aus einem RC-Modell-Club-Sichtist, dass keine Frequenz-Steuerung erforderlichist.Obviates the Notwendigkeit,any other channel numbers to check that is correctn,before they flyn.No more worries about turning up at a club with the wrong crystal in your Tx.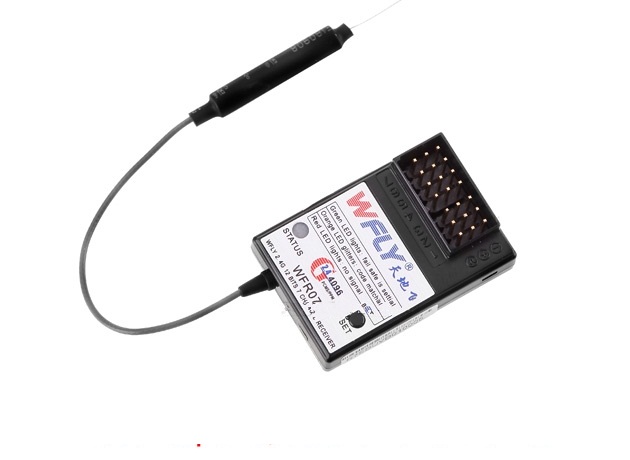 Fiber Glass Canopy
STORM 450 Carbon Fiber 2,4 GHz RTF Editionist with diesem gut aussehenden hohe Qualitaet Fiber Glass Canopy ausgestattet.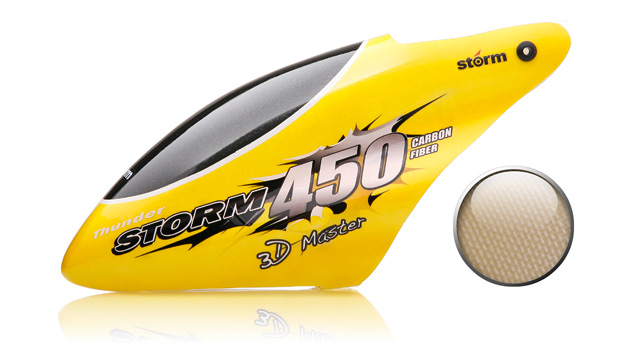 High Power 2200mAh 20C 11.1V storm Li - Po battery
11.1V 2200mAh 20C battery can give you 6-8 minutes of quality Flugzeit,more than enough for any Flugstil!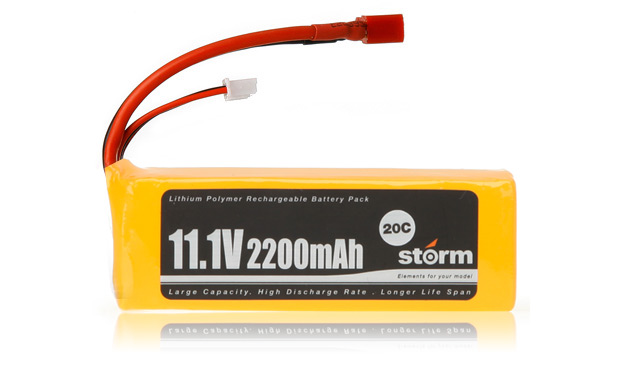 Came with a Li- Po battery charger
Li -Po Charger preparationt,use in the worldwide voltage (100V ~ 240V),we are the right country - Adaptorr, soist es wirklich eine stoerungsfreie Paket!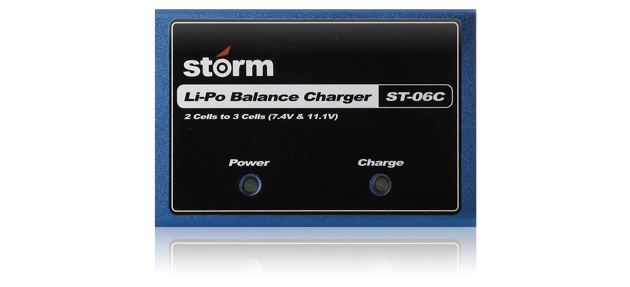 specification
- Mould exact English User Manual
- Length : 660mm
- Height : 230mm
- Main Blade Length : 325mm
- Main rotor diameter : 700mm
- Tail rotor diameter : 150mm
- Weight ( w / o main blade) : 450g
- Flying Weight : Approx , 730 ~ 760g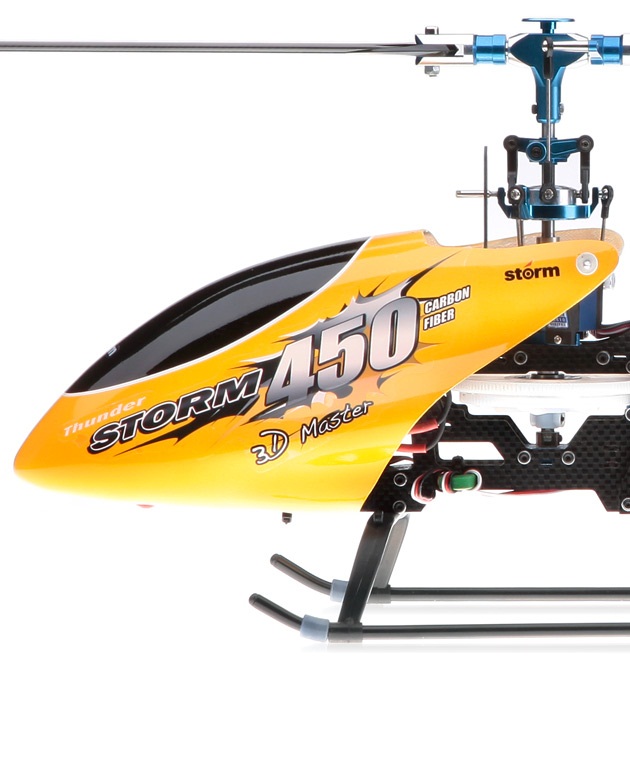 STORM 450 3G Edition contains :
- 100% vormontiert Helicopter (Align 3GGyro-System und 3 X Align DS410 Digital-Cyclic Servos)
- WFLY WFT07H 2.4 LCD digital transmitter
- Transmitter manual in a CD - ROM
- Storm 11.1V 2200mAh 20C High Capacity Li -Po battery
- Power adapter
- Li -Po battery charger
- Blade Holder
storm 430
Semi -metal
storm 450
Fiber Glass
storm 450
Carbon Fiber
storm 450 3G
engine
3800KV
3800KV
3800KV
3800KV
ESC
30A / Linear BEC
30A / Linear BEC
40A / Switching BEC
40A / Switching BEC
Gyro
Servo ( CCPM )
Storm MS - 90G Servo
0.12 sec / 60 degrees
Storm MS - 90G Servo
0.12 sec / 60 degrees
Storm MS -110G Metal Gears Servo
0.09 s / 60 °
Align DS410 Digital Servo
0.09 s / 60 °
Servo (rudder )
Storm MS - 90G Servo
0.12 sec / 60 degrees
Storm MS -110G Metal Gears Servo
0.09 s / 60 °
Align DS420 Digital Servo
0.06 sec / 60 degrees
Align DS420 Digital Servo
0.06 sec / 60 degrees
radio System
2.4 GHz radio
WFLY 2.4 LCD Transmitter
WFLY 2.4 LCD Transmitter
WFLY 2.4 LCD Transmitter
Body Frame
aluminum
glass fiber
Carbon Fiber
Carbon Fiber
rotorhead
metalplastic
Beste Qualitaet aus aluminum CNC
Beste Qualitaet aus aluminum CNC
Beste Qualitaet aus aluminum CNC
Tail Gear Box
metalplastic
Beste Qualitaet aus aluminum CNC
Beste Qualitaet aus aluminum CNC
Beste Qualitaet aus aluminum CNC
blade
wood
glass fiber
3K Carbon Fiber
3K Carbon Fiber
Main rotor diameter
730mm
730mm
730mm
730mm
stabilizer
plastic
glass fiber
Carbon Fiber
Carbon Fiber
canopy
plastic
glass fiber
glass fiber
glass fiber
price
USD $ 199
USD $ 299
USD $ 349
USD $ 549
performance
Value for Money