LILLIPUT 667GL-70NP/H/Y 7" LCD Camera Field Monitor HDMI YPbPr AV Input FPV Monitor

This delicately designed 7" LCD camera monitor is perfect for your indoor and outdoor shooting. It provides you better visual and allows multiple viewers at the same time in a remote distance.

Features:
- Provides center marker, underscan/overscan and view frame functions.
- Application on Full HD video camera for CCTV monitoring and making movies.
- High brightness/contrast & dizzy-proof monitor.
- Compatible sun shade for clear image under sunshine.
- Provides RGB monochromatic display, 16:9 aspect ratio.
- Could use high capacity rechargeable Li-ion battery, to make power cables free.
- Multi mounting methods to view under different angles.

DV battery mount plate:
- Model F-970
- For battery of SONY DV: DCR-TRV series, DCR-TRV E series, VX2100EPD P series, GV-A700, GV-D800 FD/CCD-SC/TR3/FX1E/HVR-AIC, HDR-FX 1000E, HVR-Z1C, HVR-V1C, FX7E F330.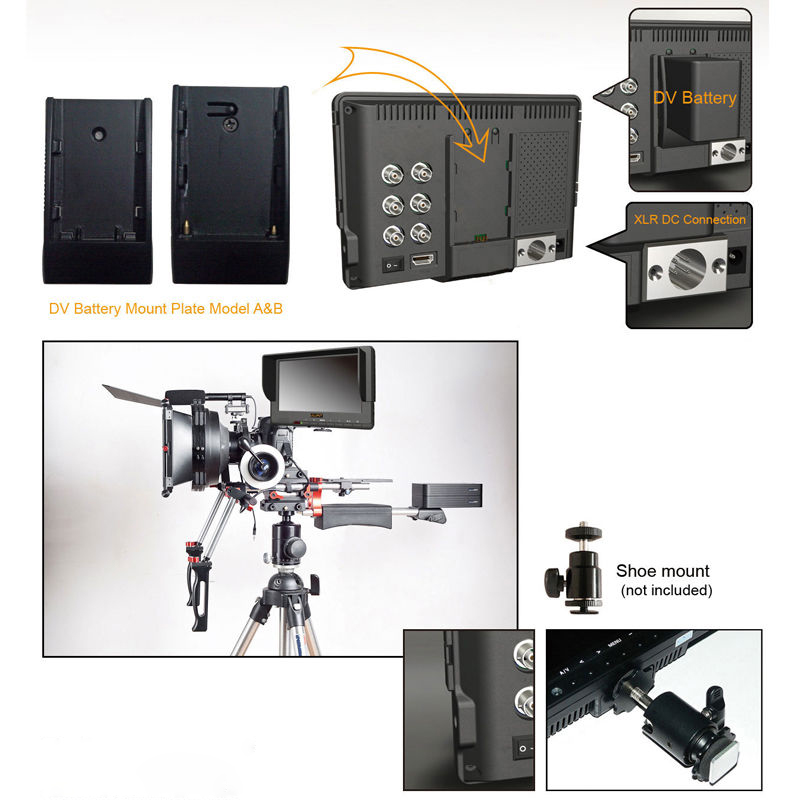 Specifications:
Panel size
7" TFT LCD (16:9)
Resolution
800 * 400 , support 1920 * 1080
Brightness
450cd/m2 (optional: 250cd/m2)
Contrast
500:1
Viewing angle
120°/ 140°(H/V)
Input vltage
DC 12V(DC2.1 and 4Pin XLR DC connection)
Input signal
HDMI, YPbPr, AV1/AV2
Battery
4200mA/7.4V(external)(not included)
Current
650mA (1.2A when charging)
Standby current
less than 50mA
Power consumption
less than 8W
Input resistance
75ohmω
Input frequency
H/30-60KHz, V/60-75Hz
Audio Output
more than 250mW
Speaker
1 in front
Item size
19 * 13.4 * 3.8/ 7.8cm (with sun shade)
7.5 * 5.3 * 1.5/3.1in (with sun shade)
Item Weight
480g/535g (with sun shade)
16.9oz/18.9oz (with sun shade)
Package size
32 * 20 * 7cm (12.6 * 7.8 * 2.8in)
Package Weight
1152g/2.5lb

Package list:
- LILLIPUT 667GL-70NP/H/Y 7" LCD Camera Field Monitor
- Sun shade: 1 Piece
- Battery plate (F-970, QM91D, DU21 or LP-E6,choose 2 of them。We would send F970 and LP-E6 as default, if you need other option, please contact us when you order. )
- 12V1.5A DC adapter: 1 Piece
- Remote control: 1 Piece
- Manual: 1 Copy
- Bracket: 1Piece