NanoPi R2S Mini Router With CNC Full Metal Shell RK3328 Dual Gigabit Ethernet Ports For OpenWrt5.4

Attention:
Before using your NanoPi R2S, please get the following items ready. 5V 2A charging head (quick charge forbidden), USB-C cable, C10-TF card (firmware and card making tutorial will be mentioned later).

NanoPi R2S router system card production steps:
1. Download system firmware: http://www.arm9home.net/read.php?tid-289058.html
2. Flash to TF card: Unzip the downloaded system firmware and the flashing tool win32diskimager.rar separately, insert a TF card for Windows (only 4G and above Class10 cards), right-click to run the flashing tool win32diskimager as an administrator. And on the interface of the flashing tool win32diskimager, select your TF card drive letter (you must choose the right drive letter, otherwise there is a risk of formatting other mobile hard drives), select the system firmware you want to burn, and click the Write button to burn.



After it is installed you will see the following window:



After making the TF card, pull out the TF card and insert it into the BOOT card slot, power on (note that 5V/2A power supply is required here), you can see the SYS red light flashing, and you have successfully booted the system.

3 ways to log in NanoPi R2S router:
1: If you have purchased 5G-WIFI, you can log in using WIFI connection: search for the hotspot starting with FriendlyWrt in your computer, the password is password, and input 192.168.2.1 in the browser (recommended browser for Google);
2: Use LAN port connection to log in: Connect the WAN port of NanoPi R2S to the LAN port of your upper-level router, set the computer network card to "get an IP address automatically", use a network cable to connect the computer network port to the LAN port of NanoPi R2S, input http://friendlywrt/ or 192.168.2.1 in the browser (recommended browser for Google);
3: Use WAN port connection to log in: check the IP address of the R2S router, first connect the WAN port of the NanoPi R2S to the LAN port of your upper-level router, then log in to your upper-level router, check the client list, and find the host name that corresponds to FriendlyWrt IP address, as shown below



Input this IP address in the browser and press Enter and enter the user name (root) and password (password) to log in.



Download Materials:
1. WiKi tutorial (firmware introduction, instructions for use, operation steps, etc.) http://wiki.friendlyarm.com/wiki/index.php/NanoPi_R2S
2. Download other system firmware http://download.friendlyarm.com/nanopir2s
3. Schematic (pdf format) http://wiki.friendlyarm.com/wiki/images/5/59/SCH_NanoPi_R2S_V1.0-1912.pdf
4. Dimensions (dxf format) http://wiki.friendlyarm.com/wiki/index.php/File:Dimension_NanoPi_R2S_V1.0-1912_PCB.rar
5. How to use USB WiFi as AP on NanoPi R2S http://wiki.friendlyarm.com/wiki/index.php/How_to_use_a_USB_WiFi_adapter_as_an_access_point_on_FriendlyWrt
6. How to use video server for JellyFin on NanoPi R2S through Docker http://wiki.friendlyarm.com/wiki/index.php/How_to_setup_JellyFin_media_system_on_NanoPi-R2S/zh

Product Description:
NanoPi R2S is a fully open-source edge computing router with ultra-mini dual Gigabit Ethernet ports, with a size of only 60x61mm (including metal casing).

It uses high-performance quad-core A53 processor RK3328 as the main control, the default operating frequency is 1.2GHz, standard 1GB memory (optional 2GB), has two true dual Gigabit network interfaces, and uses RK805 power management chip, support dynamic deployment and voltage regulation. It also has a 1-way USB2.0 interface, which can be used to expand 4G modules, USB cameras, USB WiFi and other modules.

NanoPi R2S supports TF card boot operating system, supports for FriendlyWrt, Ubuntu Core and third-party systems such as Armbian, and has a good software ecosystem. Now the official mainline for OpenWrt also supports NanoPi R2S. These systems are based on long-term support for kernel Linux-5.4(LTS). NanoPi R2S uses a universal Type-C interface for power supply, which is very suitable for high-speed and high-performance network applications with limited space.

Advantages:
- For Rockchip RK3328
- 1GB DDR4 RAM
- Dual Gbps Ethernet ports
- USB-C power in/slave
- AES acceleration
- For UbuntuCore
- For FriendlyWrt/LEDE
- For Armbian
- Start operating system via TF card

Features:
- 1GB large memory, easy to run various plug-ins.
- For FriendlyWrt with docker. For Docker is a lightweight virtualized application that allows you to run thousands of containers created by developers all over the world. For Docker Hub is the most widely used built-in image repository, allowing you to find shared applications from other outstanding developers. Most of the "ARM64 architecture" applications support seamless deployment for FriendlyWrt through Docker.
- Mini portable design, it can be put in a pocket. With a simple and comfortable geometric appearance design, exquisite workmanship CNC all-metal shell, small and lovely, it is admirable, it is a rare helper for travel.
- Dual Gbps Ethernet Ports: NanoPi R2S has two Gigabit Ethernet ports, one is directly derived from SoC, the other is transferred by USB3.0. The transmission rate of Gigabit Ethernet port directly derived from NanoPi R2S is 941Mbps, and the receiving rate is 941Mbps; The transmission rate of the transferred Gigabit Ethernet port is 941Mbps, and the receiving rate is 941Mbps.
- NanoPi R2S + USB2LCD Quick View IP: Connect USB2LCD module to quickly check the IP and temperature of NanoPi R2S, plug and play. No need to turn on computer, avoid tedious operations.

Package Included:
- 1 x NanoPi R2S (With CNC Metal Shell)


Refer to the link for more details:
http://wiki.friendlyarm.com/wiki/index.php/NanoPi_R2S/zh#.E5.A6.82.E4.BD.95.E7.BC.96.E8.AF.91.E7.B3.BB.E7.BB.9F



Refer to the link for more details:
http://wiki.friendlyarm.com/wiki/index.php/NanoPi_R2S/zh#.E7.8E.A9.E8.BD.ACDocker.E5.BA.94.E7.94.A8



Refer to the link for more details:
http://wiki.friendlyarm.com/wiki/index.php/NanoPi_R2S/zh#.E5.A6.82.E4.BD.95.E4.BD.BF.E7.94.A8USB_WiFi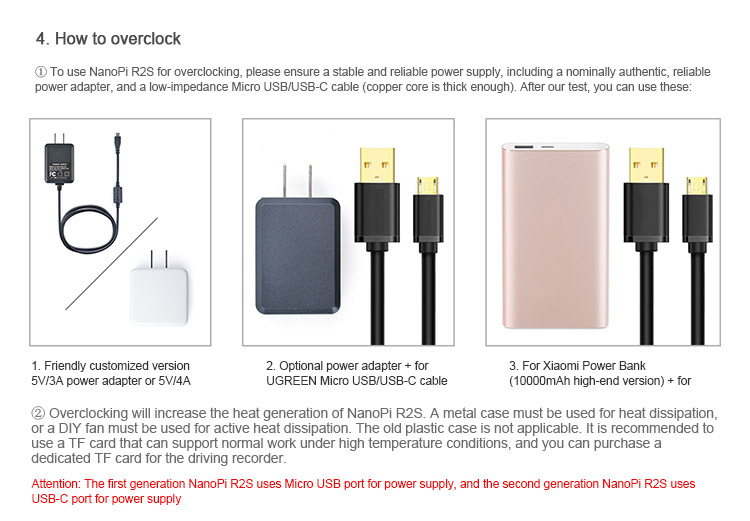 Refer to the link for more details:
http://wiki.friendlyarm.com/wiki/index.php/NanoPi_R2S/zh#.E5.A6.82.E4.BD.95.E8.B6.85.E9.A2.91



Hardware Characteristics:
- CPU: Model: for Rockchip RK3328. Number of Cores: Quad-Core for Cortex-A53. Frequency: 4 x for Cortex-A53 Up to 1.4GHz
- Memory: RAM: 1GB DDR4
- Storage: MicroSD Slot: MicroSD x1 for external storage up to 128GB
- Connectivity: Ethernet: Gbps Ethernet x1, USB 3.0 to Gbps Ethernet x1
- USB: USB 2.0 Host x1: USB Type A, USB-C x1: Power input (5V/2A) and Slave
- Pin-header: Serial Debug Port x1: 2.54mm pitch 3pin-header (3.3V TTL)
- Button: User Button x1
- LED: SYS LED(Red) x1, WAN LED(Green) x1, LAN LED(Green) x1
- Others: Working Temperature: 0℃ to 80℃
- Power: DC 5V/2A

System/Software Features:
- OS Support: for FriendlyWrt 19.07-snapshot (64-bit); for Ubuntu Core 18.04 (64-bit) (for Linux-5.4 + U-boot-2017.11)

Specifications:
- PCB: 6-Layer
- Dimension: 61 x 60 x 27.5mm
- Product Weight: 115g (With Case)