MWC MultiWii SE Standard Edition 4-axis X-mode Flight Control Board QUADX


MWC is MultiWii Copter abbreviation, this open source program's original author is a French program Alex, after two years of joint efforts of many enthusiasts, and now the MWC program has become increasingly mature, has become very popular abroad, cost-effective flight control one. DIY is not a flight control, but no one can do things, Chris launched the MWC model series of flight control, so that multi-axis aircraft MWC fans can easily access the high cost of this product, through the MWC program to control the hardware platform, can achieve a variety of multi-spindle, high-quality flight results, flexibility can be adjusted into a very stable or very flexible to fit aerial, FPV or stunt flying and many different needs.

With the same program for the open source compared to KK or ACM, MWC's more stable flight performance, flight skills required for novice lower debugging process more intuitive. Dedicated MWC GUI program can easily observe the PID parameters, flight control signal input / output status, sensor / switch-state, as well as aircraft attitude and heading sensor signal state of each group, sufficient for the initial configuration of the aircraft easier.

MultiWii SE Standard Edition supports the following aircraft models:
GIMBAL -------- PTZ stabilizer independent (non-flight control purposes)
BICOPTER ------ 2-axis aircraft Avatar
Tricopter ----- Y3 (Y-type 3-axis)
QUADP --------- 4-axis + classic mode
QUADX --------- 4-axis × mode
Y4 ------------ Y-type four-axis
Y6 ------------ Y-type 6-axis
HEX6 ---------- 6 axis + mode
HEX6X --------- 6-axis × mode
FLYING WING --- flying wing with a (non-multi-axis machine, the program is in testing phase).

Tool to connect the computer via FTDI, flight mode can be easily converted at any time.

MultiWii SE Standard Edition Hardware configuration:
· ATMEGA328P microcontroller
· ITG3205 three-axis digital gyroscope
· BMA180 triaxial accelerometer
· BMP085 pressure sensor
· HMC5883L axis magnetoresistive sensor (electronic compass)

MWC above the mainstream hardware platform with a combination of commonly used, which is equivalent to Arduino Pro Mini and FFIMU 0.35 9DOF IMU sensor combined, integrated design makes working more stable flight control.

MWC SE in addition to the necessary input / output ports, but also allow a variety of expansion interfaces, can be used for OSD module, LCD liquid crystal module, Bluetooth module, the data transmission module, GPS module, satellite receiver, 3-axis head and other equipment connection. With Chris MWC LCD module, outside the field can easily adjust the PID parameters, no longer need to carry a laptop computer.

Purchase MWC SE Standard Edition flight control friends, we will provide a detailed electronic manual, guide you to complete the set and enjoy the fun of flying!


MultiWii SE

This is RTF multiwii controller.

·Dimensions 50 mm X 50 mm
·Standard Mk style mounting holes 45mm X 45mm
·Weigh 13.9g
·SMD component design with atmega328P
·ITG3205 TRIPLE AXIS GYRO, BMA180 ACCELEROMETER, BMP085 BAROMETER, HMC5883L MAGNETOMETER
·Design with servo output for Camera Pitch and Roll
·Separate 3.3v regulated supply for the sensors
·On board logic level converter
·All the out puts are labelled for easy identification

You can use FTDI Basic for easy programming.

Main links & info:

The main website of the owner of the MultiWii project is www.multiwii.com.
The main RC groups thread where all discussions are held can be found here.
Kinderkram & Blue Angel have made excellent build logs! They are available here and here.
Another very good post for initial set-up and basic questions from Shikra can be found here.

The source code can be found on the google code repository here.
You can use FTDI Basic for easy programming.


Tools must be used with FTDI. Please purchase it before you can make changes to the flight control program /upload, and adjust the parameters, Click Here to Buy: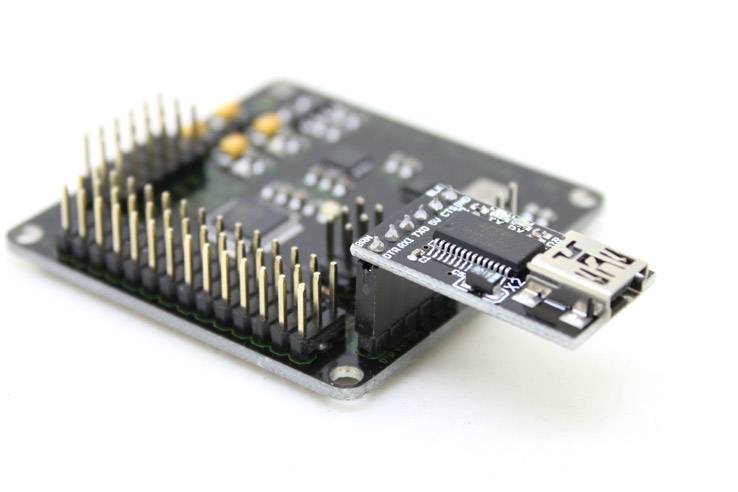 Field of LCD module debugging tools, away from home, we can not go with a computer connected FTDI transfer machine? I use these tools, use the remote control to adjust parameters at the same time, use it to view the parameters,Click Here to Buy: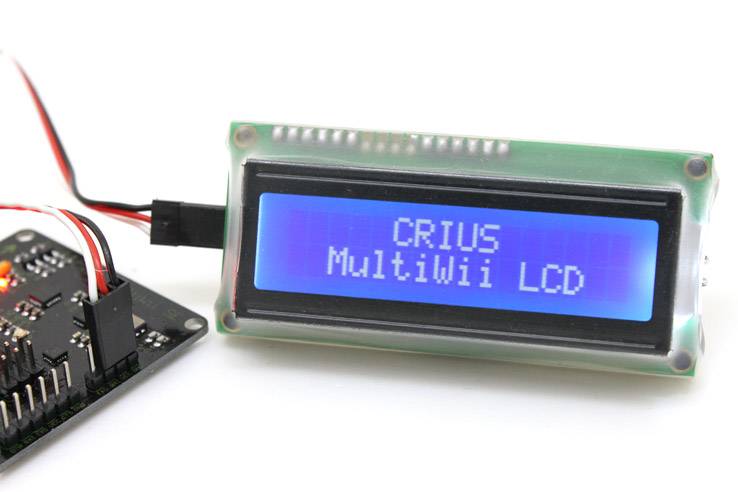 FTDI Basic Breakout Arduino USB-TTL 6 PIN 3.3 5V for MWC MultiWii Lite /SE


This is the newest revision of our FTDI BASIC. It now uses a SMD 6-pin header on the bottom, which makes it smaller and more compact. Functionality has remained the same.

This is a basic breakout board for the FTDI FT232RL USB to serial IC. The pinout of this board matches the FTDI cable to work with official Arduino and cloned 5V Arduino boards. It can also be used for general serial applications. The major difference with this board is that it brings out the DTR pin as opposed to the RTS pin of the FTDI cable. The DTR pin allows an Arduino target to auto-reset when a new Sketch is downloaded. This is a really nice feature to have and allows a sketch to be downloaded without having to hit the reset button. This board will auto reset any Arduino board that has the reset pin brought out to a 6-pin connector.

The pins labeled BLK and GRN correspond to the colored wires on the FTDI cable. The black wire on the FTDI cable is GND, green is CTS. Use these BLK and GRN pins to align the FTDI basic board with your Arduino target.

This board has TX and RX LEDs that make it a bit better to use over the FTDI cable. You can actually see serial traffic on the LEDs to verify if the board is working.

This board was designed to decrease the cost of Arduino development and increase ease of use (the auto-reset feature rocks!). Our Arduino Pro boards and LilyPads use this type of connector.

One of the nice features of this board is a jumper on the back of the board that allows the board to be configured to either 3.3V or 5V (both power output and IO level). This board ship default to 5V, but you can cut the default trace and add a solder jumper if you need to switch to 3.3V.

Documents:

Schematic
Eagle Files
FTDI Drivers
- Need Flight Controller Protector: 78823