USB Logic Analyzer 100MHz 16Ch Logic Analyzer With Aluminium Alloy Shell For ARM FPGA H2-002

Plastic housing economy configuration:
- LOGIC16 logic analyzer host.
- 20 DuPont with a separate line
- High-performance USB2.0 line length of about 1.5 m

Product Description:
- Support 1.1.34 software. Subsequent software upgrades and support.
- 2016+ New logic16 USB 100M logic analyzer ARM FPGA decoder tool 1.2.10 version
- Support for the latest 1.2.10 software. And support the follow-up software upgrade.
- Support the latest version of the official 1.2.10 software: a cool interface, a better user experience. Hardware also has a new breakthrough
- You need to support hardware-level width trigger. Suggest that such products before confirm whether to support the latest software version!
- Including SPI, UART, CAN, JTAG, 1-WIRE and other support for up to 17 kinds of serial protocol analysis. Covering almost all common serial and field-level bus-level bus protocol.
- Our Logic16 already compatible version from 1.1.14 to 1.1.23 version of each operating system for all software versions.
- Buy excellent quality, reasonable price logic analyzer.
- Software downloaded directly from the official, does not require the use of the modified PC software.

Recent attention a major forum for the new version of the 1.1.20 version of the software,the entries are listed here:
- The product support from 1.1.14 to version 1.1.20 for all current versions of each platform's support.
- 1.1.18 version, and before the software interface has been determined not to be official update.
- The most current version of the software is 1.1.20, 1.1.19 software in addition to modifying the BUG, but also add a lot of useful features, such as color channel display, analytical protocol list, pulse width trigger, etc., not to be missed!
- We did a new version of the software detailed manuals, please ask with the owner after purchase.
- The official software has been upgraded to version 1.1.23, the perfect support for our products.
- Official support for the latest version 1.1.20 software: cool interface, better user experience. Hardware also has a new breakthrough, requires hardware support level width trigger. Proposal before such products to confirm whether to support the latest version of the software.

Frequently Asked Questions:
- 1.Whether direct support official software? What systems are supported? Support WIN8?
A: Direct support official software. You can download the software directly from the official, you can also ask the owner has downloaded with multiple operating systems and versions. The official has provided WINDOWS, LINUX, MAC and other PC software we all support. And support for subsequent versions of the software upgrade.
- 2.It really can reach 100M samples.
A: Support 100M sampling mode. Supports up to 100M under Mode 3-way, if your computer is USB 2.0 support is not good for the high-speed mode may support less than a 3-way. This is not our product's personality, but all 16 in common! Our products have passed before shipping 3-way test 100MHZ mode.
- 3.Support of the threshold voltage adjustment.
A:All domestic cottage brand not supported. This is clearly identified. We do not support, although there setting the threshold voltage of the software inside, domestic brands are all cottage ignore this setting.
- 4.Before the product is shipped through what test
A:1, current tests. 2,16 path 16M test mode, to ensure the correct each path. 3,3 Lu 100M mode testing to ensure the highest sampling rate can be achieved. These three tests after welding, after packaging, have done a test prior to shipment. Pictures will be posted later in the test.
- 5.The need for cracking software.
A: No, you can directly download from official use, any version of the official release of any operating system software support. Because the use of the official design, but also to support the subsequent official software upgrade.
Compatible official original genuine software, you can support windows, linux, MAC OS all the 32 and 64-bit systems
- 6.On the input interface protection.
A: The realization of the ESD and TVS voltage electrostatic protection, and also supports voltage input protection within plus or minus 60 volts.
- 7.The input interface if there is an interface chip.
Answer: ESD / TVS protection and overvoltage protection is necessary, using a special high-speed low capacitance SRV05 protection tube, one can protect the relatively fragile FPGA input, multi-line of defense.

LOGIC16 profile:
- 1.Real-time acquisition using USB2.0 high-speed interface to upload to the computer, the computer terminal to implement real-time data storage management, and then collected after the end of the display.
- 2.Using the computer's memory as the acquisition memory, so you can to traditional logic analyzer memory depth can not be compared easily reach G-level storage depth.
- 3.The power of the software lies in protocol analysis. Support more than 10 kinds of serial protocol. Waveform to the waveform can be acquired in accordance with the bus protocol rules on analysis of the content of the display, so can be seen as an error. Very intuitive, used once, to ensure you put it down, breaking away from the waveform of speculation. Especially in the FPGA bus interface protocol model to achieve, but also more convenient than before emulation almost!
- 4.Can be flexibly set the sampling rate and the number of acquisition channels, 3-way acquisition time to achieve the highest sampling rate of 100M, 6 times to achieve 50M sampling rate, sampling rate to achieve the highest 32MHZ 9 Road, 16 Road, when the time to achieve the highest sampling rate of 16M.
5.Small size, easy to carry, use USB power, easy on-site commissioning.

LOGIC16 powerful protocol analysis Features:
- 1.Including SPI, UART, CAN, JTAG, 1-WIRE, etc. to support up to 17 kinds of serial protocol analysis. Covering almost all common serial board-level and site-level bus protocol. The official also gives various serial protocol design resources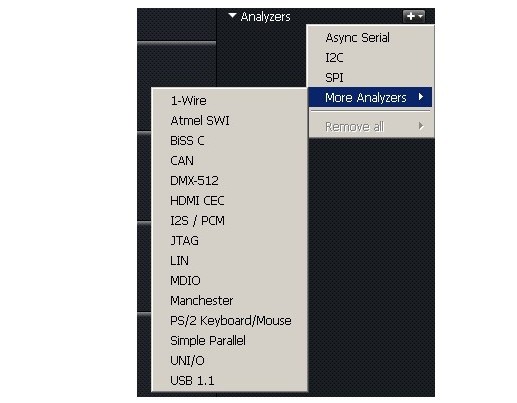 - 2.You can set the protocol analysis parameters, such as we are familiar with RS232 protocol, board-level general called UART. You can set the baud rate settings interface inside, data length, stop bits, parity, and other parameters. This setting can be set before the acquisition can also be collected after any change to the data set will be in accordance with the new settings, new data analysis and display.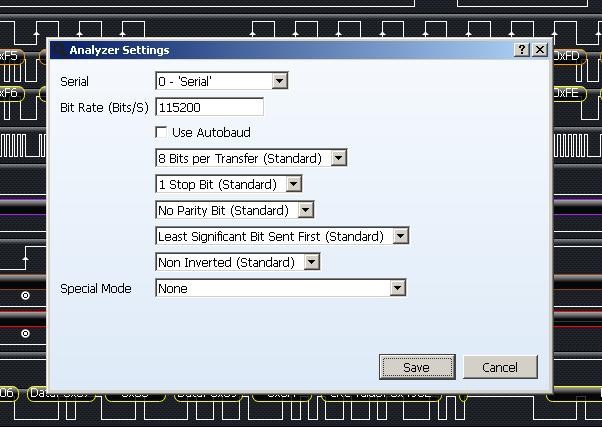 - 3.Support for multiple protocols simultaneously parse, and online display parsed. Data analysis of a variety of display forms have ASCII code, hexadecimal, decimal, octal, binary, etc.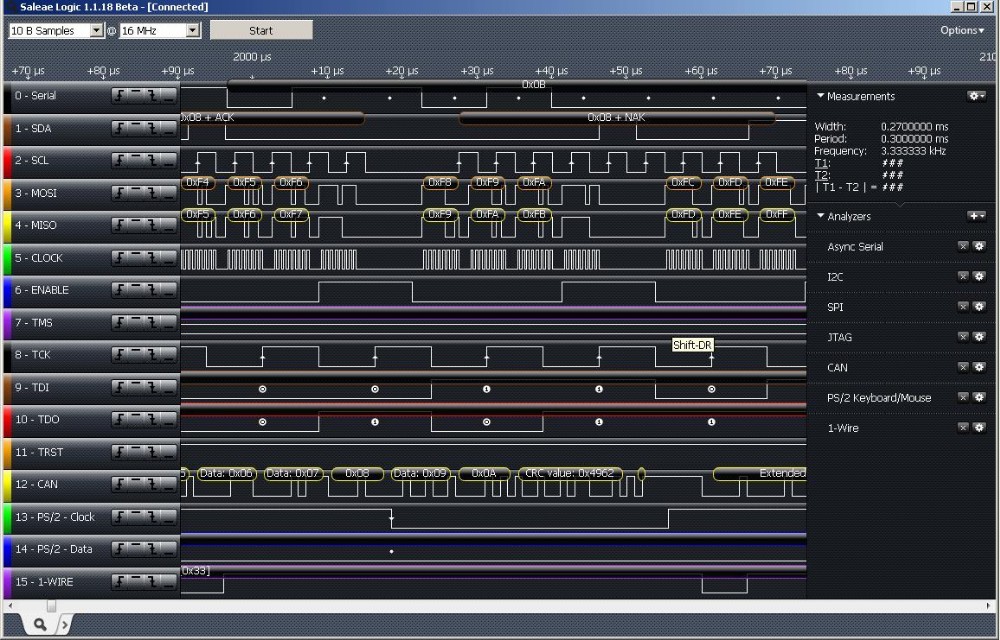 - 4.More than to see an online real-time analysis protocol, you can view the details of the timing, conduct DEBUG. You can also view the content of communications from the macro to save the contents of the protocol parsing the output to a text file and spreadsheet files. The following figure shows the output of the I2C protocol to resolve screenshot text TXT file and spreadsheet files.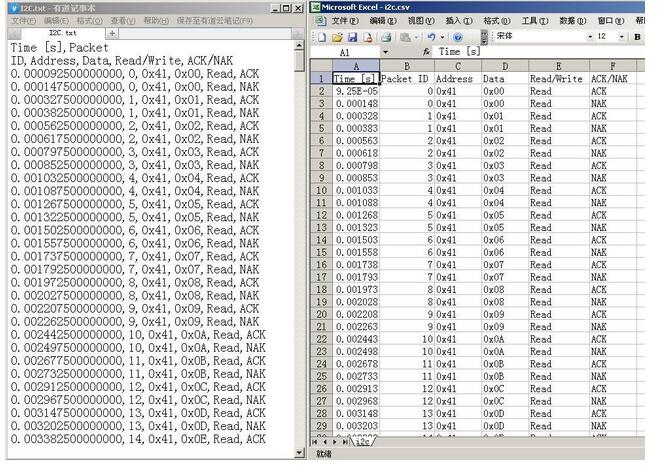 Recommendations on improving sampling rate and instructions:
- 1.Try to pick a desktop computer's USB port behind. Connected to the front of the USB prone to low-rate issues, because the internal use of low quality for a very long line connecting the front panel and the host computer motherboards.
- 2.The performance of the notebook's USB port and USB power quality is often better than desktops, are more prone to low rate of tips.
- 3.The use of USB HUB also affect the sampling rate, and USB power quality.
- 4.If the USB port next to the USB port also has told the USB devices, such as WIFI card, U disk, etc., will also affect the collection rate.
- 5.A logic analyzer before each shipment we went through a three-channel multiple computers 100M acquisition tests to ensure the performance of the product itself.
- 6.Four board rigorous design (aluminum enclosure Deluxe Edition), to ensure the highest performance USB.

Note:We have two colours:black/silver.Please let us know which colour you want.

Package List:
- 1 X Logic16 Logical Analyzer
- 20 X Signal Marking wires
- 20 X Clamps with pin
- 1 x USB2.0 1.5m Wire