T300K SD Card Online VIA PC RGB Full Color LED Pixel Module Controller 8 Ports 8192 Pixels

Features:
- 32—256 grade Gray level,Support software Gamma correction.
- Support the rules and special-shaped handle.
- 8 ports output,one port can support 512-1024 lamp pixels.
- On-line (also can SD Card) control, offline control Can be multiple controllers used in combination, the contents of the line control program stored in the SD card.
- Compatible with single line or double line chips.
- If the controller to the lamps distance can choose photoelectric isolated transmission and as far as several distances of up to 200-300 M.

Note: the T-300 K controller offline control, each machine controller must put a SD card.

2012 Edition T-300K controller can only be combined with the new version software LedEdit2012 . Using the old software does not support the new version of the controller, the new version of the controller has been printed the Chinese sign.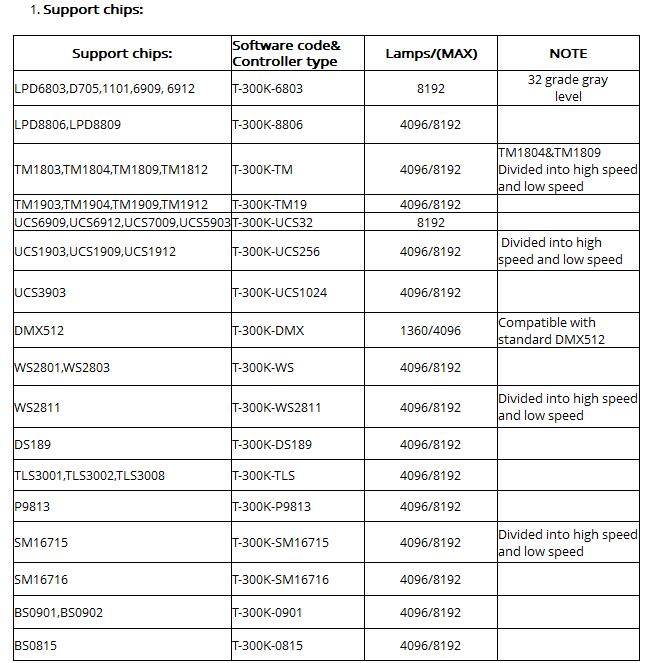 NOTE: if chip is 256 grade gray level and Single-line IC choose .When programming choice high speed mode and one interface controls 1024 lamps the play speed can reach 30 frames/s. Double-line IC or single-line IC with low speed , one interface controls 512 lamps the play speed can reach 30 frames/s.

8*1024=8192 Pixels.
Double-line IC or single-line IC with low speed , one interface controls 512 lamps the play speed can reach 30 frames/s
If the distance between controller and lamps more than 50m we suggest using differential signal transmission control or Photoelectric isolated signal transmission control,please read the manual carefully. Signal lines must be a cable,the best is Super five kinds of cable.

Specifications:
- Type;SD card(if controlling so many lamps it is best to use the high-speed SD card
- Capacity;128MB-2GB
- Format;FAT
- Store file;*.led
- Working temperature;-30-85
- Weight;1.35KG
- Working voltage;AC220V
- Working power;5W
- Size;L270mm*W180mm*H55mm
- Signal port:3pin connect port
- Application scope:LED digital tube,LED point light sourcethe exterior light and a module pixel screen(dazzle colour screens)high power DMX lighting.

Note:
- T-300K Support online download the effect-file to SD card.
- Before copy files to SD card,The SD card must be formatted as FAT format.
- The SD card in controller can not be hot-swappable, plug the SD card every time, you must first disconnect the power supply

Differential signal transmission control:
1.Purpose :For many big engineering ,the distance between lamps and controller more than 50m and less than 200m.
2 details:built-in Signal transmitter above signal transmission Repeaters,signal transmission receiver
3 Appearance picture

Note: the distance, between controller and transmission Repeaters between transmission Repeaters and transmission Repeaters between transmission Repeaters and signal transmission receiver can not be more than 50m,The maximum distance between controller and signal transmission receiver is 200m



Package Included:
- 1 x T-300K controller
- 1 x SD card